Will Greasy Clothes Ruin My Washing Machine? (Answered)
Are you wondering if tossing greasy clothes into your washing machine could spell disaster?
It's an obvious concern if you or your partner frequently have your clothes soiled in grease either from work or activities at home. 
Unfortunately, it was a lesson I learned the hard way when I frequently threw heavily greased clothes in the washer, hoping to get them cleaned.
But here's the fact about it;
Greasy clothes won't directly ruin your washing machine but can lead to complications over time. The primary concern is grease residue and oil accumulation within your washer's drum, hoses, and filters. This buildup can result in clogged filters, reduced washing efficiency, unpleasant odors, and even potential damage to sensitive components over time.
The other issue is that residential washers may not to able to clean very greasy clothes completely from clothes unless they are pre-treated with a spot-cleaning booster. 
Let's dive into the world of greasy laundry, understand the potential risks involved, and discover the best practices to clean your greasy clothes while keeping your washing machine running smoothly for years.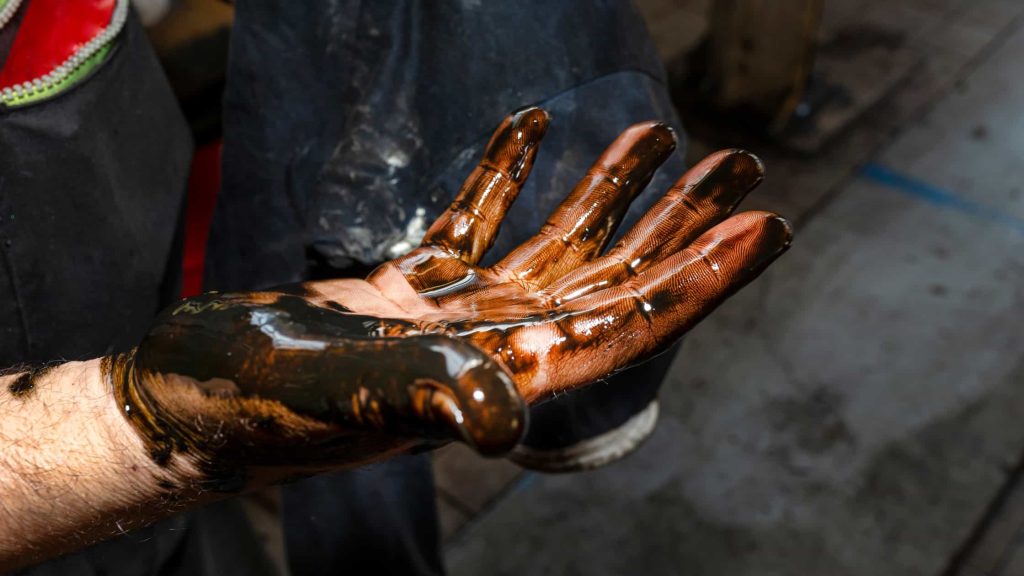 How greasy clothes can affect washing machines
Putting heavily greased clothes in the washing machine without proper care can negatively impact your washer's performance and longevity. 
The major problem you may get with your washer is that greasy clothes may leave stains in the drum that can stain other clothes if not adequately cleaned.
Residential washers aren't designed to clean heavily greased and oiled clothes, so you may not get your desired results and risk damaging your washer in the long run.
Here are 3 significant ways greasy clothes may affect your washer negatively:
1. Accumulation of grease residue 
Heavy grease from dirty clothes can leave residue in a washing machine's drum, agitator, and other internal components.
Over time, this residue can build up and coat the surfaces, hindering the machine's ability to clean future loads of laundry effectively.
The accumulation of grease can also attract lint and other particles, resulting in a grimy and less hygienic environment within the machine.
2. Clogged filters and reduced washing efficiency
Grease can also find its way into the washing machine's filters. The accumulation of grease and other debris over time can clog these filters, obstructing the flow of water and detergent.
This can reduce washing efficiency, as clothes may not be adequately cleaned or rinsed.
Additionally, the increased strain on the machine's pump and motor caused by clogged filters can potentially lead to mechanical issues and premature wear and tear.
3. Unpleasant odors and potential damage to components 
Grease residue in a washing machine can contribute to unpleasant odors that can transfer to your freshly laundered clothes.
The combination of trapped grease, moisture, and organic matter creates an environment conducive to mold, mildew, and bacteria growth.
If unchecked, these microbial growths cause foul smells and damage the machine's rubber seals, gaskets, and other vulnerable parts.
Cleaning your washer thoroughly and implementing preventive measures, as outlined in later sections of this article, can help eliminate these odors and safeguard your washing machine.
If you use an LG washer, you may want to consider running a tub clean cycle.
Best Practices for Dealing with Greasy Laundry
1. Pre-treating greasy stains
Pre-treating greasy stains is crucial in effectively removing oil and grease from your clothes. 
Here are some best practices to follow to achieve desirable results:
Spot-treating with dish soap or laundry detergent: Apply a small amount of dish soap or laundry detergent directly onto the greasy stain. Gently rub the soap into the fabric using your fingertips or a soft brush. The surfactants contained in these cleaning agents help break down the grease from the fabric fibres.
Allowing time for the pre-treatment to work: After spot-treating the greasy stain, allow it to sit for at least 10 to 15 minutes before laundering. This gives the cleaning agent enough time to penetrate the fabric and break down the grease molecules.
2. Separating heavily greasy items from other laundry
To prevent the transfer of grease to other garments and maintain the cleanliness of your washing machine, it's important to separate heavily greasy items from the rest of your laundry. 
Consider the following tips:
Creating separate loads for greasy clothes: When possible, designate a separate load specifically for heavily greased items such as kitchen towels, mechanics' overalls, or oily work clothes. This prevents grease transfer to other garments that may not require such intense cleaning.
Preventing grease transfer to other garments: If separating loads is not feasible, take extra precautions to prevent the spread of grease. Turn heavily greasy items inside out before washing to minimize direct contact between the greasy surface and other clothes. Additionally, consider placing the greasy items in a mesh laundry bag to contain any loose grease or residue.
3. Adjusting washing machine settings
Properly adjusting your washing machine settings can significantly improve the cleaning efficacy when dealing with light-greased laundry.
Here are some recommendations:
Using hotter water temperatures: Hot water helps to dissolve and remove grease more effectively. Whenever possible, choose the hottest water temperature recommended for the fabric type. Be mindful of the care labels on your garments to ensure you're using the appropriate water temperature without risking damage.

Choosing appropriate wash cycles and agitation levels: Select wash cycles with longer durations and higher agitation levels for greasy laundry. These settings provide more thorough cleaning by agitating the clothes and allowing more time for the detergent to work on the grease stains.
Expert Tip: Opting for a pre-soak or heavy-duty cycle can be beneficial for tougher grease stains. These cycles typically incorporate longer soak times and more vigorous agitation, which aids in breaking down and removing grease effectively.
Cleaning and Maintenance Tips for greased Washing Machines
1. Regular cleaning of the drum and filters
Regular cleaning of the washing machine's drum and filters is essential to ensure optimal performance and prevent the harmful effects of greasy laundry. 
Consider the following tips:
Removing grease residue and other debris: After completing a load of greasy laundry, take a moment to inspect the drum for any visible residue. Use a damp cloth or sponge and mild detergent to remove grease or grime. Pay special attention to the areas where clothes come into direct contacts with the drum, such as the agitator or paddles.
Using appropriate cleaning agents: Periodically, it's beneficial to deep-clean the drum using cleaning agents specifically formulated for washing machine maintenance. 
2. Inspecting and cleaning the hoses
The hoses of your washing machine play a vital role in water supply and drainage. Regular inspection and cleaning of these hoses are essential to prevent clogs and ensure efficient operation. 
Consider the following steps:
Checking for clogs and blockages: Inspect the hoses periodically for any signs of blockages or clogs. Look for kinks, twists, or any visible debris obstructing water flow. If you notice any issues, gently straighten the hose or remove the residue using a soft brush or cloth.
Clearing out accumulated grease or debris: Over time, grease and other debris can accumulate in the hoses, impeding water flow and causing drainage issues. Regularly flush the hoses with warm water to dislodge and flush out any residue. 
3. Performing maintenance tasks recommended by the manufacturer
To keep your washing machine in optimal condition, following the maintenance tasks recommended by the manufacturer is important. 
These tasks may vary depending on the specific model and brand. Consider the following guidelines:
Following the user manual guidelines: Read the user manual provided with your washing machine and familiarize yourself with the manufacturer's recommendations for maintenance. This may include specific cleaning procedures, suggested cleaning agents, and intervals for performing maintenance tasks.
Related Articles: