LG Tub Clean Cycle (All You Kneed To Know)
As far as maintenance of washers is concerned, LG washing machines are one of the best if not the best on the market. 
If you own an LG washer or plan on getting one you probably have come across the tub clean cycle option. 
Just so you know, this feature can save you years of repairs and laundry troubles.
Here is what the LG tub clean cycle is:
The LG tub clean cycle is a special feature that is used to efficiently clean the drum of your washer. With frequent use, residue builds up in the tub which may lead to musty odors or mildew. The Tub clean cycle is run monthly to clean all the dirt and remove odor. 
In this article, we will show you all you need to know about the LG tub clean cycle and how you can use it to keep your washer in good shape for many years.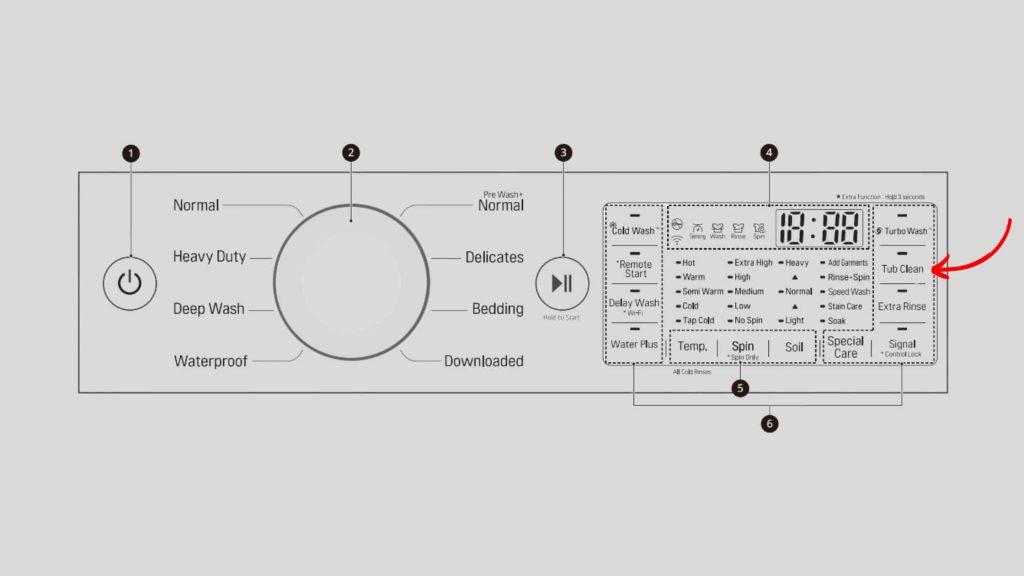 What is the LG tub clean cycle?
Regular maintenance of your LG washer is just as important as doing your laundry.
The LG tub clean cycle is a cycle on some LG washers that are run to clean the tub from built-up residues and odors. 
Not all washing machines have the tub clean cycle. 
Older LG washer models may not have this function. 
We have an article about a complete guide to cleaning your LG washer.
However, the tub clean function is available in most newer models of LG front load and top load washers. 
How does LG tub clean cycle work?
LG tub cleaning operates by running a thorough self-clean of your LG washing machine drum. 
This is done using water at high temperatures and appropriate detergent. 
LG recommends that you run a tub clean cycle every month or every 30 cycles to keep your washer clean and free from musky odors and mildew. 
Maintenance actions to take before running the Tub clean on LG
Before running a tub clean cycle you should do the following activities for best results.
Take out the dispenser tray and thoroughly wash and clean it and all attachments. 
Mix ¾ cup of with 1 gallon of water 
Clean the washer gasket and the inside of the door glass (for front load washers) 
Drain the washer manually and clean the drain pump filter (for front load washers)
How to use LG tub clean cycle?
Running the LG tub clean is not difficult and you can easily get it going in no time. 
If you're looking for LG tub clean cycle instructions then you can follow the steps below. 
Don't worry if your washer doesn't give the same options as we mention here. 
The principles are the same on all models so you can adjust slightly to suit your model. 
Otherwise do check your user manual for your exact model. 
Here's how to run the LG tub clean on front load and top load  washers:
Method 1
Empty the drum completely
Turn on the washing machine 
Add a cleaner to your washer 
Close the drawer lid 
Select tub clean on the control panel 
Press start/pause to start the tub clean cycle 
After the cycle is done wait a few minutes for it to cool and open the door. 
Use a clean towel to clean the gasket and door 
Method 2 
Turn on the washing machine by pressing the power button 
Press and hold the Extra rinse * tub clean button until "tcl" appears on the display 
Press the start button 
Allow the tub clean cycle to run 
Always check and inspect the drain pump filter of front load washers after tub cleaning to get rid of the debris and small objects that are caught by the pump. 
The pump filter is located on the front bottom left of your front load washer. 
Sometimes you may still notice recurring odors. In that case, run the tub clean twice.
And then run the cycle again once a week for three consecutive weeks.
Do you put detergent in for LG tub clean?
The tub clean feature in LG washers makes use of determinate. 
Luckily, you can make use of a detergent no matter the state it's in. Tablet, liquid, or powder. 
Where you put the cleaner depends on the type of cleaner you're using. 
Tablet cleaner: Drop it directly into the drum 
Power detergent: Pour inside the main wash compartment of the dispenser
Liquid detergent: Pour inside the liquid cup insert in the main wash compartment. 
For the right amount of detergent to use, always refer to the instructions on the detergent package.
How long does LG tub clean cycle take?
The LG tub clean cycle lasts about 60minutes to 90 minutes. The estimated time of completion will be shown on the control panel. 
This is because the tub clean cycle uses a hot extended wash with intense agitation to clean the drum. 
LG tub clean cycle temperature is usually 60° Celsius to 70° celsius.
LG tub clean cycle with vinegar/bleach
Vinegar is used for cleaning a lot of things and so is bleach. 
But not everything can necessarily be cleaned using vinegar or bleach. 
So can you use vinegar or bleach in LG tub clean? 
You can use liquid Chlorine Bleach or White Distilled Vinegar for LG tub clean, however, they are not as effective as washing machine tub cleaners at cleaning residues associated with hard water and detergents.
LG tub clean cycle without cleaner. Possible?
You can run a tub clean cycle without using a washing machine cleaner. Instead, you can use white distilled vinegar, liquid choline bleach, or baking soda. 
However, these products don't clean the washer as effectively as washing machine cleaners would. 
Related terms in LG tub clean cycle
1. Tub Clean Coach
Tub clean coach is a function that shows how many cycles remain before running the Tub clean cycle. 
2. Tub Clean Alarm
The tub clean alarm is a tcl code that shows on your LH washer to indicate that the tub clean cycle is running or needs to be run to clean the washing machine. 
Some washer models may first display tc, before the l is also displayed.
Check our other interesting articles on our blog: