Whirlpool Load and Go Problems (What to Know)
Most people will vouch that one of the best washing machine brands is Whirlpool.
No doubt about that.
And if you are familiar with whirlpool washers you definitely have come across the Load and Go feature in select washers.
The Whirlpool Load and Go feature was first introduced in early 2016.
The Load and Go technology is a great feature that allows you to add detergent once and have it dispense automatically for up to 20-40 loads.
Even though it's an amazing feature and works well, consumers have made complaints about setbacks or problems they encounter while using the Load and Go feature.
We researched in-depth into some of the common problems you may encounter with a whirlpool washing machine with Load and Go.
Most of these setbacks are a result of the technology and not due to faulty functioning.
So whether you are planning to buy a Load and Go washer now or in the future you will find this article an eye-opener.
If you're considering a Whirlpool washer and dryer with the Load and Go feature, here's what you need to know about the potential downsides and problems.
Let's dive in!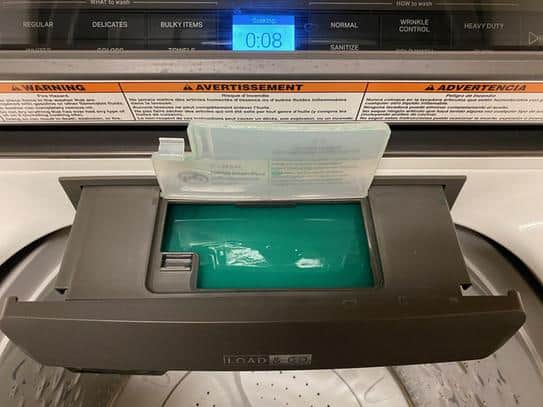 Absence of Load and Go for fabric softener
One of the big flex with Load and Go technology is the fact that it cuts down on laundry time quite significantly.
Also makes laundry easy and much less of a hustle.
Just imagine being able to load up to 40 loads of laundry into the washer, and it dispenses the appropriate amount of detergent for each load.
However, there is no such feature for fabric softener.
You still have to add fabric softener manually for each load. This can be a pain, especially if you're doing a lot of laundry.
It's frustrating when you have to load the fabric softener each time you wash clothes.
It seems like it defeats the purpose of having a Load and Go setting if you still have to put in the fabric softener by hand each time.
While some people may see this as a minor inconvenience, others feel it's a big setback that needs to be improved in later models.
Just maybe, Whirlpool might incorporate an additional Load and Go for fabric softener in the future.
All settings can't be seen on the control panel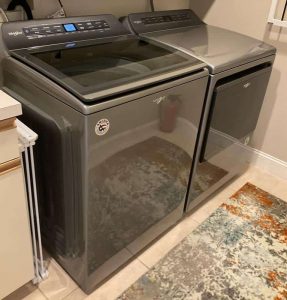 Whirlpool Load and Go washer comes with a very fancy button layout on the control panel.
You may be easily carried away by the sleek design because it doesn't have the usual boring nobs you may find on other brands and models.
Even though they are very well placed and organized, you may find a little setback.
You can't see all your setting at once on the control screen.
What that means is that you need to go through all the various settings(water, temperature, spin, soil level, etc) one by one, especially if you want to confirm your chosen settings.
As a matter of fact, you can see all your chosen settings in one go on your Whirlpool App.
But people still prefer to be able to quickly scan through their settings before hitting the start button.
Read Also: Whirlpool washing machine soak cycle times.
Load and Go user manual isn't as detailed as you may want
If you are looking for a single manual where all your questions will be answered or you can turn to, you may be a bit disappointed.
The information is rather quite scattered that you may struggle to find what to do when you disable your Load and Go.
Will your detergent still work perfectly if you pour it straight into the drum instead of the Load and Go?
Do you put a detergent pod if you disable the feature?
These are just a few of the questions you may ask that are not easily found in the manual.
When a new feature comes out, it's always difficult to know if the changes will be positive or negative.
It would help tremendously for customers' confidence in their purchase when they have more information and details about what they're getting.
Loud Clicking sounds on Load and Go dispenser
Whirlpool Load and Go washing machines are generally quite washers.
However, you may observe some loud noisy clicks from the dispenser.
It's quite hard to get used to these if you dislike noisy washers In general.
It's important you are aware of this because you may be forced to think your washer is malfunctioning.
Read also: Whirlpool washing machine leaking from the bottom (Why and how to fix)
Load and Go dispenser only works with Liquid detergent
One issue with the Load and Go dispenser is that it only works for liquid detergent.
You can't use the Load and Go feature if you have powdered detergent.
This is problematic at times when you only have powdered detergent at your disposal.
Then, you'll need to measure and pour your detergent straight into the tub manually.
Bypassing Load and Go feature instruction is difficult to find
Most people opt for this washer because of the much-talked-about Load and Go feature.
The Load and Go can be set to a range of 2x-10x.
That means it literally dictates how much detergent you need to use.
It's usually correct but sometimes, you want to dispense your own amount.
Probably use less detergent.
So you would like to skip the Load and Go feature.
It's quite a hustle as Whirlpool's user manual doesn't clearly lay out how to do that.
So although it can be done, you may need to search well for the "how".
Doesn't Always dispense the right amount of detergent
One of the issues with the Load and Go is that, it's sometimes not able to dispense the right amount of detergent needed to clean your clothes.
This is especially the case when you have very soiled and dirty clothes in the wash.
Even though the detergent level in the Load and Go may appear to reduce in level, your clothes may still have some stains on them due to inadequate detergent.
In such instances, you are forced to manually add detergent by yourself.
Conclusion
If you're considering a Whirlpool washing machine with the Load and Go feature, it's important to be aware of the potential problems.
While the feature can be a great time-saver, it's worth knowing some of the setbacks it has so that you don't get caught off guard thinking it was a 100% technology.
Overall, Whirlpool Load and Go are one of the best washing you can find out there.
Have you had any experience with the Whirlpool Load and Go problems? Let us know in the comments!