Whirlpool Washer Soak Cycle (All You Need To Know)
You have probably heard about the Whirlpool washer Soak cycle and you're wondering what exactly it is. 
The Soak cycle in whirlpool washing machines is an efficient way of getting rid of the tough stains on your clothes. 
The pre-soak cycle reduces the amount of work your washer has to do to remove stains on your clothes.
What is the Soak cycle on Whirlpool washing machine?
Presoak cycle is an option on Whirlpool washers that is used to loosen tough stains before the actual wash cycle begins. The washer fills with water and soaks your clothes with detergent for the specified period with gentle agitation after which the wash cycle begins.
In this article, we will show you all you need to know about Whirlpool washing machine soak cycle and how you can use it to improve your laundry.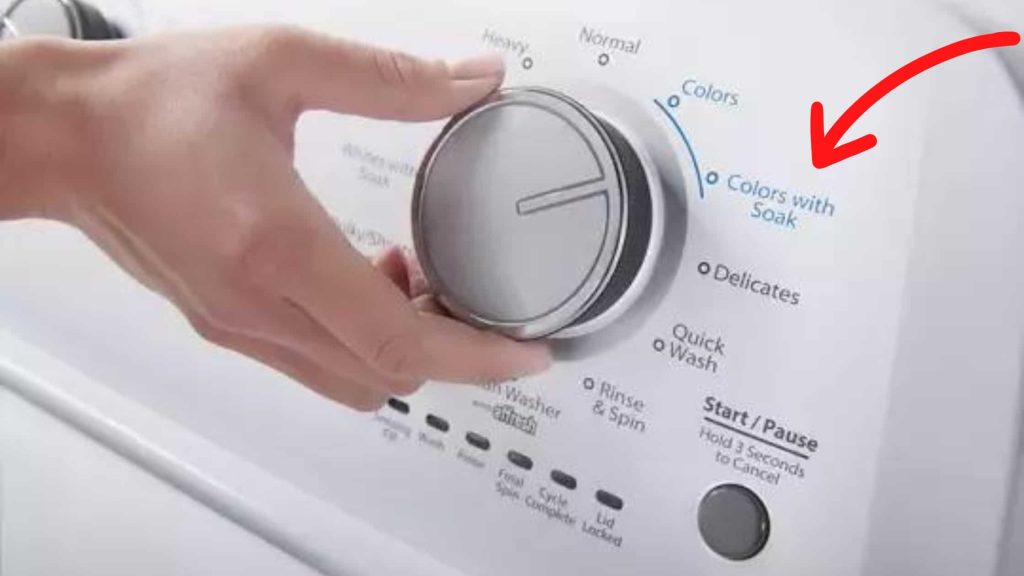 How to use soak cycle on whirlpool washer
The soak cycle is a good way to pre-clean your clothes when they're highly soiled. 
This soak cycle option is available on top-load washing machines. 
You should refer to your user manual for instructions specific to your whirlpool model.
Here's how to use the soak cycle on your Whirlpool washing machine: 
Load your washing machine with the dirty clothes 
Turn the presoak knob on your washer to your preferred time
Press the start button 
How does the soak cycle work on Whirlpool washer?
The presoak cycle works in a pretty simple way. 
When you activate the presoak cycle, the washer tub fills with water as it would normally do. 
After the water level is reached, the agitator in the tub will begin to make subtle movements throughout the length of time you selected for Presoak.
During this cycle, detergent is dispensed which helps loosen and remove tough stains that are in your dirty clothes.
After the pre-soak cycle is complete, the water will drain, and the wash cycle proceeds.
Whirlpool washer soak cycle time
How long is a pre-soak cycle on Whirlpool washer?
There are 3 (three) options for the soak cycle time on whirlpool washing machines depending on the model. 30 minutes, 1 hour, or 2 hours are the options available.
Some models even have 15 minutes and 8-hour soak cycle time options.
The soak cycle time is discretionary and depends on how dirty or soiled your clothes are. 
If your clothes aren't very soiled, then a 30 minutes soak cycle will be enough. 
However, if your clothes are highly soiled, then you may need to use the 1-hour cycle or even the 2-hour soak cycle time.
When to pre soak on Whirlpool washing machine
Presoak cycle is not available on all whirlpool washers. 
If your washer has the option, you will see it on the control panel. 
If your washer model has it, then you may as well take advantage of it. 
Here's when to pre-soak on whirlpool washing machine:
You can use pre-soak when your clothes are highly soiled such that you may need longer wash times to get them clean. Presoak reduces wash cycle time and saves you on some electricity bills.
Advantages of Whirlpool Washer Soak Cycle
Presoak cycle helps your washer to get rid of stubborn stains from your clothes and fabrics. It reduces the amount of work your washer needs to do to remove tough stains thereby saving energy and money.
Disadvantages of Whirlpool Washer Soak Cycle
The problem with the presoak cycle is that it may not be suitable for all fabrics and could cause some fabrics to damage and decolorize.
The cycle time is also significantly increased if you choose to use the presoak. So if you're hard-pressed on time, you may have to skip presoak.
You need to always check the label on your fabrics to find out if they can be pre-soaked or not.
Conclusion- Whirlpool washer soak cycle
Whirlpool washers do a great job at cleaning your clothes and fabrics. 
But some clothes can be soiled by stubborn stains that you need extra muscles to get rid of them. 
That's where the pre-soak cycle comes in handy. 
If your clothes or fabrics can be presoaked, then you should take advantage of this option when you have to.