Why do European Washing Machines take Longer? (5 Strong Reasons)
According to the Statista Global Consumer Survey(2021), more than 90% of households in Europe own a washing machine. 
Despite the popularity of washing machines in Europe, it is often said that European washing machines take so long to complete a wash cycle. 
In fact, this question has come into the minds of many people who have used both European and American washing machines at some point in their lives. 
If you have ever used a washer in America and another in Europe the glaring difference in the wash and rinse cycles won't skip you.
And you will wonder why European washing machines take longer compared to their American counterparts. 
A typical European washing machine can take up to 3 hours to complete the wash!
In case you ever wondered why European washers take so long then you are going to find out today.
Here is why European washing machines take so long:
European washing machines take long because they have an internal water heating system that requires extra time to carry out a wash cycle. Also, they are designed to meet energy requirements in Europe which make use of less water and hence increasing wash cycle times.
There are several other factors that affect the cycle times of European washing machines. 
In this article, we are going to explain 5 strong reasons why European washing machines take longer.
So let's dive in.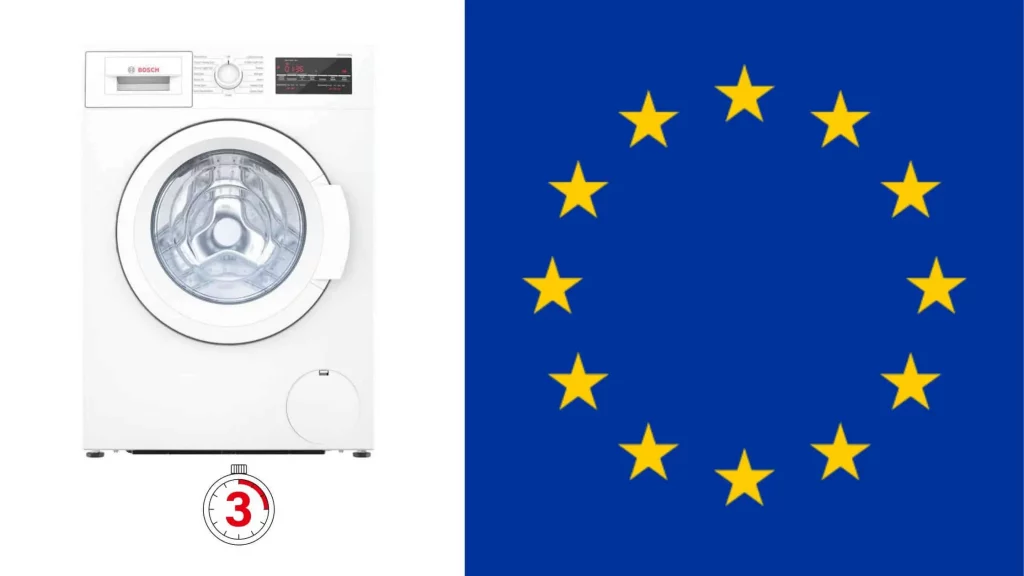 5 Reasons Why European Washing Machines take longer?
There are many factors that contribute to the reason why European washing machines tend to take longer than their counterpart washers in America. 
It is however worthy to note that, the gap is slowly but surely closing due to the emergence of high-efficiency washing machines in recent times. 
With that said, these are 5 reasons why European washing machines take longer than other washers.
1. European washing machines heat water internally
If you use a washer in America, you may know that the top load washers have both cold and hot water supplies. 
The hot water is heated externally and supplied to the washer at the desired temperature when needed. 
However, that is not the case for European washing machines. 
European washing machines use internally generated heat to heat water to desired temperatures hence, their washers only come with a cold fill.
As you may guess already, this internal heating takes an extra amount of time to get cold water to higher temperatures thereby increasing the wash cycle times.
2. To conserve Energy
The European Union has very strict rules regulating the use of energy.
As such most European appliances are designed to conserve energy as much as possible. 
The wash cycle duration is dependent on 3 major factors. The detergent, water, and time. 
Most often, you will need to compromise one of these. 
Using less water means that the washer will need less energy to heat up the water to desired temperatures. 
Because energy is more expensive in Europe, their washing machines are designed to use less water and energy which results in longer wash cycle times.
Most modern and high-end washing machines have features that enable the washer to conserve energy called Eco programs.
3. Higher energy rating standards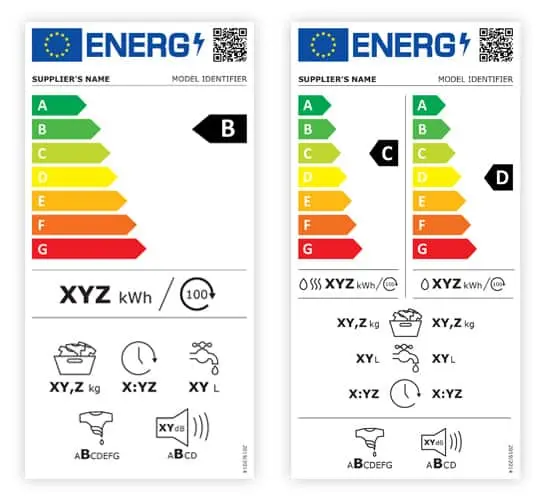 One of the top reasons why European washers take so long is due to the fact that there are very high standards for energy rating. 
The whole purpose of this is to conserve energy. 
The energy rating for household washing machines is rated on a scale from A to G. 
And for a washer to be approved for sale, it needs to meet the requirements. 
If you need detailed information about your washer in Europe, you can scan the energy rating label on the washing machine using the European Product Registry for Energy Labelling website.
4. European washing machines wash clothes better (Arguably)
Even though opinions may vary on this, we can't deny the fact that European washing machines actually do justice to laundry. 
With the internal heating feature on them, they tend to know exactly how to get the water at the most appropriate temperature to get your laundry done clean. 
Contrary to their American counterparts who mostly rely on the hot fill inlet water supply that's heated externally and is not as precise as internal heating.
5. Europeans prefer front-load washing machines 
It's a known fact that most European homes use front load washers. 
This is because Europeans usually keep their washing machines in the kitchen under a cabinet due to a lack of enough or extra space to keep their washers. 
But how do front load washing machines make European washing machines slower?
In front load washers, less water is used to fill the drum since the water level only gets below the door/window. 
At this water level, the clothes are able to be agitated and rotated around the drum for a good wash cycle. 
You can always count on European washers for a damage-free wash because they are very gentle on clothes
Additionally, the water is heated which requires an extra amount of time.
All these add up to longer cycle times in European washing machines.
How long do American washing machines take?
American washing machines can take between 50 minutes and an hour to complete a cycle.
The actual time a washer will take to complete will depend on parameters such as load size, chosen settings, and detergent.
Factors that increase wash cycle times include but are not limited to, tightly packed clothes, excessive suds, and unbalanced loads.
Most modern washing machines will give you an estimated time of completion based on these parameters.
10 Good European washing machine brands 
You may wonder which washing machine brands are made in Europe.
Although you may be familiar with some there may be some you are not familiar with. 
Below are some of the best washing machine brands made in Europe:
Miele – Germany 
Bosch – Germany 
Blomberg – Germany
Siemens – Germany
Indesit – Italy 
Ariston – Germany 
Beko – Turkey 
Vestel – Turkey
Hotpoint- Italy/Polland 
Smeg – Italy
European vs American Washing machines (Pros and Cons)
Below is a table showing some of the advantages and disadvantages of either European or American washing machines.
| | | |
| --- | --- | --- |
| | European Washing machine | American Washing machine |
| 1. | Uses less water | Uses about 3 times more water |
| 2. | Has an internal heating system | Relies on an external tap |
| 3. | Faster spin speeds | Slow spin speeds |
| 4. | Gentle of Clothes | The agitator is Rough on clothes |
| 5. | Uses less energy | Higher energy consumption |
| 6. | Better cleaning of clothes | Doesn't clean as thorough |
| 7. | Shorter drying times | Longer drying times |
| 8. | Longer cycle times | Shorter cycle times |
Conclusion
There you have it.
A detailed explanation of why European washing machines take longer.
If you need to make a decision as to which washer you should buy go ahead and take all we have mentioned into consideration.
At the end of the day, both American and European washing machines are worthwhile. It boils down to preference!