How to Clean Blomberg Washing Machine (All the parts)
It's always a good thing to clean your appliances regularly as it extends the service life of the appliance and reduces repair costs due to frequent problems. 
Your Blomberg washing machine is no exception.
Over time, soap residues, dirt, grime, and other minerals from washing detergents you use for your laundry can create molds and mildew that build up in your Blomberg washing machine.
With time, these tend to cause your washer to smell and deteriorate.
Learning how to clean your Blomberg washing machine is vital for keeping your washer free from molds, dirt, limescale, and stinky smells.
In this article, we will explain how to properly clean your Blomberg washing machine including the:
Detergent drawer
Drum
Pump filter
Lint filter
Inlet filter
Seals
Door and exterior parts 
Keep reading to learn how to deep clean your Blomberg washing machine step-by-step.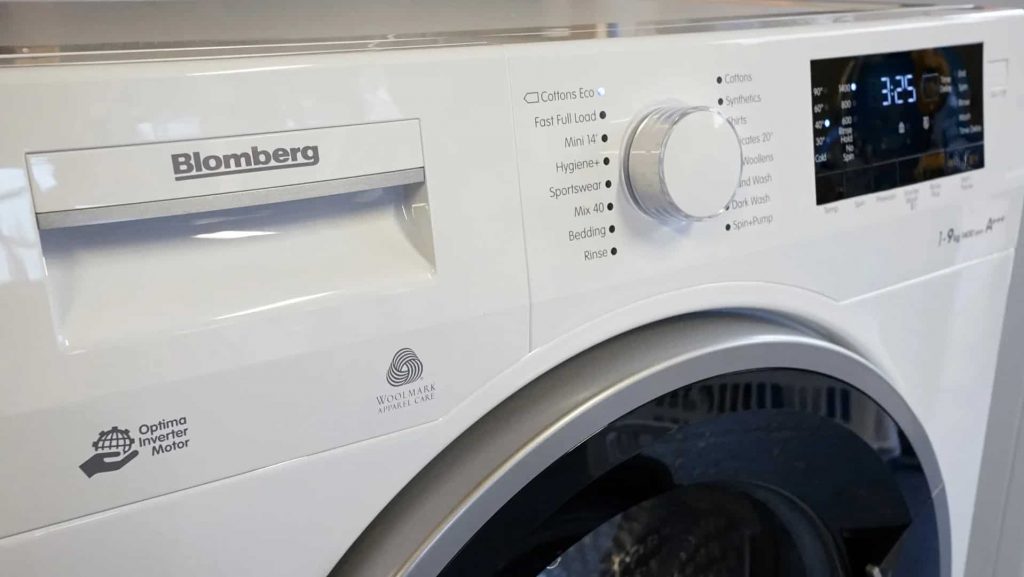 How to clean Blomberg washing machine
In order to clean your machine, you will need some basic supplies:
Bucket 
Towel 
Dish soap 
Vinegar
Toothbrush
Baking soda
How to clean Blomberg washing machine detergent drawer
Soap residues and limescale buildup in the detergent drawer can spoil your laundry and also cause your Blomberg washing machine to smell.
So if you don't want your clean fabrics to always come out soiled, it's necessary to clean your dispenser drawer frequently.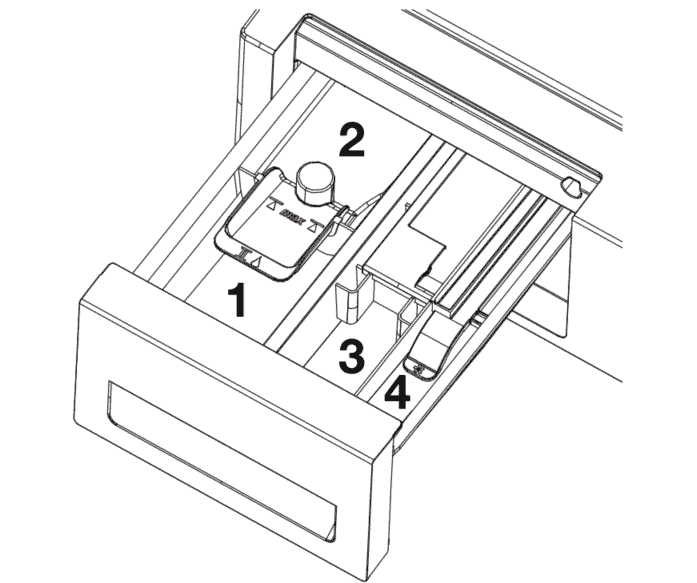 Here are the easy steps to clean your Blomberg dispenser drawer:
Remove the detergent drawer by pulling it out gently towards yourself but with little force.
Scrub the drawer thoroughly with a brush and lukewarm water in a bowl removing all detergent residuals.
The siphon should be cleaned as well inside the bowl.
Rinse the dispenser, dry it, and then replace it back in its position.
How to clean Blomberg washing machine drum
Your Blomberg washing machine drum can be a breeding ground for germs and bacteria which can affect the performance of your washer and the cleanliness of your clothes.
In other to clean your blomberg washing machine drum, use the drum Cleaning programmed on your washer.
These are the easy steps to follow in order to clean your Blomberg washing machine drum:
If your Blomberg model doesn't have the Drum cleaning programme feature, use cottons-90 programme and choose Additional water or Extra Rinse auxiliary functions as well.
Before starting the program, put a maximum of 100g of powder anti-limescale into the main was compartment(no. 2)
if the anti-limescale is in the form of a tablet, put only one tablet into the main wash compartment(no. 2)
Run either the Drum cleaning programme or cottons-90 program depending on your Blomberg model.
Dry the inside of the washing machine gasket with a towel after the programme has ended.
If the holes in the rubber seal are blocked, unlock them using a pointed object like a toothpick/
Tips;
You should ensure that you clean your Blomberg drum at least every 2 months.
Use an anti-limescale that is suitable for washers.
Ensure that no foreign objects are left in the washer after a wash cycle
Foreing metallic substances will cause rust stains. You can clean the rust stainsusing cleaning solutions for stainless steel and no other type.
Always keep your laundry drum dry by leaving the door open for some time to limit the build-up of moisture and mold in your drum.
How to clean Blomberg washing machine Seal
The water and detergent you use for washing can accumulate and get stuck in the door seal which can cause molds and mildew.
To clean your washer seal, use a damp cloth and soapy water. 
Carefully wipe around the seal, and if any dirt remains use a toothbrush to scrub the surface.
Dry your seal with a cloth after every wash cycle to prevent molds and mildew from forming in the seal.
How to clean Blomberg washing machine inlet or intake filters
There is a filter at the end of each water inlet valve and also at the ned of each water inlet hose where they are connected to the tap.
The inlet valve filters may get choked or clogged with debris and other particles from water that flows into your Blomberg washing during a wash cycle. 
This can cause a slow flow of water into your Blomberg washing machine or may cause water not to flow into it at all.
It is therefore important to clean your inlet valve filter at least once every month depending on the frequency of usage of your Blomberg washing machine.
Follow this easy process to clean your Blomberg washing machine inlet filter:
Start by closing your water supply taps.
Unscrew the cap connecting your water pipe and the inlet valve which is located at the back of your Blomberg washing machine. 
Remove the filters from the inlet valve by pulling it out, 
Use a soft brush to remove debris and other particles from the filter under running water. You can wash with baking soda for thorough cleaning.
Dry the filter thoroughly before putting it back.
Tip: It is recommended to replace your filters once every year.
How to clean Blomberg washing machine drain pump filter or trap
Your Blomberg washing machine has a trap that is used to trap larger residues like buttons and coins, which could block your draining system.
A clogged pump filter can cause poor performance of your Blomberg washing machine.
It is one of the common causes of smell and poor drainage in washing machines.
It is important to regularly get rid of these items that are trapped to ensure your Blomberg washing machine is working efficiently and effectively.
It is recommended to check and clean the filter 5 or 6 times a year.
Follow these steps to clean your Blomberg washing machine filter or trap:
Disconnect your washer from the power supply.
Locate the pump filter panel at the bottom left-hand side of your Blomberg washing machine.
Place a towel beneath to catch any water that may flow when you open the filter.
Open the panel using a flat screwdriver. 
You'll see a small drain tube inside the panel where the filter is located.
Lower the small tube to drain any excess water into a small cup or bowl.
After draining the excess water, remove the filter by turning it clockwise.
Clean and remove all debris and other particles in the filter.
Wash the filter thoroughly under running water and rinse with hot water.
Check inside the filter hole, remove any foreign objects, and clean the inside with a towel.
Insert your finger in the hole and check that the pump impellers at the back rotate.
Screw the pump filter back onto the washer by turning it anti-clockwise. Make sure it's tightened to prevent any leakage. And screw back the panel.
How to clean Blomberg washing machine door and exterior parts
Finally, you will need to clean the exterior of your Blomberg washing machine. 
Spritz a mild detergent and warm water mixture on a cloth and clean the inside and outside of the door until it's clean.
Wipe the outside of your Blomberg washing machine with lukewarm water and mild detergent.
Wipe your washer dry with a soft cloth.
Tip: Avoid using any abrasives or alcoholic liquids to clean your washer. Always use natural constituents as you may end up damaging the painted and plastic surfaces.
Do not hose down your washer with water, your washing machine isn't waterproof!
What to do after using Blomberg washing machine
It's important to maintain certain basic etiquettes with your washer that will allow it to last very long without issues.
Do these anytime you finish your washing:
Press the power button to turn off your washer
Turn off the plug or power supply to your washer
Turn off both hot and cold water taps where applicable
Always leave the door open for about an hour or two, to allow moisture inside the washer to evaporate.
Conclusion
Your Blomberg Washing machine will give you a long and trouble-free service if you follow these routine of cleaning and maintenance.
Always remember to clean your washing machine so that it can always be good as new.
Feel free to leave your comments below.