Does Salicylic Acid Bleach Clothes? (What You Need To Know)
Salicylic acid is a prevalent organic compound that has seen many use cases in manufacturing antiseptics, food preservatives, and skin care products.
These days, more and more skincare products are adding salicylic acid to their list of production ingredients, so your fabrics get stained and discolored pretty often.
If you are like me, you'd wonder if your garments can get bleached when they come into contact with any salicylic acid product.
Salicylic acid will not bleach, stain, or discolour your fabrics like dedicated and strong bleaching compounds would. There is no need to panic when your garments come into contact with salicylic acid. Most skin care products contain only about 3% amount of salicylic. 
In this article, we will answer all your questions regarding salicylic acid bleaching your clothes so you don't need to worry.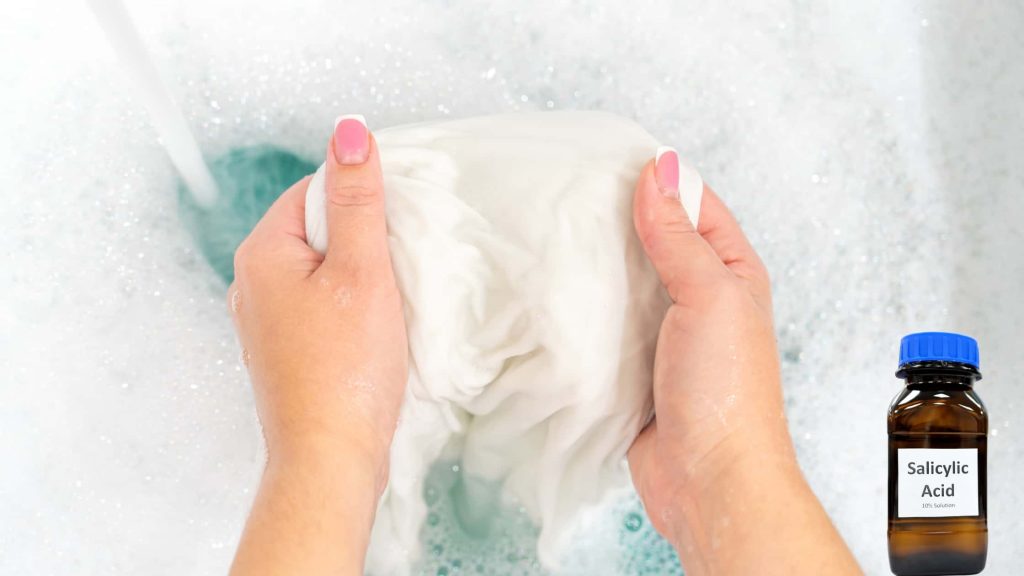 What is salicylic acid?
Salicylic acid is a chemical compound that is colorless and tastes bitter. 
It belongs to a class of drugs known as salicylates and is considered a keratolytic medication, meaning they are great exfoliators. 
Indeed, at the mention of salicylic acids, you would typically hear about them in skin health. 
This is because salicylic acids have many great benefits associated with their use on the skin. 
When applied on the skin, salicylic acid may help the skin shed dead cells, reduce swelling and redness, unplug blocked skin pores, and shrink pimples, all essential to treating common skin problems like acne.
Sources and common uses of salicylic acid
Ancestrally speaking, salicylic acids are obtained from the bark and leaves of some trees called willow and poplar. 
But those are not the only sources of salicylic acid.
Several foods are very high in salicylates. 
These foods may include vegetables like cauliflower, broccoli, spinach, and eggplants; legumes like beans and lentils; and fruits like watermelons, raspberries, and strawberries.
Salicylic acid is a very popular ingredient when it comes to the manufacturing of skin care products. 
Paying attention to the labels on your skincare products, you will find that products like face washes, acne spot treatments, cleaners, and exfoliators all contain some salicylic acid.
Effects of Salicylic Acid on clothes
Since salicylic acid is found in most skin care products, it is not surprising that people are concerned about whether they can bleach clothes. 
These concerns are valid. 
Acne medications are notorious for staining clothes, pillowcases, bedsheets, and towels. 
Many ingredients (like acids) used in skin care products have bleaching properties – and salicylic acid is no exception. 
However, the effects are minuscule. Salicylic acid will not bleach your clothes as badly as other chemicals like benzoyl peroxide. 
After all, most skin care products contain only a very small percentage of salicylic acid. 
For example, acne medications usually contain only about 3% of salicylic acid.
Related article: Does Hydrogen Peroxide Bleach Clothes? (Important Things You Need To Know )
Does salicylic acid bleach clothes?
Salicylic acid does not have the same bleaching properties as dedicated bleaches that you buy from your local supplies store, which are very powerful. 
They usually contain bleaching chemicals like Sodium Hypochlorite and Hydrogen Peroxide. 
The percentage of either of these chemicals contained in bleaches is 5.25%. 
Bleaches are mostly used to remove very tough stains that appear on materials like fibers, yarns, some textiles, and papers. 
Though not prominent and notorious, salicylic acid is still an acid. And acids generally have some level of bleaching properties, however minimal. 
Prolonged and frequent contact of salicylic acid with fabrics like your pillowcases and bed sheet will mostly like to see some stains and discoloration over time.
How to prevent salicylic acid stains on clothes
It does not hurt to be cautious when using salicylic acid. However, not nearly as strong, salicylic acid can leave stains on your shirts and sheets or may even discolor them. 
There are several ways you can prevent this from happening:
You can test out that new skincare product you just got from your over-the-counter store on a piece of fabric you no longer use. Apply some on old, wet t-shirts and towels and allow them to dry and preferably set overnight. Then wash them and inspect them for any stains or discoloration.

When you apply your skin care product, you should wait until it completely dries up before you allow it to come into contact with your good fabric. Do not wear your shirt or jump into bed immediately after applying your skin care product.

Wash your hands thoroughly and dry them after applying your skin care product.
Related article: Does Baking Soda Bleach Clothes? (All You Need To Know)
How to remove salicylic acid stains on clothes
If the accident has already occurred, and your fabric has been stained with salicylic acid, all is not lost. 
Here are some ways you can remove the salicylic acid stains from your clothes:
The longer the stain remains on the clothing, the more difficult it will be to remove. Rub some amount of detergent or fabric cleaner into the stain directly. Hand Wash or use a bristled tool to scrub the surface of the stains. Then allow it to sit for some time. After that, wash the cloth normally and see if the stain has been removed.
You can also use color-safe bleach on the stain to break down the chemical bonds of the stain. Use this bleach per labeled instructions and allow it to sit for some time. After that, wash the cloth as you normally would.
Alternative methods of removing salicylic acid from clothes 
You can also try one of the following methods if the stain proves difficult:
Lemon juice: Squeeze fresh lemon juice onto the stain and let it sit for a few minutes. Rinse with cold water and launder as usual.
Vinegar: Dab a cloth or sponge with white vinegar and blot the stained area. Rinse with cold water and wash the garment.
Hydrogen peroxide: Test a small, inconspicuous area of the fabric first to ensure it doesn't cause discoloration. If safe, apply hydrogen peroxide directly to the stain, let it sit for a few minutes, and then rinse with cold water before washing.
Salicylic acid is becoming increasingly common, with its use cases and applications expanding. Awareness of its effect on our skin and fabrics is important. And it is also crucial to know how to properly and safely handle them without any need for alarm.
Reference:
Related Articles: