Does Comet Bleach Clothes? (All You Need To Know)
Comet does pretty well when it comes to our household cleaning needs. It is able to remove tough stains from many surfaces.
Considering how effective they can be, you may be wondering if Comet can bleach your clothes.
Comet can bleach your clothes. Some Comet cleansers such as the Comet Soft Cleanser with Bleach, and Comet Classic have bleaching agents such as Sulfamic Acid that are meant to clean tough stains in bathrooms and toilets. You should not use Comet products on fabrics as it may discolor them.
In this article, we will explain in detail why it may not be a good idea to get Comet in contact with your fabrics and how to prevent Comet from discoloring your fabrics.
Let's dive in.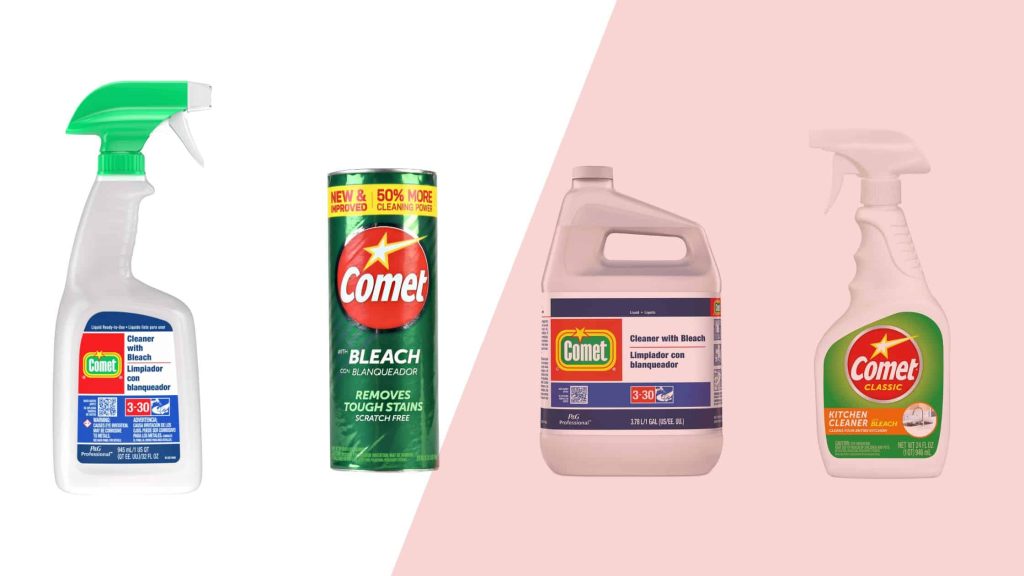 Does Comet bleach clothes?
Comet cleaner, known for its abrasive and stain-removing properties, raises questions about its impact on clothes and textiles.
To address these concerns, it's crucial to explore the chemical composition of Comet and how they interact with various fabrics.
Since we could not test the effect of Comet on all fabric types, we went a step further to contact KIK consumer products, one of North America's largest independent manufacturers of consumer products, which helps a large portfolio of brands and retailers to realize their products.
In line with our tests, we confirmed that Comet products should not be used on clothes or fabrics because they have a number of bleaching properties that can cause fabrics to discolor.
It may be very tempting to use Comet to remove that stubborn stain on your garment but you may end up ruining it.
Especially if your fabric is susceptible to fading.
How to get comet out of clothes
It can be confusing to decide what to do to remove comet out of your clothes.
Here is the best way to deal with Comet on clothes:
Act Quickly: Remove excess comet gently without rubbing it further into the fabric.
Rinse: Flush the stained area with cold water to dilute and loosen the comet residue.
Pre-treat: Apply a small amount of liquid laundry detergent or stain remover directly to the stain. Gently rub the fabric together to work in the detergent.
Soak: Let the garment soak in cold water for about 15-30 minutes.
Wash: Wash the garment in the washing machine using the appropriate water temperature and recommended detergent for the fabric type.
Check Before Drying: After washing, check if the stain is completely gone. If not, repeat the steps above before drying, as heat from drying can set any remaining stain.
Dry: If the stain is gone, you can safely dry the garment as usual.
Composition of Comet Cleaner
Comet cleaner is available both in powder and liquid form and contains cleaning agents that combine abrasive properties with effective stain removal capabilities.
The Comet brand is primarily made of four major products; Cleaners, Bath sprays, soft cleaners, and Comet Classic.
The key components of Comet products include surfactants, abrasives, and chemicals that aid in breaking down and removing various types of stains and residues.
These products are commonly used for cleaning sinks, tubs, toilets, and countertops. Its abrasive nature allows it to scrub away stubborn grime, mineral deposits, and soap scum. Moreover, Comet's stain-removing properties make it a go-to choice for
When it comes to tackling grease, food stains, and other marks on surfaces, you can surely rely on Comet products.
The table below contains all the active ingredients in various Comet products.
| Ingredient Name | Role |
| --- | --- |
| Sulfamic Acid | Cleaning Agent |
| Alcohols, C9-11, ethoxylated | Surfactant |
| Acid Blue 93 | Dye |
| Sodium Metasilicate Pentahydrate | Detergency Builder |
| Tetrasodium EDTA | Chelating agent |
| Calcium Carbnonate | abrasive |
| Sodium Lauryl Sulfate | Surfactant |
| Sodium Hydroxide | pH Adjuster |
| Dipropylene Glycol n-Butyl Ether | Solvent |
| Citric Acid | Active |
Ingredients in Comet
How Comet can bleach your clothes
Bleaching is a chemical process that involves the removal or alteration of color in fabrics.
It occurs when substances, commonly referred to as bleaching agents, break down the chromophores responsible for giving fabrics their characteristic color.
The effectiveness of a bleaching agent depends on its chemical properties and the fabric's susceptibility to color change.
When fabrics come into contact with a bleaching agent, chemical reactions take place that either lighten or completely remove color from the fibers.
Even though Comet cleaner is not explicitly designed or marketed as a fabric bleaching agent. Its main purpose is to remove stains and clean surfaces. But due to the chemical reactions that can occur between the active ingredients and fabrics, there is a possibility that Comet could cause color fading or alteration on certain types of clothing materials.
While Comet may not be as potent a bleaching agent as specialized fabric bleaches, its potential to affect fabric color cannot be entirely discounted.
Factors that can affect Comet bleaching your clothes
The bleaching effect of Comet on clothes may vary based on some factors.
Below are some of the factors that influence the discoloring of your fabrics by Comet.
1. Fabric Type and Composition
Natural fibers such as cotton, linen, and wool, as well as synthetic fibers like polyester and nylon, are generally more susceptible to color fading and bleaching effects, as the active ingredients in cleaning agents can penetrate the porous structure of these fibers more easily.
On the other hand, synthetic fibers may exhibit resistance to color alteration due to their synthetic origin and inherent durability.
2. Colorfastness of the Fabric
Colorfastness refers to a fabric's ability to retain its color despite exposure to external factors such as cleaning agents, sunlight, and washing.
Fabrics with low colorfastness are more prone to fading and discoloration when subjected to cleaning products like Comet.
3. Concentration of Comet Used
The concentration of Comet cleaner used during cleaning plays a significant role in determining the extent of the bleaching effect on fabrics.
For instance, Comet Cleanser 2X pine has 50% more cleansing power and twice that of regular Comet and may cause more discoloration to your fabrics.
4. Exposure Duration
The duration of fabric exposure to Comet cleaner is another critical factor.
Extended contact between Comet and fabric increases the likelihood of color alteration and damage.
A brief interaction may have minimal effects, while prolonged exposure may lead to noticeable changes in fabric appearance.
Testing the Bleaching Effect of Comet on Different Fabrics
To better understand the potential bleaching effect of Comet cleaner on various fabrics, a series of controlled experiments were conducted.
Different types of fabrics, including natural fibers, synthetic fibers, and blends, were chosen to represent a diverse range of materials commonly found in clothing.
Presentation of Results and Observations
The experiments yielded notable results that highlighted the varying responses of different fabrics to Comet cleaner:
Natural Fibers (Cotton): Fabrics made from natural fibers, such as cotton, exhibited a noticeable change in color when exposed to Comet.
Lighter-colored cotton fabrics showed more pronounced color alterations compared to darker shades.
Synthetic Fibers (Polyester): Fabrics composed of synthetic fibers, like polyester, generally showed less color change when exposed to Comet cleaner.
Synthetic fibers displayed higher resistance to bleaching effects, with only slight color alterations observed in some cases.
Blended Fabrics (Cotton-Polyester Blend): Blended fabrics displayed a mixed response to Comet Cleaner. The natural fiber component (cotton) of the blend often exhibited more noticeable color fading, while the synthetic component (polyester) remained relatively unaffected.
Controlled Variables
Several variables were controlled during the experiments to ensure accurate and reliable results:
Concentration of Comet: The experiments used Comet Cleanser 2X Pine ensuring uniformity in cleaning agent concentration.
Exposure Duration: Each fabric was exposed to Comet for a specific duration, and the time was controlled to prevent extended exposure that could lead to excessive color fading.
Fabric Samples: Identical fabric samples were used for each fabric type to eliminate variations due to differences in fabric quality or dyeing processes.
Colorfastness Rating: Fabrics with different colorfastness ratings were selected to observe the impact of Comet cleaner on fabrics with varying levels of resistance to color change.
By conducting these experiments and analyzing the results, it became evident that Comet cleaner has the potential to cause color fading and alterations in fabrics.
Using Comet on Fabrics
You may want to use Comet to remove tough stains on your fabrics because you are sure your fabric doesn't fade.
If that is the case, you still need to take some precautions to avoid damaging your fabric.
Precautions to Take Before Applying Comet to Fabrics
Read Labels and Instructions: Carefully read the label and instructions provided on the product packaging. Look for any warnings or recommendations related to fabric use.
Spot Test: Perform a spot test on a small, inconspicuous area of the fabric before using Comet cleaner on a larger area. This allows you to assess how the fabric reacts to the cleaning agent and whether any undesirable effects, such as color fading, occur.
Testing on a Small Inconspicuous Area First
Before applying Comet cleaner to a fabric, it's advisable to test it on a small, inconspicuous area to gauge its impact.
Follow these steps:
Application: Apply a small amount of the diluted solution to a hidden or inconspicuous area of the fabric.
Observation: Allow the solution to sit for a short duration, then gently blot the area with a clean, damp cloth. Check for any changes in color, texture, or damage to the fabric.
Assessment: Based on the results of the spot test, determine whether it is safe to proceed with using Comet cleaner on the fabric.
Can you use Comet on white clothes?
You can use Comet on white clothes, but not all Comet products. Comet classic concentrated bleach is specially made to use for laundry and keeps your white clothes whiter for a long time.
1/3 cup of Comet classic bleach should be loaded into the bleach compartment on your washer after you have added your laundry detergent.
It's important to always sort your fabrics by color is they may discolor and ruin other clothes.
Is Comet bleach or ammonia?
Comet powder cleaners typically contain bleach as an active ingredient, not ammonia. Bleach is used for cleaning, disinfecting, and removing stains.
References:
Related Articles: