Dryer Breaker Size (The Ultimate Guide)
Using the right circuit breaker size for your dryer is a crucial aspect of maintaining the safety and functionality of your home's electrical system.
A breaker protects your electrical system by shutting off the power when the circuit is overloaded or shorted.
Here is the correct dryer breaker size to use:
The National Electrical Code® requires that a dryer have a dedicated circuit with a minimum of 30-amp, double-pole breaker wired with 10 AWG (American Guage Wire) wire. However, every dryer comes with it its own electrical specifications which determine its breaker size.
It's essential to choose the right breaker size to ensure your dryer operates safely and efficiently.
This article will provide a comprehensive understanding of the considerations involved in selecting the appropriate breaker size for a dryer including the basics of circuit breakers and dryer types, calculations for electric dryer breaker sizes, factors influencing breaker size selection, safety concerns, sizing for gas dryers, installation procedures, and the importance of professional assistance.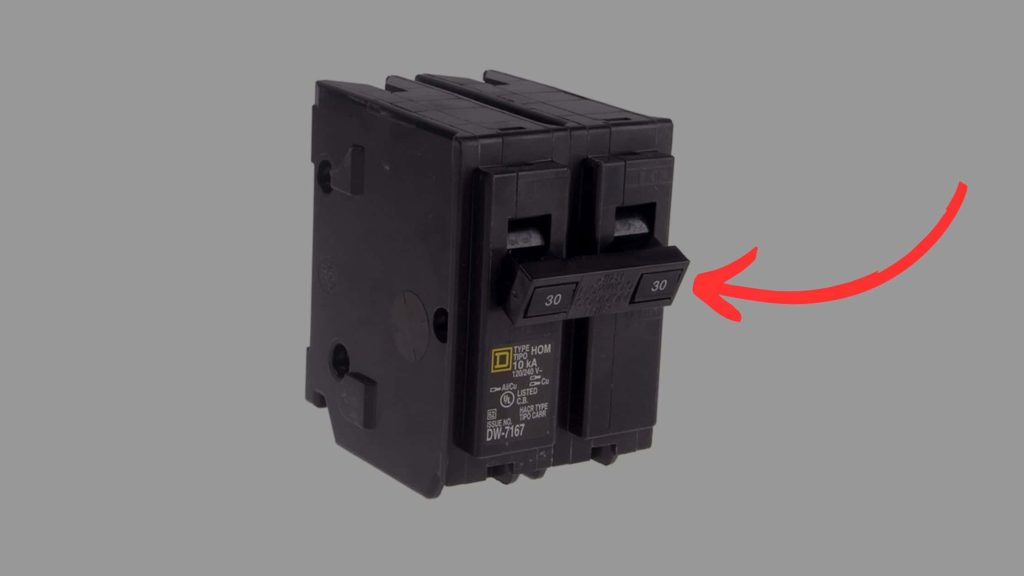 What Size Circuit Breaker Do I Need For A Dryer?
Most residential dryers require a 30-amp circuit breaker in compliance with electrical codes.
To confirm the right breaker size for your dryer look out for the sticker or metal plate containing the serial number and other details including the breaker size.
The sticker or metal plate is usually located at the bottom or back of your dryer.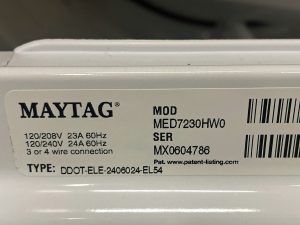 The image above shows a dryer that uses 24amps which means the breaker should not be less than 24amps, and ideally a minimum of 30amps.
The amperage for your dryer depends on its size and capacity. It ranges from 22A to 25A for most dryers.
Importance of Selecting the Correct Breaker Size for a Dryer
When it comes to appliances like dryers, using the correct breaker size is more than just a technical detail – it's a matter of safety and performance.
Here are 3 importance of using the right breaker size for your dryer:
The breaker safeguards against electrical overloads, preventing overheating and potential fire hazards.
When you use the correct dryer breaker, you ensure that your dryer receives the appropriate amount of electrical current without putting undue stress on the wiring or other components.
Choosing the right breaker size also ensures that your dryer operates optimally, prolonging its lifespan and reducing energy consumption.
Using the Wrong Breaker Size for your dryer
Using an incorrect breaker size for your dryer can have serious safety implications.
If the breaker is too small for the dryer's power requirements, it will trip frequently, disrupting the appliance's operation and potentially damaging the breaker itself.
Using a breaker that is too large can lead to dangerous situations. An oversized breaker might fail to trip in the event of an electrical overload, which could result in overheating, electrical fires, or damage to your dryer.
So you always need to ensure you are using the right breaker size for your dryer.
Explanation of Circuit Breakers
A Circuit breaker is a pivotal component within an electrical system that acts as a safety mechanism.
The primary purpose of a dryer breaker is to prevent electrical circuits from overloading and causing potential hazards like fires or electrical shock.
Types of Circuit Breakers
There are several types of circuit breakers, each designed to address specific safety concerns. Dryers use standard breakers but there are some other circuit breakers you need to be aware of.
Standard Circuit Breakers (Single and Double Pole): These are the most common circuit breakers. A single-pole breaker safeguards a single home circuit, possibly for living room lights or kitchen outlets. It occupies one slot in the electrical panel and usually covers 15-amp or 20-amp circuits.
AFCI (Arc-Fault Circuit Interrupter) Circuit Breakers: AFCI breakers are designed to detect and mitigate the risk of electrical arcing, which can lead to fires. They monitor the circuit for abnormal arcing patterns and trips to prevent potential fire hazards. Arc fault protection, introduced in 2002 for bedrooms, is now required for almost every room except bathrooms and basements. AFCIs are becoming the primary breakers in panels, replacing standard ones in new construction and remodeling.
GFCI (Ground-Fault Circuit Interrupter) Circuit Breakers: GFCI breakers are essential for areas exposed to moisture, such as kitchens and bathrooms. They detect imbalances in the electrical current, which could indicate a ground fault or leakage of current to unintended paths, and quickly interrupt the circuit to prevent shocks.
Power Requirements for Electric Dryers
Electric dryers operate on 240 volts (V), which is supplied through a dedicated circuit.
The power requirements for electric dryers can vary, but they typically fall in the range of 4,000 to 6,000 watts.
To accurately size the breaker for an electric dryer, it's crucial to calculate the current draw based on the dryer's wattage and the voltage it operates on.
Understanding these foundational concepts of circuit breakers and the different types of dryers sets the stage for deeper insights into how breaker size corresponds to dryer power requirements.
How to calculate breaker size for electric dryers
Calculating the right breaker size for an electric dryer involves understanding the appliance's power consumption, current draw, and selecting an appropriate breaker amperage rating.
We will walk you through the steps required to make accurate calculations for an electric dryer's breaker size.
1. Determining the Dryer's Power Consumption
i. Wattage Rating of the Dryer
The wattage rating of an electric dryer indicates the amount of power it consumes during operation.
It can typically be found on the dryer's nameplate or in the user manual. It usually falls within the range of 4,000 to 6,000 watts.
ii. Voltage (Typically 240V for Dryers)
Electric dryers in most households operate on a standard voltage of 240 volts.
This voltage is supplied by a dedicated circuit to meet the high power demands of the dryer.
2. Calculating the Current Draw
Calculating the current draw is a crucial step in determining the appropriate breaker size for an electric dryer.
i. Ohm's Law and the Formula for Current (I = P / V)
According to Ohm's Law, the current (I) flowing through an electrical circuit can be calculated by dividing the power (P) by the voltage (V). The formula is:
I = P / V
Where: I = Current in Amperes (A) P = Power in Watts (W) V = Voltage in Volts (V)
For example, if your dryer's wattage rating is 5,000 watts and the voltage is 240 volts:
I = 5000W / 240V = 20.83A
This calculation gives you the approximate current draw of the electric dryer.
3. Selecting the Appropriate Breaker Size
i. Matching Current Draw to Breaker Amperage Ratings
Once you have calculated the current draw of your electric dryer, you need to select a breaker amperage rating that can handle the load without tripping excessively.
Generally, you should choose a breaker size that is slightly larger than the calculated current draw to provide a safety margin. Common options include 30-amp and 40-amp breakers.
ii. Common Breaker Sizes for Dryers (30A, 40A)
30-Amp Breaker: This is a standard size for many electric dryers. It provides ample protection for most dryers' power requirements without causing unnecessary tripping.
40-Amp Breaker: If your dryer's current draw is closer to 30 amps but slightly higher, a 40-amp breaker might be suitable. However, it's essential to ensure that the wiring and other components can handle the increased load.
Dryer breaker size safety considerations
Ensuring the safety of your electrical system and your home is paramount when determining the appropriate breaker size for an electric dryer.
Ignoring safety considerations can lead to hazards, inefficiencies, and potential damage to your dryer.
Compliance with Electrical code standards is crucial when selecting breaker sizes for your dryer.
Failing to adhere to codes can result in hazardous situations and legal consequences.
It's advisable to consult local codes and regulations, and, if necessary, involve a licensed electrician to ensure that the breaker sizing aligns with safety standards.
Risks of Using an Undersized Breaker
So you may ask, "What happens if I install a circuit breaker that is too low?".
Below are what can happen if you use a circuit breaker that is too low:
1. Tripped Breakers and Inconvenience
Using a breaker with an amperage rating lower than the actual current draw of the electric dryer can result in frequent tripping.
It can be inconvenient and disruptive to your daily routine, requiring you to constantly reset the breaker.
2. Potential for Overheating and Fire Hazards
An undersized breaker may not provide adequate overcurrent protection, potentially causing the wiring to overheat.
The excessive heat can damage insulation, leading to short circuits and dangerous electrical faults.
Risks of Using an Oversized Breaker
1. Inadequate Protection for the Circuit
Opting for an oversized breaker may seem like a way to prevent tripping, but it can compromise the safety of the electrical circuit.
Breakers are designed to trip when the current exceeds a certain level to protect the wiring and appliances.
An oversized breaker might fail to trip in the event of an overload, leaving the circuit vulnerable to damage and potential hazards.
2. Risk of Damaging the Appliance
Using an oversized breaker can expose your electric dryer to excessive current levels.
This can result in accelerated wear and tear on your dryer's components, reducing its lifespan and potentially leading to costly repairs or replacement.
Can you use A 40 Amp breaker for a dryer?
You may use a 40 amp breaker for your dryer, but that depends on the maximum electric current that your dryer draws. If your dryer draws 30amp then it is required to use a 40amp breaker for it. Most household electric dryers draw 22-23 amps, for which a 30-amp breaker is most suitable.
Gas Dryers and Breaker Sizing
While the focus so far has been on electric dryers, gas dryers offer an alternative that comes with its own set of considerations when it comes to breaker sizing.
The primary distinction between electric and gas dryers lies in how they generate heat for drying clothes. Electric dryers rely on electrical power to generate heat, while gas dryers use natural gas or propane as their heat source.
This key difference significantly affects their power requirements and, consequently, their breaker sizing considerations.
Gas dryers require a 120-volt individual, effectively grounded, with a 3 or 4-prong grounding receptacle. This setup must be shielded by a 30-amp circuit breaker or a time-delay fuse.
Although gas dryers primarily rely on gas for heat, they still require electrical power to operate various components.
These components include the motor, control panel, and electronic sensors.
However, the power requirements for gas dryers are considerably lower than those for electric dryers.
How to install a breaker for your dryer
If you want a step-by-step guide to installing a breaker for your dryer, the video below will guide you through it.
Reference:
Related articles: