What Is Deep Fill On Samsung Washer? (All You Need To Know)
Are you wondering what the Deep Fill option on your Samsung top load washer is, when, and how to use it?
The Samsung Deep Fill setting is one of the most helpful options on Samsung washers, but not many people are aware of its use.
Here is what Samsung Deep Fill is:
Samsung Deep Fill is an option on Samsung washers that adds extra water to a wash cycle to ensure your clothes are completely soaked. It maximizes the water level not only to ensure your clothes are well-soaked but are thoroughly cleaned.
You should definitely be using the Deep Fill option if you aren't using it already.
In this article, we will show you how and when to incorporate the Deep Fill option in your laundry for best results.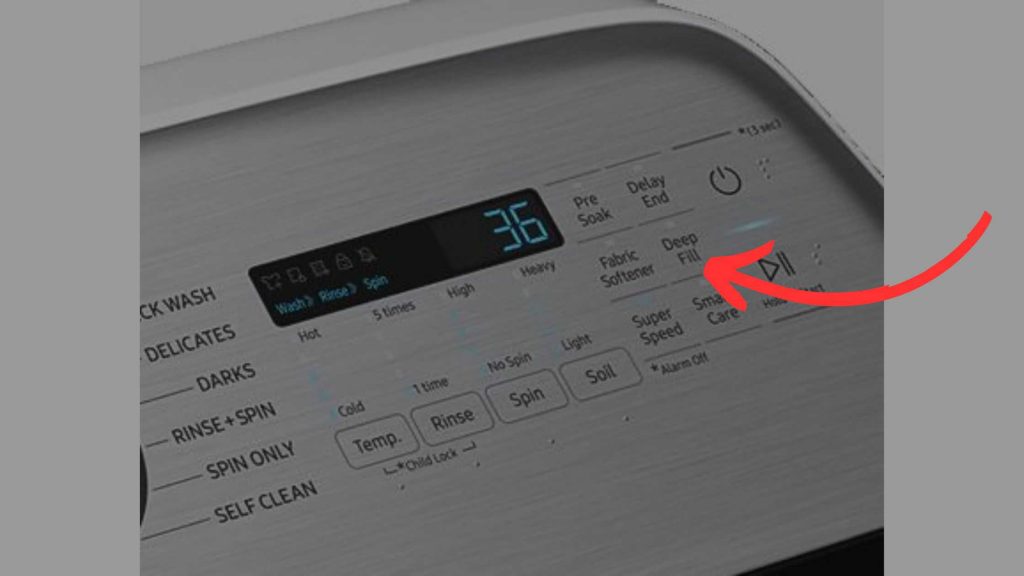 What is Deep Fill on Samsung Washer? (Details)
The Deep Fill option is only available on select Samsung washers so you may only it on those sleek Samsung washers.
The purpose of the Deep fill on Samsung washers is to add extra water to the tub and maximize its level.
Samsung HE washers tend to make use of a limited amount of water during cycles.
But sometimes, water doesn't fill the tub enough to thoroughly clean soiled or heavy-duty fabrics.
That is why the Deep Fill option is available to allow your clothes to get thoroughly soaked or saturated in the drum.
How to use Deep Fill on Samsung washer
Using the Samsung Deep Fill feature is a rather straightforward process that you can run without any problems.
Here is a step-by-step process to use Deep Fill:
Press the power button to turn on your washer
Add your load to the drum and fill the detergent drawer
Select your wash cycle
Select your desired Temp., Rinse, Spin, and Soil level.
Select any additional preferred options.
Press Deep Fill
Hold the Start/Pause button to start the cycle.
Important Notes:
The deep fill option does not work with some wash cycles; NORMAL, WATERPROOF, BEDDING, SPIN ONLY, OR SELF CLEAN.
You may experience an increased wash cycle time when the Deep Fill option is used.
When to use Deep Fill on Samsung washer
You can greatly improve your laundry when you know when is the best time or scenario to use particular wash options.
Load Considerations:
It's all about load size. If you're washing a handful of delicate blouses, you might not need as much water as when you're tackling a mountain of towels. Use your judgment based on the load size to ensure your laundry gets the perfect balance of water and cleaning power.
Mud-Stained Outdoor Clothing:
Deep Fill should be used for muddy clothes. Its higher water levels and extended wash times work together to get rid of all the mud.
Pet Bedding and Heavily Soiled Pet-Related Items:
Fur babies bring a fair share of mess. Deep Wash comes to the rescue when your pet's bedding, toys, or even your clothes covered in pet hair need some extra TLC. Those persistent pet odors and dirt will go away.
Grease or Oil Stains on Work Clothes:
If your work involves tools, machinery, or grease, your clothes might bear the brunt of it. Deep Fill together with a suitable cycle can remove those stubborn grease or oil stains that seem like they'll never budge. The increased water levels and longer wash times help break down these tough stains, making sure your workwear is ready for another day on the job.
What does Samsung Deep Fill do?
Now that we have explained what Deep Fill is, you may wonder exactly how it works.
Deep Fill does mainly 2 things, discussed below:
Adjusting Water Levels:
Imagine you've just loaded up your washer with a pile of bed sheets. With Deep Fill, you're not limited to a pre-set water level. You have the power to manually adjust the water level based on the size of your load. Small load? Go easy on the water. Bulky comforters? Crank it up! This customization ensures that your laundry isn't drowning or thirsty – it's just right.
Better Saturation and Distribution:
Once you've set the water level, the magic begins. As your washer fills up, the Deep Fill feature guarantees that your laundry is fully saturated. This saturation is crucial for proper cleaning, as it allows the detergent to mingle with the water and create a cleaning cocktail that tackles even the toughest stains. Plus, with more water in the drum, your clothes have room to move around freely, enabling better distribution of both water and detergent.
Benefits of Using Samsung Deep Fill
While you may not always need to use the Deep Fill option it can really prove to be beneficial when it is needed.
Here are some of the benefits of Deep Fill:
Enhanced Cleaning for Larger Loads:
By using more water, Deep Fill ensures that even large loads get the attention they need. Every nook and cranny of your items gets the cleaning treatment, resulting in a thorough clean that leaves no residue behind.
Improved Rinse Quality for Heavily Soiled Items:
When it comes to heavily soiled items – think muddy play clothes or workout gear – a thorough rinse is essential to remove all traces of dirt and detergent. With more water in the drum, the rinse cycle becomes more effective. This means your clothes are left squeaky clean, without any detergent lingering on the fibers.
Related Articles: