Is tumble dryer Insurance worth it? (What you should know)
One of the essential appliances in every home especially during cold weather and rainy seasons is a tumble dryer. You can just imagine the inconvenience it would cause to have it broken at an unexpected time.
It is not ideal to hang your clothes indoors and if the weather won't allow you to dry outdoors you may just worsen the situation as dampness due to improper drying can cause the growth of mold and mildew.
As crucial as this appliance may appear, you may wonder if getting insurance for your tumble dryer is worth it or not.
Tumble dryers are expensive appliances to replace, so it makes sense to protect your investment with an insurance policy that will cover you for any eventuality. 
Let's dive deeper into why you may want to consider getting tumble dryer insurance.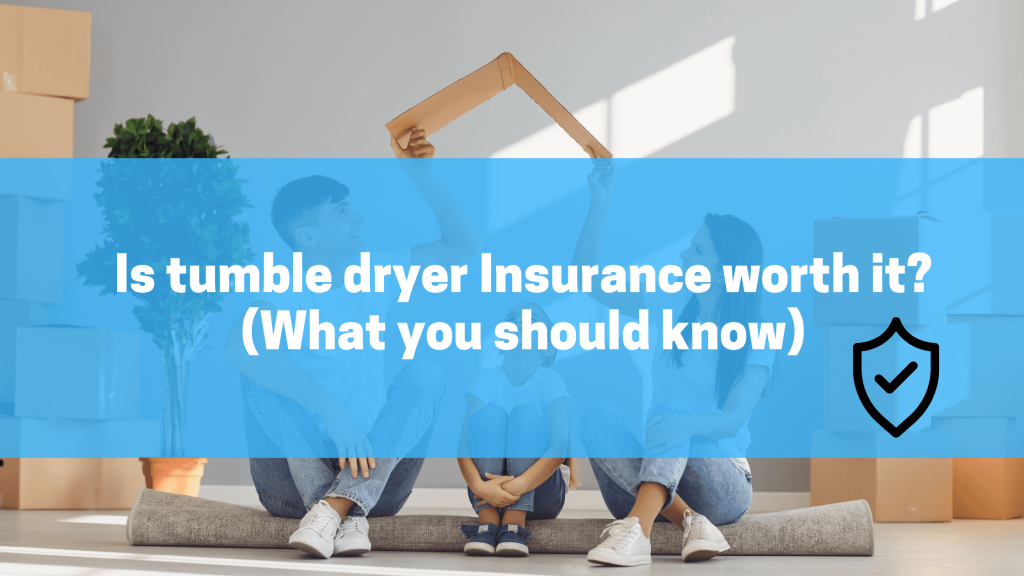 What is a tumble dryer insurance warranty?
Tumble dryer insurance is an insurance policy that covers the cost of a new tumble dryer if it breaks down due to either an electrical or mechanical fault.
An important note is that the tumble dryer insurance does not cover general wear and tear. Also, a tumble dryer insurance will differ in what is covered under the insurance. For instance, some tumble dryer insurance plans will cover accidental damages.
Many homeowners decide not to get a tumble dryer insurance because they feel that the cost to repair a broken one will be less than what the insurance will cover.
That may be true, but if not done properly you may end up spending way more than the insurance will cover due to a lack of qualified personnel working on your broken appliance.
What does tumble dryer insurance cover?
So your tumble dryer insurance will come to your rescue when your dryer breaks down unexpectedly. Your insurance company will have it diagnosed by their own professionals and then they can have it either repaired or replaced if it's irreparable.
Your Insurance isn't unlimited. What that means is that there is usually a cap on the total cost of repair or replacement that the insurance will cover.
 You will need to top up when the cost to fix your broken dryer exceeds what the insurance covers. But trust me, it's still worthwhile.
 What will tumble dryer insurance not cover? 
Your insurance will not cover a hundred percent (100%) of damages to your tumble dryer. Let's look at some of the damages that won't be covered under your insurance:
When you don't use your appliance properly by not following the instructions of your manufacturer, you may end up spoiling your dryer. If the insurance company's professionals diagnose that as the cause of damage, you'll have to fix it yourself.
You're responsible for regular maintenance on your tumble dryers such as cleaning the filters and vents and general cleaning. If you don't do regular maintenance your insurance company may not cover any damages that are diagnosed as a maintenance problem.
It is worthy to note that these exclusions and more will vary depending on the tumble dryer insurance company and the particular plan your purchase.
When do you need tumble dryer insurance?
You will need to get insurance for your tumble dryer if:
Your manufacturer's warranty is almost expired- Manufacturers usually will give you a guarantee for about a year or less when you purchase from them.
Because tumble dryers can be costly to repair, you may want to get insurance once the one given by your manufacturer expires.
What are the advantages of tumble dryer insurance?
The benefits of tumble dryer insurance cannot be overemphasized. The thought of having your dryer repaired any time it gets damaged can be soothing.
Below are the advantages you stand to get when you buy a tumble dryer insurance for your home:
1. Live a worry-free life 
Your tumble dryer is bound to break down during its lifetime. How would you feel if you could use your appliance throughout without having to worry about repairing your appliance when it gets a fault?
2. Cost savings to repairing your tumble dryer 
 There are a number of factors that infirm the repair cost of your tumble dryer. One of the benefits of tumble dryer insurance is the fact that you save significantly on the repair of your dryer. This is a result of the subsidized packages from your insurance company.
3. Appliance diagnoses and repair from qualified technicians 
It's sometimes a gamble getting the right qualified technicians to diagnose and repair your broken appliance. This is usually the case especially when you are looking for cheap services at the same time.
However, appliance insurance companies already have a pool of qualified technicians they work with. Gives you the opportunity to have very qualified people diagnose and repair your appliance.
What are the disadvantages of tumble dryer insurance?
1. No guarantee of repair vs replacement 
Whether your broken tumble dryer will be fixed or replaced depends on the exact terms that are contained in your insurance and the situations surrounding it. So you can't be certain whether your dryer will be replaced or simply repaired. 
2. No choice of repair technicians 
Although insurance companies usually will provide you with very qualified technicians to work on your dryer, you have no say in the choice of repairer. Also, you can't bring in your own trusted repairer to get the job done. 
What do you consider when buying an appliance warranty?
When a tumble dryer breaks down, the owner will have to pay for the repair or replacement of their appliance. This is where tumble dryer insurance comes in. It covers the cost of repairs and replacements if anything happens to your appliance.
It is important that you check what your policy includes before you purchase it. You should ask yourself questions such as:
– What are the terms and conditions?
– Is there a deductible?
– What does it cover?
– What is excluded from my policy?
Do make sure all of these questions and more are answered in the terms of your contract.
Sources: