Does Polyester Shrink In The Dryer? (All You Need To Know)
Are you wondering whether your polyester garment can withstand the heat of your dryer without leaving you with shrunken, unwearable items?
Mostly, you find a tag on your garment indicating how best your should dry them.
In case you don't have a tag telling you whether your polyester will shrink or not in your dryer the you should continue reading.
Polyester is less likely to shrink in the dryer compared to natural fibers like cotton. However, excessive heat can still cause minor shrinkage or distortion in polyester garments, especially if they are blended with other materials prone to shrinking.
In this article, we will discuss in detail how polyester reacts when put in the dryer, including essential dos and don'ts.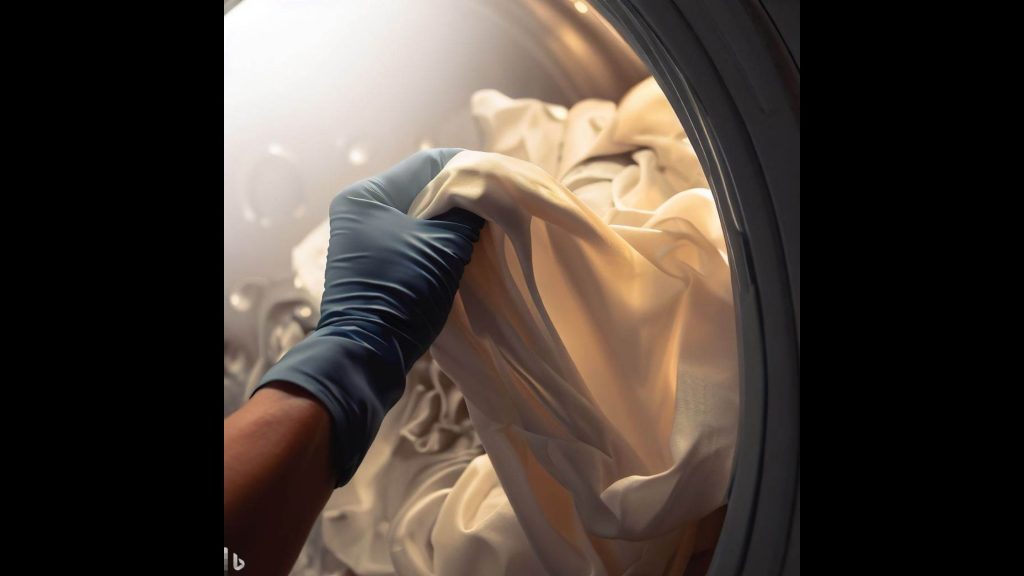 Does 100% polyester shrink in the dryer?
Polyester is a synthetic fabric specially made with high durability and resistance to shrinkage, and you generally don't need to worry about them during laundry days.
Considering that a dryer can get as hot as 135°C, you may wonder if 100% polyester can withstand such temperatures without shrinking.
Polyester is inherently less prone to shrinking than natural fibers like cotton or wool.
This is because the long-chain polymers that make up polyester fibers are heat-set during the manufacturing process.
The heat-setting process essentially locks the fibers into their current shape, making them more resistant to changes caused by heat exposure. As a result, pure 100% polyester garments are less likely to shrink in the dryer than those made from natural fibers.
But it is possible that minor shrinkages may be observed in 100% polyester which may depend on various factors as shown in the table below:
| Factor | Impact on Polyester Shrinkage |
| --- | --- |
| Polyester Type | Pure 100% polyester is less likely to shrink due to heat exposure. |
| Dryer Settings | Low to medium heat settings are recommended to prevent shrinkage. |
| Quality and Weave | Higher-quality and tightly woven polyester fabrics are more stable. |
| Previous Care/Wear | Repeated exposure to high heat or harsh treatment can weaken the fabric. |
Factors that can influence polyester shrinking in a dryer
Generally, proper care, gentle treatment, and adherence to care labels can minimize shrinkage risks of polyester.
Factors that influence shrinkage of polyester
Although polyester is generally safe against shrinkage, there are a number of factors that may cause minor to major shrinkage issues.
Here are some of the factors that can influence how polyester may undergo shrinkage:
Heat Sensitivity of Polyester
Polyester is moderately heat-sensitive, meaning it can be affected by high temperatures, such as those in a dryer.
When exposed to heat beyond its tolerance level, the molecular structure of polyester can undergo changes, leading to shrinkage.
It's essential to recognize that while polyester has some heat resistance, it is not immune to heat-related issues, especially if subjected to excessive heat over extended periods.
Blended Fabrics
Polyester-Cotton Blends

Polyester-cotton blends are common in the textile industry, combining the strengths of both fibers.
Cotton is a natural fiber with good breathability, while polyester provides durability and wrinkle resistance.
When these two fibers are blended, the fabric's shrinkage behavior can be influenced by the ratio of polyester to cotton. Higher polyester content may make the fabric less prone to shrinking, as polyester is less susceptible to heat-induced shrinkage compared to cotton.

Polyester-Rayon Blends

Polyester-rayon blends are another popular combination, offering a balance between durability and a soft, drapey feel.
Rayon is a semi-synthetic fiber made from wood pulp, and it can be more heat-sensitive than polyester.
In blends with rayon, shrinkage behavior can vary based on the specific ratio of the two fibers. Higher polyester content typically makes the fabric more resistant to heat-induced shrinkage.
Fabric Construction
Weave and Knit Patterns

The weave or knit pattern of a fabric can influence its shrinkage behavior. Fabrics with tight weaves or knits tend to be less prone to shrinkage as there is less room for fibers to contract when exposed to heat.
Conversely, loose weaves or knits can allow more movement of the fibers, making the fabric more susceptible to shrinkage.

Density and Weight

The density and weight of the fabric play a role in shrinkage. Heavier fabrics often have a higher polyester content to maintain their durability.
Lighter-weight fabrics may have a higher percentage of cotton or other natural fibers, which can contribute to greater shrinkage when exposed to heat.
Preparing Polyester for Washing and Drying
Here are some tips to to safely dryer polyester using the dryer.
Always start by checking the care label attached to your polyester item. Care labels provide specific guidance on how to wash and dry the garment or textile.
Care labels may include symbols and text indicating the recommended washing temperature, drying method (line dry, tumble dry, etc.), and any special care instructions.
When preparing a load of laundry, separate your polyester items from other fabrics, especially those that are more prone to shrinkage, like natural fibers such as cotton or wool.
Avoid using the "high heat" setting, as it significantly increases the risk of shrinkage, especially for blended fabrics.
How to dry polyester in dryer
Drying polyester in a dryer requires some care to prevent excessive heat exposure, which can lead to shrinkage or damage.
Here's a step-by-step guide on how to safely dry polyester in a dryer:
Check the Care Label: Start by reviewing the care label attached to your polyester item. Care labels often provide specific instructions for drying. Look for any symbols or text indicating the recommended drying method and temperature.
Sort Your Laundry: Separate your polyester items from other fabrics, especially those that are more heat-sensitive, like natural fibers (cotton, wool) or delicate materials (silk, lace). Grouping similar fabrics together prevents potential damage or color bleeding.
Use a Gentle Cycle: Select low to medium heat setting on your dryer. Avoid using the "high heat" setting, as it can cause damage to polyester fibers.
Remove Excess Moisture: Before placing your polyester items in the dryer, gently squeeze out any excess water by hand to reduce drying time.
Dry with Care: Place your polyester items in the dryer, leaving enough room for air circulation. Overcrowding can lead to uneven drying and potential wrinkles.
Add Dryer Balls or Tennis Balls: To prevent clumping and help fluff up the items, consider adding a few dryer balls or tennis balls to the dryer. These will agitate the fabrics and promote even drying.
Remove Promptly: As soon as the dryer cycle is complete, promptly remove your polyester items to prevent wrinkles. If any items are slightly damp, hang them up or lay them flat to air dry to avoid over-drying.
Does 95% polyester shrink in the dryer?
It is possible for 95% polyester to shrink slightly in the dryer if it is exposed to high heat.
To avoid shrinkage, it is recommended to wash polyester in cold water and tumble dry on low heat or hang dry.
It is also important to check the care label on the garment for specific washing and drying instructions.
How much does polyester shrink in the dryer?
Polyester can shrink up to 5% in the dryer if it is exposed to high heat. However, if the garment is washed and dried according to the care label instructions, shrinkage can be minimized or avoided altogether.
The amount that polyester shrinks in the dryer can vary depending on several factors, including the specific type of polyester, the temperature of the dryer, and the length of time that the garment is exposed to heat.
References:
Related Articles: