Can You Use Dryer Balls And Dryer Sheets Together? (Answered)
Are you looking for the best results in your laundry routine and wondering if you could actually combine products such as dryer balls and sheets in the same cycle?
Sounds like a great idea, but you may be wondering if it is okay to use both dryer balls and dryer sheets together.
You can use dryer balls and dryer sheets together. Both products serve different purposes that complement each other, resulting in softer, less wrinkled, and static-free laundry. While both dryer balls and sheets help to prevent wrinkles and static, dryer sheets provide additional sweet scents to laundry.
This article will explore the nuances of using dryer balls and dryer sheets together.
Whether you're seeking eco-friendly options or simply want to achieve perfectly fresh and soft laundry, we've covered you with valuable tips and insights.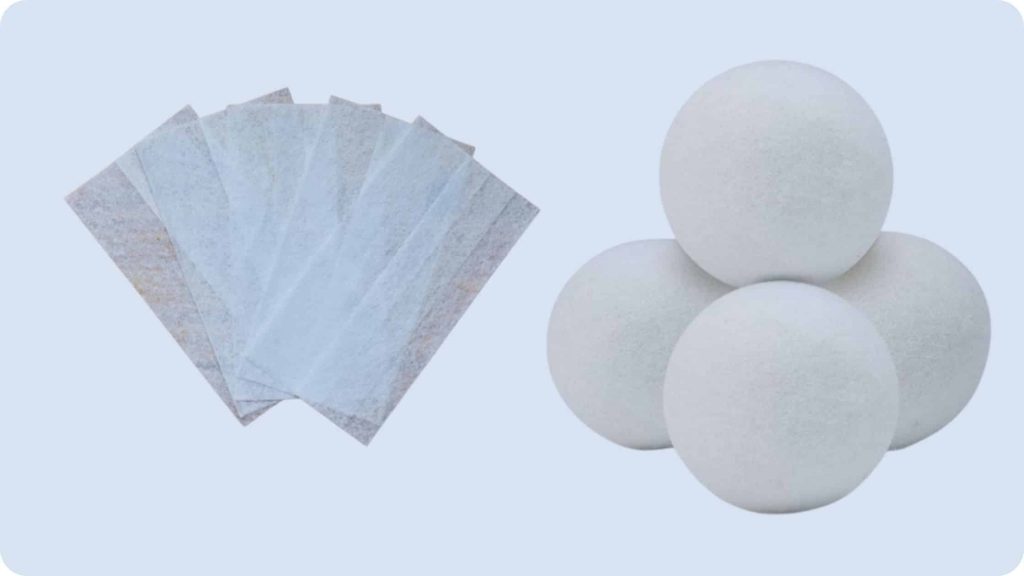 Can you use dryer balls and dryer sheets together?
Absolutely, you can use dryer balls and dryer sheets together to enhance your laundry routine and achieve even better results. These two laundry aids, though serving slightly different purposes, can work in harmony to improve the overall outcome of your drying process.
While it is okay to use dryer balls and sheets together, you actually don't need to use both together, and you may use essential oils to add fragrance to your laundry.
Dryer balls, typically made of wool or plastic, are designed to speed up drying time and soften fabrics naturally.
When placed in the dryer with your laundry, they create space between the clothes, allowing hot air to circulate more efficiently.
As a result, the drying time is reduced, which not only saves energy but also helps to extend the lifespan of your clothes. According to a research report, dryer balls speed up the drying rate by 15% to 25%.
The gentle agitation provided by the dryer balls also prevents clothes from clumping together, which reduces wrinkles and helps garments maintain their shape.
Dryer balls are reusable and eco-friendly, making them a popular choice for environmentally conscious individuals.
On the other hand, dryer sheets are thin, fabric-like sheets infused with a small amount of fabric softener and fragrance.
When placed in the dryer along with your clothes, the heat causes the fabric softener to transfer onto the garments, giving them a smoother, softer feel.
Moreover, dryer sheets help to eliminate static cling, reducing the annoying issue of clothes sticking together and attracting lint or pet hair.
Are dryer balls alone enough?
Dryer balls alone can be enough in many cases, but their performance may vary depending on the specific laundry needs and preferences of individuals such as fragrance needs, drying times, and sustainability preferences.
While dryer balls offer several benefits, they might not address certain laundry concerns that can be addressed with the use of additional products like dryer sheets or alternative methods.
Here are some points to consider when deciding if dryer balls alone are enough for your laundry:
Softening and Reducing Static: Dryer balls can help soften fabrics and reduce static cling to some extent. You might as well use tennis balls instead for better results.
Fragrance: Dryer balls, usually made of wool or plastic, do not impart any fragrance to the laundry. If you enjoy the fresh scent that comes with traditional dryer sheets, you may miss this aspect when using dryer balls alone.
Eco-Friendly Option: Dryer balls are an eco-friendly alternative to disposable dryer sheets. They are reusable and can last for numerous drying cycles, reducing waste and environmental impact. If you prioritize sustainability and want to avoid single-use products, dryer balls alone could be an excellent choice.
Drying Time: One of the significant advantages of using dryer balls is their ability to reduce drying time by improving airflow in the dryer. If you are looking to expedite the drying process, dryer balls alone can be very effective in achieving this goal.
Are dryer sheets alone enough?
Dryer sheets alone can be sufficient for many laundry situations, as they offer several benefits that cater to common concerns such as softening fabrics, reducing static cling, and adding a pleasant fragrance to clothes.
They are a popular choice for individuals who seek a quick and easy way to achieve soft, fresh-smelling laundry without the need for additional products.
While there are a few Eco-friendly dryer sheets on the market, Some dryer sheets contain chemicals that might not be environmentally friendly. If you are concerned about the environmental impact, you might want to explore eco-friendly alternatives or reusable options like dryer balls.
When should you use dryer balls and dryer sheets together?
You can choose to use dryer balls and dryer sheets together when you want to take advantage of the fragrance produced by dryer sheets.
It could be that you have a few sheets left that you want to exhaust, or you just want to enhance the effectiveness of the few dryer balls you have for a particular laundry.
How To Use Dryer Sheets And Dryer Balls Together
Using dryer sheets and dryer balls together is a simple and effective way to enhance your laundry results.
Here's how to use dryer sheets and dryer balls together in your laundry routine:
Load the Dryer: Start by loading your wet laundry into the dryer as you normally would. Make sure not to overload the dryer, as this can impact the effectiveness of both dryer sheets and dryer balls.
Add the Dryer Balls: Place the desired number of dryer balls (usually 3 to 6, depending on the load size) into the dryer with your clothes.
Place the Dryer Sheet: Take a single dryer sheet and place it on top of the clothes in the dryer. Ensure that the dryer sheet is evenly distributed among the garments.
Start the Dryer: Close the door and set your dryer to the desired temperature and drying time for the specific load. After the cycle, removes your clothes and pick out the dryer balls and sheets.
When should you not use dryer sheets?
While dryer sheets are generally safe and beneficial for many laundry situations, there are some instances when you should avoid using them which include:
Flame resistant clothing
Water repellent fabric
Allergies or sensitivities
Athleticwear and microfibre
Towels
You should always read your item's care label before putting them inside the dryer.
Final thoughts
Dryer balls and dryer sheets have their unique features and may complement each other or be used alone.
It's largely a matter of preference to choose between using dryer balls or dryer sheets or using both of them together.
Related articles: