LG Dryer Stops Mid Cycle? (How To Fix)
The problem of LG dryers stopping mid-cycle is an all-too-common headache for many homeowners. 
You may have tried everything such as using different drying settings, different loads, or even trying a hard reset to get your dryer working properly but it still stops midcycle.
Well, it's important to solve this problem as soon as possible to avoid permanent damage or costly repairs later. 
This article will guide you in fixing the abnormal stopping of your LG dryer.
Key Summary
| | LG Dryer Stops Mid Cycle? (How To Fix) |
| --- | --- |
| Causes | – Thermal Fuse Failure |
| | – Blocked Venting System |
| | – Overheating or Malfunctioning Heating Element |
| | – Door Switch Problems |
| | – Control Board Malfunction |
| Troubleshooting Steps | – Testing and replacing the Thermal Fuse |
| | – Clearing the Venting System |
| | – Diagnosing and resolving Heating Element issues |
| | – Checking and replacing the Door Switch |
| | – Diagnosing and potentially fixing Control Board issues |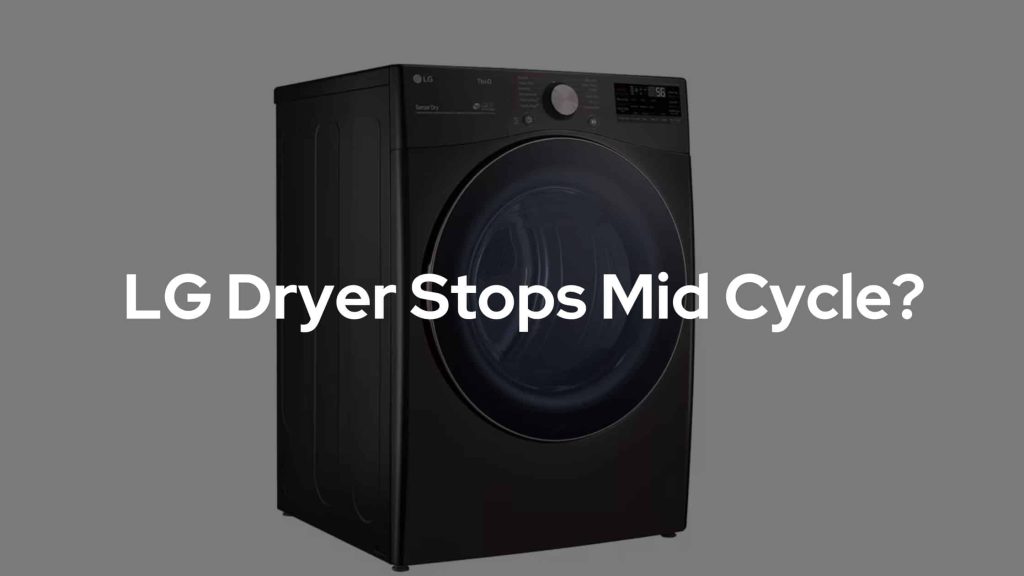 Reasons why LG dryer stops mid-cycle
1. Blocked Venting System
Proper ventilation is vital for your dryer's efficient operation. When the venting system becomes blocked, it restricts the airflow necessary for drying your clothes effectively. 
As a result, the dryer may overheat, triggering safety mechanisms that cause it to stop mid-cycle.
Identifying signs of a blocked venting system can save you time and frustration. 
Signs of a blocked dryer vent system:
Extended drying times, 
Excessive heat buildup, or an 
Accumulation of lint around the dryer or exhaust vent. 
How to clear the dryer vent:
Disconnect the dryer from the power source 
Removing any lint or debris from the exhaust vent, lint trap, and ductwork. 
Use a vacuum cleaner or a lint brush for thorough cleaning. 
Inspect the vent hose for any kinks, twists, or damage that may impede airflow. 
Proper airflow is crucial for the dryer to function optimally, so take a moment to double-check that the venting system is free from any blockages or restrictions.
Not only will this help resolve mid-cycle stopping issues, but it will also improve the overall efficiency and longevity of your LG dryer.
2. Thermal Fuse Failure
The thermal fuse is responsible for preventing overheating and potential fire hazards in a dryer, acting as a safety mechanism, interrupting the electrical circuit when the dryer's temperature surpasses a critical threshold. 
A blown thermal fuse can be a common cause of mid-cycle dryer stoppages.
If you're experiencing a sudden halt in your dryer's operation, a blown thermal fuse could be the reason. 
Signs of a damaged thermal fuse often include the dryer not starting at all or stopping abruptly during a cycle. 
How To test LG dryer thermal fuse: 
Get a multimeter. 
Disconnect the dryer from its power source
Locate the thermal fuse,  which is usually located near the exhaust duct. 
With the multimeter set to the continuity or resistance mode, touch the probes to the thermal fuse terminals. If the multimeter shows no continuity, it indicates a blown thermal fuse, which needs to be replaced.
How to replace LG dryer thermal fuse:
Unplug your dryer from the power source.
Remove the panel covering the blown thermal fuse and locate the fuse as described above.
Detach the wires and mounting screw from the blown fuse, and remove the blown fuse from the dryer.
Fix the new fuse, securing it with a screw and reattaching the wires.
Replace the dryer panel.
Reconnect the dryer to its power source.
3. Door Switch Problems
The door switch of your LG dryer may seem like a small and insignificant component, but its role in dryer operation is critical. 
It ensures that the dryer stops immediately when the door is opened, preventing any accidents or hazards.
If the door switch is faulty or misaligned, it can cause the dryer to stop unexpectedly during a cycle.
To identify potential door switch problems, pay attention to signs such as your dryer not starting at all or stopping immediately after starting.
How to fix faulty dryer door switch:
Disconnecting the dryer from the power source. 
Locate the door switch, which is typically found near the dryer's door frame. 
Inspect the switch for any visible damage, such as broken or loose connections. Ensure that the switch is properly aligned with the door when closed.
To check the functionality of the door switch, you can use a multimeter to test for continuity.
If there is no continuity when the switch is activated by the door, it indicates a faulty door switch that needs to be replaced.
4. Control Board Malfunction
The control board acts as the command center of your LG dryer, controlling various functions and cycles.
A faulty control board could be the cause of mid-cycle stoppages on your dryer.
Signs of a malfunctioning control board may include the dryer not starting, buttons or settings not responding, or the dryer stopping unpredictably during a cycle. 
Troubleshooting a faulty dryer control board:
Disconnecting the dryer from the power source.
Examine the control board for any visible signs of damage, such as burnt marks or loose connections. 
Check the wiring connections to ensure they are secure and properly attached. 
Applicable cases:
LG front load dryer stops after a few minutes
LG dryer shuts off after 2 minutes
LG dryer shuts off after 5 minutes
LG dryer Diagnostic Test
LG dryers have a diagnostic mode that can help you identify potential issues.
You can refer to the manufacturer's instructions or the user manual to see how to access and perform a diagnostic test on your LG dryer model.
When you enter the diagnostic mode, your dryer will run a series of tests to check its various components.
Pay close attention to any error codes displayed during the test.
These codes provide valuable information about the specific problem and guide you toward a solution.
Interpreting the error codes may require referencing the user manual. 
Here is how to run a diagnostic test on your LG dryer:
Press and hold the Temperature Control and Signal button simultaneously.
While still holding the Temperature Control and Signal buttons, press the Power button.
Continue holding all three buttons until the display shows "In5".
Once "In5" is displayed, release the Temperature Control, Signal, and Power buttons.
Press the Start/Pause button to initiate the test.
The dryer will begin the test, which will run for approximately 2 to 3 minutes.
Notes:
Avoid interrupting the test cycle as this could give wrong feedback.
Monitor the flow sense display on your control panel.
No displayed bars after the test mean the exhaust system is fine. 
An exhaust system in bad condition will show 4 bars.
Maintenance Tips for Preventing Mid-Cycle Stoppages
To ensure that your LG dryer operates smoothly and minimizes the chances of mid-cycle stoppages, regular cleaning and maintenance practices are essential. 
Here are some key tips to keep in mind:
Regular cleaning: Clean the lint trap after every drying cycle to prevent lint buildup. You should also periodically check and clean the exhaust vent, removing any lint or debris that may have accumulated. This helps maintain proper airflow and prevents overheating.
Proper installation and ventilation: Ensure that your LG dryer is correctly installed with sufficient space around it for proper airflow. Follow the recommended clearances provided by LG. The venting system should be clear and free from any obstructions, allowing for adequate air circulation.
Avoid overloading the dryer: Overloading the dryer can strain its components and lead to inefficiencies, including mid-cycle stoppages. Adhere to the recommended load capacity for your specific LG dryer to ensure optimal performance and drying results.
Taking proactive steps to care for your dryer not only saves you from the inconvenience of breakdowns but also contributes to its long-term performance and reliability.
Final Thoughts
We have provided troubleshooting steps and potential solutions for each possible cause of mid-cycle stopping in LG dryers.
We encourage you to apply these steps and troubleshoot the issue yourself if you feel comfortable doing so.
If you are unsure or uncomfortable with any repair steps, or if the issue persists despite your troubleshooting efforts, we strongly encourage you to seek professional help.
LG customer support or authorized service centers can provide the expertise and assistance needed to restore your dryer's functionality effectively.
Reference:
Related Articles: