Lg Washer Sud Code (How To Fix It)
Dealing with error codes while using your LG washer can be quite frustrating, especially if you're not familiar with them.
One of these troublesome error codes is "SUDS," triggered by an excess of soap suds during a wash cycle.
If you're seeing a Sud error for the first time and seeking to understand its meaning and how to resolve it, we've got you covered.
The LG Sud error code is displayed when your washer detects too many soap suds in the drum, which is caused by excessive or low-quality detergent. Sud code is displayed when the washer cannot reduce the suds during the cycle and activates the suds-reducing cycle which lasts for 2 hours.
In this article, we will explain the causes behind your LG Sud error code and provide practical solutions to resolve it in no time.
Summary of How to fix Sud error on LG washer:
If you need a quick fix for the sud "error" on your LG washer, here you go:
Wait for 2 hours for the suds-reducing cycle to complete
Use HE detergent
Measure detergent accurately
Check the drain filter for clogs
Empty drain pump hose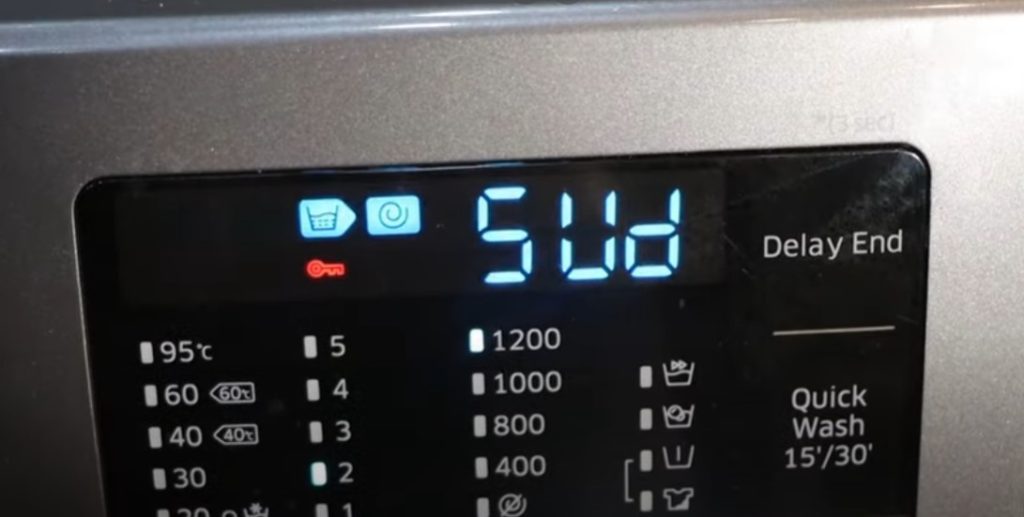 What does Sud mean on LG washer?
The Sud error message on an LG washer indicates the presence of excessive soap suds during a wash cycle. 
When your washer detects an excessive amount of suds, it displays the sud error code to signal the issue and safeguard the washer and prevent further complications.
While some amount of suds is normal during the washing process, an excessive build-up can impede your washer's effectiveness. 
Causes of LG washer Sud code
Sud error on your LG washer can be attributed to a few factors and understanding these causes can help you effectively address the issue and prevent its recurrence. 
Here are the reasons behind the Sud error code on your LG washer:
Excessive Detergent Quantity
Overloading your washer with too much detergent can lead to the formation of excessive soap suds. Even when using HE detergent, exceeding the recommended dosage can result in suds overload. Always ensure that you follow the correct dosage of detergent by reading the label on the detergent.
Non-HE Detergent Usage
Using non-HE detergent in an HE washer is a common cause of the Sud error that is often overlooked. Non-HE detergents tend to produce more suds, which can produce negative results on HE LG washers. 
Water Drainage Issues
Clogged drainage can contribute to the display of the Sud Error code. If the washer is unable to effectively drain water, it can lead to the accumulation of soap suds. This can happen due to clogged drain hoses, a faulty drain pump, or wrongly installing your washer.
How to fix Sud error on LG washing machine
LG Sud code fix; here are some steps to take to fix the Sud error on your LG washer:
1. Measure the Detergent Properly: Follow the instructions of the detergent for the appropriate dosage. Use a measuring cup or dispenser to accurately measure the detergent and avoid using excessive amounts.
2. Adjust the Detergent Dosage: Reduce the amount of detergent used by following the recommended dosage for your washer's load capacity. If you have been using more detergent than necessary, reducing the amount can help prevent excessive suds.
3. Consider Water Hardness: If you have lived in an area with hard water, you may be used to using high detergent dosages. Hard water requires more detergent to achieve the desired cleaning results. Ensure that you are not overusing detergent for your laundry.
4. Switch to HE Detergent: Ensure that you are using HE detergent specifically designed for HE washers. Non-HE detergents produce more suds and can overload the washer. Look for the "HE" label or indication on the detergent packaging to ensure compatibility with your LG washer.
5. Perform Additional Rinse Cycles: If you accidentally used non-HE detergent or are unsure about the detergent type, run additional rinse cycles without adding any detergent. This will help remove excess suds and residue from the washer.
6. Check the Drainage System: Inspect the drain hose for any kinks, clogs, or blockages. Ensure that the hose is not obstructed and that water can flow freely through it. If necessary, clean or unclog the drain hose.
c. Check the Drain Pump: If water drainage issues persist, the drain pump may be faulty or clogged. Empty the drain pump filter by accessing the top or bottom left corner of your washer and letting water drain out of the hose for about 20 minutes. Remove the filter too and ensure it's clean of any debris.
LG washer Sud error taking too long
It is possible that you have tried all the fixes that we discussed above but the Sud error stays stuck on the display.
Ideally, it takes 2 hours for your LG washer to self-dissipate excessive suds.
If it's taking way too long, It could be that there are just so many suds in the tub or drum. If the suds take too long to dissipate, add a half lid of fabric softener or a half cup of white vinegar to speed up the process.
Could also be that the pressure sensor is faulty, which misinforms your washer to think that there are too many suds in the drum.
How long does the Sud error last?
You may observe that your LG washer sud code is stuck and you may be wondering how long the sud error lasts before you can proceed with your laundry.
The suds error will last for about 2hrs to allow for all the suds to dissipate and continue the wash cycle. This cycle is called the suds reduction cycle.
Related Articles: