LG Washer Drain Hose Clogged? (How To Fix)
LG washing machine drain hose allows laundry water to be drained into a floor drain or standpipe. 
Sometimes, you may notice that your drain hose isn't draining or is draining slowly. You may even get an OE error which means your drain hose is kinked or clogged. 
Here is why your LG washer gets clogged:
Lint, debris, detergent residue, and sand present in laundry may build up in the drain hose and get hardened thereby clogging your washer. This happens when you don't allow the drain hose to fully drain after your laundry. The drain hose can also get clogged when it gets frozen in cold weather. 
In this article, we are going to show you how you can clean a clogged drain hose and get it draining correctly again in no time.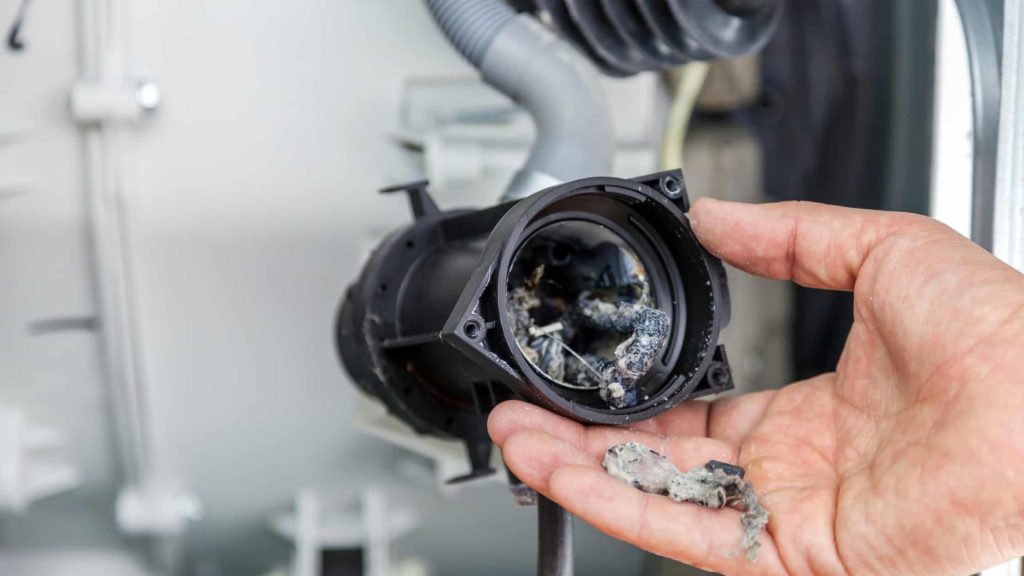 How to know if your drain hose is clogged
The drain pump is responsible for pumping water after you are done with your laundry which passes through the drain hose. 
Water pumps at a 3 or 4 psi pressure which is enough to remove all the water in your washer. 
Lint and debris from clothes may get stuck in the drain hose with time and block the smooth flow of water out of the washer.
When you notice that your washing machine is draining slower than usual and you hear a humming sound from the pump as if it is being stressed, chances are that your drain hose may be clogged. 
LG front load washer drain hose clogged–
Here are some signs that your drain hose is clogged:
1. You get an error code (OE)
When water isn't able to drain properly due to the hose kinking or being clogged, your LG washer notices and displays an OE error code on the control panel. 
The first thing to check is to see if the drain hose is kinked. If the hose is in good shape, then it may be clogged inside.
2. You notice the water doesn't drain as usual (slow)
If you do your laundry often, you probably have come to familiarise yourself with how it works. 
Any unusual behavior from your washer and there may be a problem somewhere, so you need to pay attention. 
If you drain your washer and hear your pump working but little to no water comes out, it is likely the drain hose is clogged.
Related article: LG Washing Machine Taking Longer Than Usual? (How To Fix)
3. Washer sound stressed
Just like you can usually tell when your car doesn't sound right, it applies to your washer too. 
If you hear that the pump is struggling to run then it may be clogged. 
LG Washing machines aren't designed to make loud noises when running so when you hear that your washer is making noise around the pump area, you need to check your drain hose.
You can detach the drain hose from behind the washer and blow air through it to see if there are any obstructions.
Read also: Will Tissue Damage Washing Machine? (All You Need To Know)
How to unclog LG washer drain hose
When your drain hose is clogged, you need to get it cleaned as early as possible. 
Continuing to use your washer when the drain hose is clogged can end up damaging your pump and you may have to replace it. 
Here is how to clean LG washer drain hose when it's clogged: 
1. Turn off the washer and water supply
For safety sake, the first thing you need to do is to turn your washer off and also the water supply. 
2. Detach the drain hose
The drain hose is located at the back of your LG washer. Disconnect it from the washer and inspect it to see if there are any materials blocking the hose. 
3. Clean the drain hose
Use a wire to push out all the clogged materials from the hose. 
Do it carefully so you don't damage and punch holes in the hose as this may cause you unexpected leakages. 
Pour warm water through the hose to remove the smaller particles and bad odor that may be inside the hose.
If your drain hose is clogged because it's frozen, you need to thaw it before running any wash cycle.
To thaw a frozen drain hose, pour warm water (about 60 degrees celsius) and shut the door for about 1 to 2 hours until the frozen hose is thawed.
After that, open the drain pump filter compartment located at the lower front of your washer and drain the water out through the tiny drain hose.
4. Reattach the hose back
After thoroughly cleaning the drain hose, reattach it back where it was.
Run an empty wash cycle empty and drain your washer to see if it drains properly.
LG washing machine drain hose clogged with sand
Washing machines can get clogged with sand when you're fond of washing sand-filled clothes. 
If you have sand in your clothes most of the time, then you need to be extra careful about maintenance. 
You need to clean your drain pump filter and drain hoses regularly. 
Follow the steps we listed above to clean a drain hose clogged with sand. 
Read also:
Conclusion
It's important to regularly clean your LG  washing machine drain hose regularly whether they get clogged or not. 
They get clogged when dirt and particles are left inside them for a long time to accumulate. 
Cleaning your LG washing machine should be a routine you should keep up with so your washer can work best and  last long.