Why Does My Washing Machine Shake Like Crazy? (How To Fix)
It's definitely not normal to have your washing machine shaking violently especially if you have no idea why it is acting that way. 
It could be that you bought a new washer and on your first laundry, your washer starts vibrating and shaking like it was possessed. 
If your washer shakes so much it can lead to damage and a breakdown of your washer.
But there's good news.
Whether it's your new washer shaking violently or it's your old washer, this problem is usually easy to fix.
Here is why your washing machine is shaking violently:
Your washing machine shakes like crazy because either your load is unbalanced or your washer is on an unleveled floor. If it's a new washer, it could be that the transit bolts have not been removed. Mechanical faults such as worn-out bearings could also cause your washer to shake violently.
It's important to check properly and know why your washing machine is shaking violently.
In this article, we will show you how to stop your washing machine from shaking violently.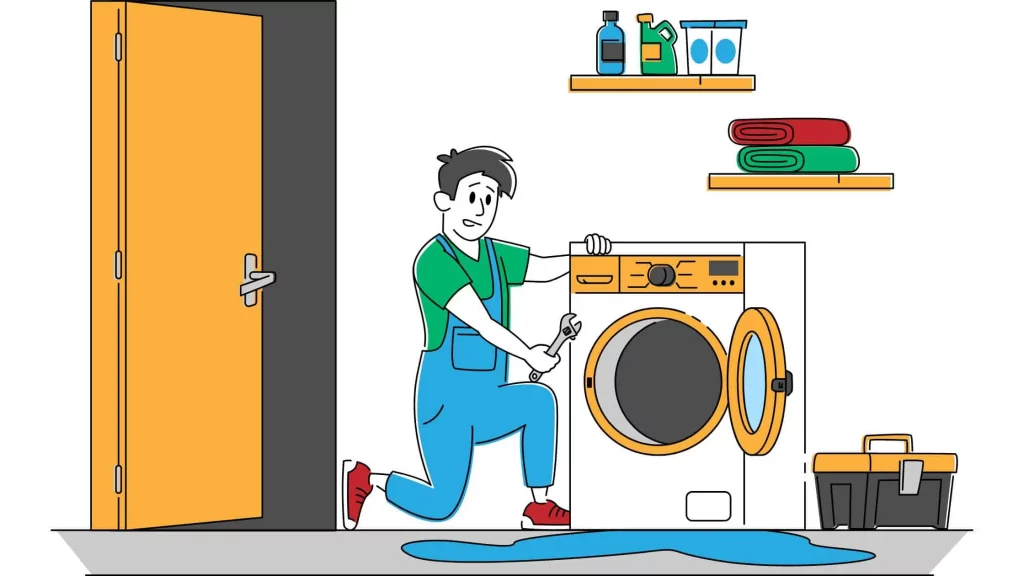 Why does my washing machine shake violently (Fixes)?
if your washing machine is shaking violently when your run it, that's a good sign that there's something wrong.
Even though washing machines tend to vibrate slightly during normal operations, they are not designed to shake violently.
They only do that when there's a problem somewhere.
There are 4 main reasons why your new or old washing machine is shaking like crazy.
Unbalanced Load
Unleveled surface
Transit bolts not removed (for new washers)
Adjustable leveling legs broken
Faulty shock absorbers (for old washers).
We are going to show you how to fix a violently shaking washing machine so you can get done with your laundry.
1. The Transit bolts have not been removed (new washer)
Transit bolts prevent damage to washing machines during transit or shipping.
These bolts are used to lock the drum so that it doesn't rattle around while moving and to avoid drum displacement.
If your washing machine is new and the movement and shaking started immediately, it is most likely caused by the shipping bolts left on the washer.
This is because these transit bolts must be removed before running your first wash.
The drum has suspension springs that allow the smooth running of the drum.
Failure to remove these transit bolts means locked suspension springs in the drum and this can cause your washing machine to move and make excessive noise that could damage your machine permanently.
These transit bolts are fitted at the rear of the machine and you can unscrew them using a 10mm spanner or wrench.
How to remove transit bolts from your washing machine
Removing the transit bolts should only take a few minutes.
And remember to keep the bolts for future use when you want to move your washing machine to a new house.
Follow these steps to remove the transit bolts from your Hoover washing machine 
Locate the transit bolts at the back of your washing machine 
Use a spanner or a socket wrench to turn the bolts counterclockwise to loosen them.
Once it's fully undone remove the transit bolts by pulling them out.
Replace them with the plastic caps from the accessory pack.
Now your hoover washing machine is ready to use 
Tip
Refer to your user manual for installation instructions and make sure all shipping bolts have been removed before starting your washer.
2. Unbalanced load
If you fill your washing machine to the top, regardless of the weight and composition of your laundry, you are wrongly loading your washer.
And when your washing machine is not properly loaded, it can cause your washer to start shaking violently.
If you are washing bulky and heavy items together with smaller ones, there could be uneven weight distribution in the drum.
This can cause the washer to move, vibrate excessively and make loud noises.
How to fix washing machine unbalanced load
Balance your drum by sorting out clothes according to their sizes.
Make sure you always spread your clothes throughout your washing machine as you load them.
If your washer starts shaking during the spin cycle, open the door and check if there is an uneven pile of clothes, spread the clothes, and resume your spin cycle.
Refer to your manufacturer's manual to determine the maximum capacity of your washer.
Read also: How to manually fill a whirlpool washing machine
3. Washer is not properly leveled 
A walking washing machine is most commonly caused by the washer not being leveled, either due to an improperly adjusted leveling leg or an uneven floor.
All four legs should sit firmly on a level, solid floor that is not slippery.
How to adjust the leveling feet on your washing machine
To avoid the wobbling and excessive vibration of your washing machine, the legs must be level with all four feet touching the floor.
Follow these steps to level your washing machine.
Place a spirit level on top of your washer and check side to side and front to back to see if it's leveled, gently rocking the washer to give you an idea where it is out of balance.
If it's not level, turn the locking nut clockwise to release the screw adjuster on the leveling feet.
Turn the front leveling feet counterclockwise to lower the leveling feet or clockwise to raise the leveling feet until it is firm and leveled on the ground.
Tighten the locking nuts on the leveling feet in an anticlockwise direction until they reach the base of the washer.
Put the spirit level again on your washing machine to check if it's leveled.
If it is, try rocking your washing machine.
If it doesn't move then you've successfully leveled your washer.
4. Adjustable leveling legs missing or damaged
Your washing machine may be moving or shaking due to a missing or damaged leveling leg which is causing your washer to go off balance.
The leveling legs of your washing machine may be broken or missing while you were moving your washer.
If the leveling legs are missing or damaged, either not threading up or down, you will need to replace them to enable your washing machine to be properly leveled.
Follow these steps on how to replace the adjustable leveling legs of your hoover washing machine:
Tilt your washer in the opposite direction and support it with a wood block to give you enough space to remove the leg.
Use a pair of panel lock pliers or an adjustable wrench to loosen the nut securing the leg you are replacing.
Remove the leg by turning it counterclockwise until it releases.
Put the new leg into the hole and turn it clockwise to tighten it.
Adjust the leg to its previous position to level.
Remove the wood block and put your washer back in its operating position.
Check to see if your washer is sitting firmly on all four legs.
If not, readjust the leg with your plier to level.
5. Faulty Shock Absorbers (Old washers)
If you find out that your old washing machine still shakes even though it's leveled, then it could be due to worn-out shock absorbers.
Shock absorbers, also known as suspension dampers stabilize the tub in your washer.
The shock absorbers dampen the vibration and drum during washing and spinning so that the washing machine doesn't jump and move. 
Shock absorbers wear out with time and become less efficient.
If it is the case, then you need to replace the shock absorbers immediately to avoid damage to your washing machine.
Here is how to replace the shock absorbers of your hoover washing machine 
Replacing the shock absorbers of your washing machine shouldn't be a daunting task.
You'll need an adjustable wrench, a pair of slip-joint pliers, a socket screwdriver, a wood block, and a mallet.
The shock absorbers are attached to the base frame or the outer tub.
Disconnect your Hoover washer from the power source.
Position the washer such that you can access both the front and rear panels.
Tilt the front part of your washing machine and place two 2/4" timber blocks to keep the washer tilted and the front panel elevated slightly so you can access the screws 
With your screwdriver, remove the screws holding the front panel and pull out the panel. 
You'll now have access to the two front shock absorbers that have been attached to the base by a locking pin. These lock pins have a little lock tab on them.
Reach into the front panel, first on the left till you feel the lock tab on the pin and press.
Pull out the shock absorber with the help of your pliers and wrench.
First, position the top by putting the arrowhead fitting up through the slotted opening and turn it 90 degrees counterclockwise.
Adjust your wrench properly and have it on the narrow dimension instead of the wide dimension.
Slide it into the opening keeping upward pressure on the shock and slide it into the opening.
Turn it 90 degrees to lock it in place and then pull the bottom part of the shock absorber down into the mounting bracket on the bottom till it lines up.
Take the pin and push it into the opening by hand till it lines up or use the soft-faced hammer to tap it gently in.
Repeat the same procedure on the right side of the front panel.
Now turn to the back of the washer and remove the screws holding the rear panel.
Using the same procedure used for the front panel, remove and replace the two rear shock absorbers.
Conclusion
A violently shaking washing machine can be dangerous and problematic.
The crazy movement can cause your washing machine to get damaged, cause power shortages, increased energy consumption, tearing of the washer's cords, and damage to your floors among others.
To avoid the safety hazards and inconveniences of your violently shaking walking washing machine you need to fix it quickly using the various ways discussed in this article.