How long do washing machine shock absorbers last? (Answered)
Washing machine shock absorbers are made of a metal and plastic component that dampens excessive movements in washers and can last between 10 to 20 years if you use your washer carefully without overloading the drum during wash cycles.
So your machine is beginning to act up and you are suspecting it could be the shock absorbers.
Or you just replaced your shock absorbers and wondered how long it's supposed to last.
Shock absorbers wear out naturally over the cause of usage and become less and less efficient.
In this article we are going to cover the following:
How to tell if washing machine shock absorbers are bad
Where the shock absorbers are located
When you should replace washing machine shock absorbers
How to replace washing machine shock absorbers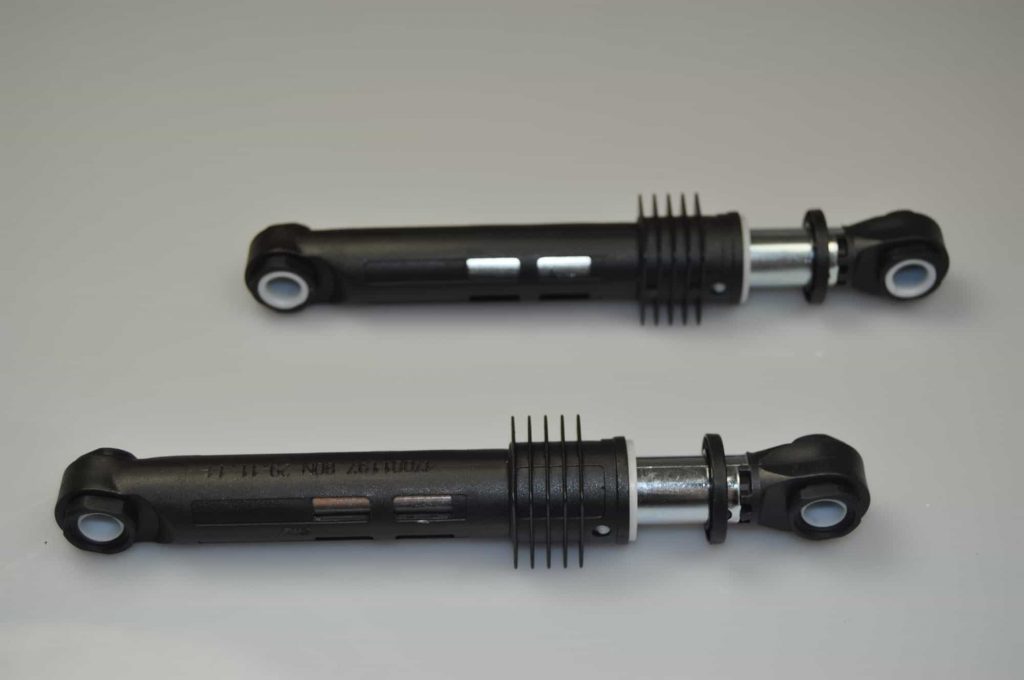 What are washing machine shock absorbers or dampers?
Your washing machine's shock absorbers are one of the most important parts that allow your washer to function seemingly.
They are the tube-like component of your washing machine that is made of plastic and metallic part.
These shock absorbers serve to dampen the tub movement in a spin cycle. The number of shock absorbers in any washing machine depends on the brand, but most Front load washing machines have two(2)- four(4) shock absorbers. Two at the front panel, and two at the rear panel.
How do I know if my washing machine shocks are bad?
There could be a problem with your shock absorbers or dampers when you start to hear the washing machine's tub banging loudly against other parts while you're spinning your clothes.
Provided you are not overloading your washer, and it's on a leveled surface, slight vibrations observed during spin cycles could be a sign that your shock absorbers are going bad.
This should be checked immediately as the banging of the tub can cause damage to other parts of your washer.
Where are the shock absorbers on a washing machine?
A front load washing machine's shock absorbers, also called dampers or structs, are attached to the base frame and to the outer tub. They are accessed by removing the front panel or rear panel.
When should you replace your washing machine shock absorbers?
It would be best if you replaced your shock absorbers once you observe that your washer vibrates or wobbles during a spin cycle. Do the necessary checks to confirm that indeed your shocks need to be replaced. Do not delay as these vibrations may cause damage to other parts when not attended to.
Read further to find out how to carry out checks on your shock absorbers.
Read also: Kenmore top load washer filter location
How do you change washing machine shock absorbers?
Replacing your washing machine shock absorbers is an easy process. You'll need a few items to aid you:
A 7mm nut or socket screwdriver
A soft-faced hammer or mallet
Pair of slip joint pliers
An adjustable wrench
Removing an old shock absorber
Disconnect the power source from the washing machine.
Position the washer such that you can access both the front and rear panels.
Tilt the front part of your washing machine and place two 2/4" timber blocks to keep the washer tilted and the front panel elevated slightly so you can access the screws 
With your screwdriver, remove the screws holding the front panel and pull out the panel. 
You'll now have access to the two front shock absorbers that have been attached to the base by a locking pin. These lock pins have a little lock tab on them.
Reach into the front panel, first on the left till you feel the lock tab on the pin, and press.
With the help of your pliers and wrench, pull out the shock absorber.
Installing a new shock absorber
First, position the top by putting the arrowhead fitting up through the slotted opening and turn it 90 degrees counterclockwise.
Adjust your wrench properly and have it on the narrow dimension instead of the wide dimension.
Slide it into the opening keeping upward pressure on the shock and slide it into the opening.
Turn it 90 degrees to lock it in place and then pull the bottom part of the shock absorber down into the mounting bracket on the bottom till it lines up.
Take the pin and push it into the opening by hand till it lines up or use the soft-faced hammer to tap it gently in.
Repeat the same procedure on the right side of the front panel.
Now turn to the back of the washer and remove the screws holding the rear panel.
Using the same procedure used for the front panel, remove and replace the two rear shock absorbers.
We found this video here very practical and helpful to assist you to change your shock absorbers without any hustle.
How many shock absorbers does a washing machine have?
The number of shock absorbers your washing machine has depends on the model and brand of your washer.
But most washers have 2-4 shock absorbers, usually split between the front control panel and the rear control panel.
How much does it cost to replace washing machine absorbers?
It costs around $150 to $300 to replace both shock absorbers of your washing machine. Shock absorbers typically cost $20 to as high as $80 on Amazon depending on the model and washing machine brand.
How do you test a washing machine shock absorber?
You can always check on the condition of your washing machine shock absorbers.
There are three main checks or tests you can carry out on your washing machine shocks:
1. Checking for detached shock absorbers
The shocks of your washer attach the tub to the frame and prevent your washing machine from vibrating and wobbling during any spin cycle.
When you experience vibration and shaking anytime you spin your clothes you may want to check if the shock absorbers haven't weakened and detached from the support.
You can do this by simply opening up the washer's panel and reattaching it if it has been detached. 
2. Checking if shock absorbers have been broken
Shocks can break due to different reasons. Again, you can open your panels and check if any of your shock absorbers are broken. 
3. Check for leaks
Another check you may carry out is to check if your shocks have been soiled with oil or are leaking. If you observe any leaks then it means it's time to replace those shocks. The shocks absorb the vibrations by transferring the forces into the fluid, and once there's leakage it's unable to achieve that effect. 
References
Checking front load shock absorbers
Read Also: