Is It Illegal To Drain Washing Machine Outside In Florida?
Many new residents of Florida often wonder if it is illegal to drain a washing machine outside. 
This is because the local rules may be different in Florida Plumbing codes than where you used to live. 
And since washing machine waste water constitutes almost a quarter of domestic wastewater, disposing of wastewater is often a thing of great concern.
Like in other cities, the state of Florida has laws in place that mandate the use of approved wastewater disposal methods. 
These laws are designed to protect public health and the environment. Violating these laws can result in fines or jail time. 
Therefore, it is important for residents to be aware of these regulations if they decide to drain their washing machines outside.
Is it illegal to drain a washing machine outside in Florida?
According to the updated Florida building codes, grey water such as washing machine waste water can only be used to flush toilets and urinals, and draining a washing machine outside is not permitted.
In this article, we are going to tell you all you need to know about gray water (which includes washing machine waste water) regulations in Florida so you can be sure of not ever getting into problems with local authorities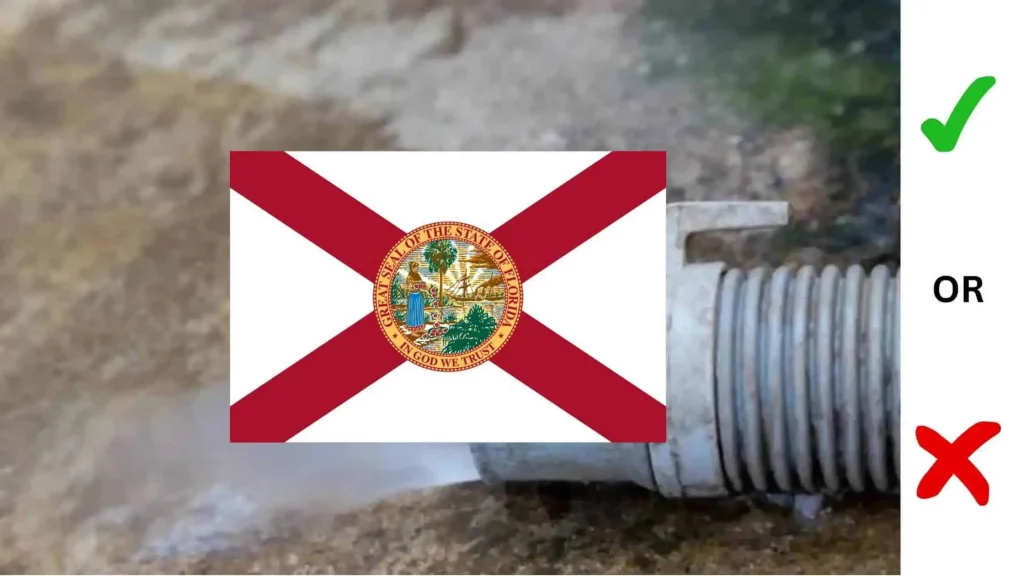 Is washing machine wastewater gray water?
When it comes to what makes up gray water, it may vary from State to state. 
Generally, any untreated domestic wastewater that has not been in any contact with toilet waste such as wastewater from baths and washing machines is termed as gray water. 
So yes, the wastewater from a washing machine is greywater. 
Some states even term wastewater from dishwashers and kitchen sinks as gray water provided that they are not solid with excreta. 
What are the greywater regulations in Florida?
Florida State regulations are enshrined in Florida Plumbing Codes in section 301.3 and require that all plumbing fixtures are discharged into the sanitary drainage system of the building. 
Since the 2009 Florida Building Code update, you may only use greywater to flush your toilets and urinals. 
You are also not permitted to use greywater for subsurface irrigation under the Florida Building Code. 
However, the Florida Building code (Appendix C101.1 to C101.12) has sections that outline all the requirements to recycle greywater. 
Here are some additional regulations for greywater (washing machine waste water) in the Florida Building Code: 
The retention period for greywater that is used for flushing toilets and urinals is 72hours maximum.
Greywater shall pass through an approved filter and be disinfected by an acceptable method using one or more disinfectants such as chlorine, iodine or ozone.
The holding capacity of the reservoir shall be a minimum of twice the volume of water required to meet the daily flushing requirements for the fixtures supplied with greywater, but not less than 50 gallons. 
The greywater must be dyed blue or green with a food-grade vegetable dye before such water is supplied to the fixtures. 
The distribution piping and reservoirs must be identified as containing non-potable water by pipe color or with metal tags. 
Potable water is to be used as a source of makeup water for the greywater system, with the potable water supply protected against backflow.
Is washing machine water good for irrigation?
Gray water from washing machines is not always bad and neither is it always good. There are some ingredients in laundry water that can be good fertilizers for plants.
Nitrogen, phosphorus, and potassium contained in some laundry water are good nutrition for plants and can be reused to irrigate landscaping and planter beds. 
However, not all detergent materials are good for plants. Some contain toxic substances that are detrimental to plants such as bleach, dye, boron, and salts.
It is prohibited to use gray water on edible crops or plants. 
Related article: Is tumble dryer water safe for plants? (What to know)
Conclusion
Knowing what the local regulations say about draining your washer outside is as important as using your washing machine. 
You don't want to get into trouble for doing something that you have avoided by simply following the rules in your area. 
References