Studor Vent for Washing Machine (All you need to know)
All washing machines connected to the sanitary drainage system must be properly vented in order to prevent the emission of fumes into the living space. 
If you experience noise and sewer odor escaping into your laundry room or kitchen, it is likely because your washer is not properly vented. 
Studor vent Air Admittance valves (AAV) have become a household name when it comes to venting household fixtures without the use of a vent extended through the roof to open air.
What Studor vents do is that they prevent the loss of water in the p trap by allowing negative air pressure developed in the drain to be balanced by external air.
In this article, we are going to discuss in detail all you need to know about using Studor AAVs on your washing machine.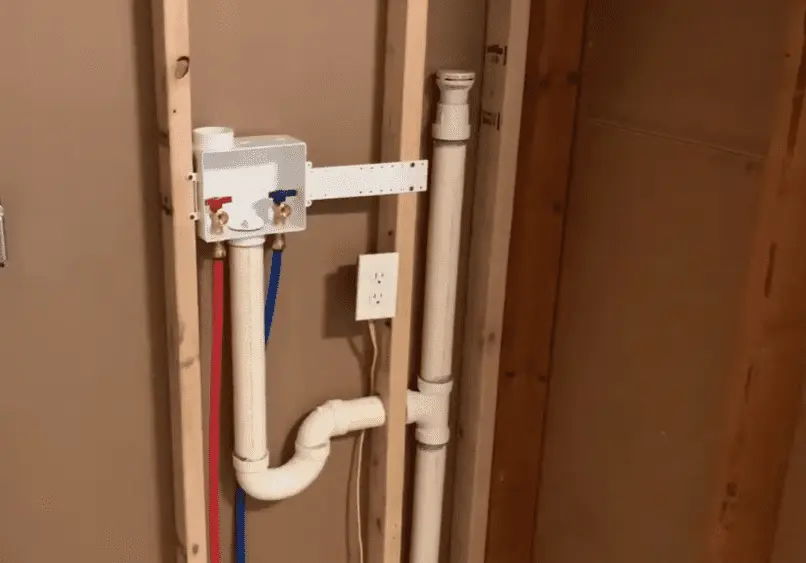 Can you use a Studor vent on a washing machine?
Yes, you can use a Studor vent on a washing machine drain because washing machines connected to a drain pipe need to be vented. A Studor vent protects the p trap by ensuring that the water level doesn't deplete due to negative pressures, thereby preventing the bad odor and sewer smells from filling your room.
In fact, Air Admittance valves (AAVs) are permitted by the International Plumbing Code, the International Residential Code, and the Alternative materials and methods of the Uniform plumbing code.
You can refer to the following codes:
International plumbing code (IPC) Section 917
International Residential Code (IRC) Section P3114
Alternative materials and methods of the uniform plumbing code Section 301.2
Air Admittance valves (AAVs) such as the Studor vent are regulated by the ANSI/ASSE
ANSI/ASSE 1050
ANSI/ASSE 1051
NSF 14
For a single fixture connected to a drain pipe like your washer, a Studor mini vent is recommended to prevent the buildup and emission of bad fumes. 
They are designed for pipe sizes 1 1/2 to 2 inches.
Air admittance valves are illegal in a few jurisdictions.
So always ensure that you check your local building codes for any limitations or prohibitions therein for maximum compliance.
Why do you need a Studor vent?
You need a Studor vent to protect the water trap seal (p trap) against pressure differences that can cause a drop in the water level resulting in sewer gases fuming into your home.
If your plumbing was done right, every fixture including your washer connected to the sewer line should have a water trap seal.
This trap holds water in its curved part that seals the drain and prevents sewer gases from escaping into the room. 
The water is held by pressure in the pipe working with atmospheric pressure and needs to be protected from high or low pressures.
The traditional and common way of protecting the water trap is by using a vent system that connects to the open air.
A Studor vent is an alternative method of protecting the water trap and when installed properly, will work just like the traditional open pipe venting.
What is an air admittance valve for a washing machine drain?
An Air admittance valve (Studor vent) is a plumbing valve that has it's top shaped like a dome and helps to maintain balanced pressures in a piping system when the pressure goes below atmospheric pressure. 
They are widely referred to as AAVs for short. 
Studor Corp is the largest manufacturer of AAVs in the world since 1986, hence AAVs are commonly referred to as Studor vents amongst many.
There are 3 common types of Studor vent AAVs
The mini-vent is designed especially for a single fixture or venting a group
These are used for stack venting, and eliminate the need for an open vent pipe through the roof.
They can be used for many residential fixtures but are specially meant for places where flame retardance is a priority.
The Studor Mini vent and TEC vent are designed for pipes of sizes 1 and a half inches to 2 inches whiles the maxi vent is designed for pipes of sizes 3 inches to 4 inches.
How do Studor vents work?
Studor vents are made up of a cylindrical dome-shaped top that has a diaphragm that is shut by default. 
When water flows from the water trap into the drain pipe negative pressures are generated which cause causing the diaphragm to lift up and open making way for external air to enter the valve.
The air that runs into the opened diaphragm allows water to flow freely by preventing suction or siphoning and balance pressures in the pipe.
When the water stops flowing, the valve again closes tightly preventing the entry of air. 
Shutting the spring valve prevents fumes from the sewer to rise and escape into the room.
Where should I place my washing machine Studor vent?
Air admittance valves (Studor vents) are generally installed on the washing machine drain (standpipe) and should be a minimum of 4 inches above. 
They should be easily accessible at any point in time for repair or maintenance. 
Also, since Studor vents make use of air to protect the water trap, they need to be installed at a place where they have access to airflow, free of dust grease, and solvents.
AAVs are most often installed at the end of the soil pipe but can be installed in line as well using a branch.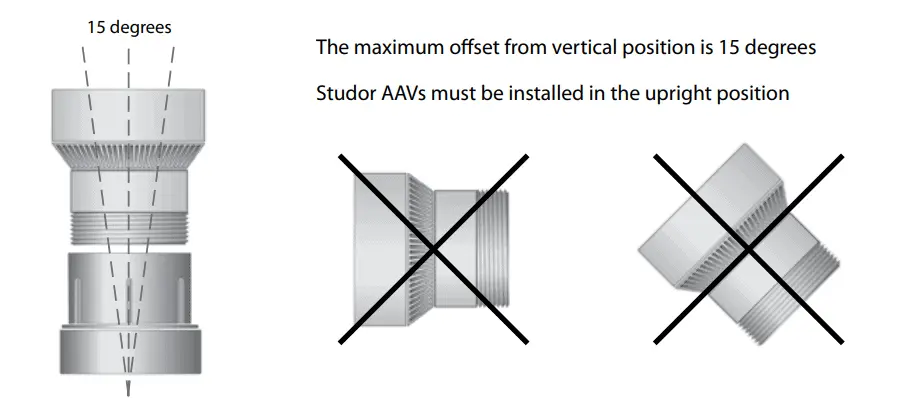 Studor vent AAVs must be installed vertically with an acceptable error margin of 15 degrees.
You can mount your Studor vent AAV in a wall but as we said earlier it should have access to free airflow.
Because of that, some manufacturers of AAVs including Studor, have specially designed boxes that can be used to effectively place Studor vents inside a wall.
How to install Studor vent
Studor vents come with a lot of options to vent your drain system. Different sizes to suit different pipes. 
The good part is that, although they are best installed by a builder or someone with experience with the product, you can quite easily install them by yourself.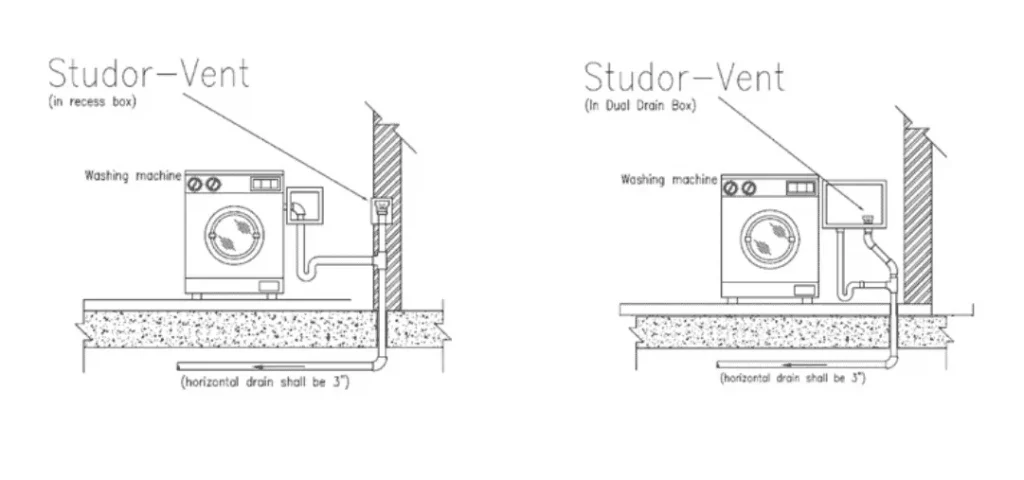 Supplies you will need:
Hacksaw or pipe cutter 
PVC straight tee
Here are the steps to install a Studor vent:
Summary:
Check the minimum clearance 
Measure, mark and cut the pipe
Connect a straight Tee
Install PVC pipe on the vertical port of the Tee
Install the Studor vent AAV 
Install pipe back
1. Check the minimum clearance 
Use the tape measure to measure the distance between the water trap and the wall(standpipe). There should be a minimum distance of 4 inches between the Studor vent and the outlet of the water trap (p trap). 
The bottom of the Studor vent should be at least 4 inches from the top of the water trap arm in order for the AAV to work efficiently. 
2. Measure, mark and cut the pipe
Use a felt tip pen to mark the horizontal arm at a distance of at least 4 or 5 inches from the water trap outlet. 
Remove the p-trap arm and use a hacksaw to cut the pipe at the mark. 
3. Connect a straight Tee
Glue one of the horizontal ports of a straight tee to the main section of the waste arm using PVC pipe primer and cement. 
Measure the length between the horizontal end ports of the tee and cut a similar length from the remaining portion of the waste arm. Glue the resulting piece into the horizontal part of the tree. 
4. Install PVC pipe on the vertical port of the Tee
Next, on the vertical port of the tee, install a short 4 to 6 inches pipe with glue on the female threaded hub.
5. Install the AAV 
Screw in the threaded Studor vent using Teflon tape and glue.
6. Install pipe back 
Reinstall the waste arm back onto the water trap (p trap) so the Studor vent faces straight up and vertically. 
There can only be a 15 degrees error to the vertical since it won't work properly if not vertical. 
Notes: 
Never use paste because some contain chemicals that can destroy the threads.
Use only Teflon tape on the valve's thread as using primer solvent cement will render your Studor warranty void.
How to use Studor vent AAV on a washing machine
Having learned how to install a Studor vent, follow the additional instructions below to install one on your washing machine.
To install a Studor vent on a washer, run a 1-and-a-half pipe up from a straight tee located about 4 inches behind the 2-inch trap terminating in the washing machine box. The horizontal trap that receives the trap must be at least 3 inches in diameter. Always choose a high- Drain Fixture Unit (DFU) designed for this.
Studor Vent installation height
Studor vent installation height should be a minimum of 4 inches above the fixture drain being vented. If installed in the attic area, it the height should be a minimum of 6 inches above the insulation in the ceiling.
Studor vents must be installed based on the manufacturer's instructions and guidelines. 
Your Studor vent AAV may not function properly if you install it without following the manufactures guidance.
How to test a Studor vent
The most accurate way to test a Studor vent is by using a manometer which is a precision instrument used to measure pressure. 
This instrument is not readily available but there is another way to test a Studor vent.
Place the Studor vent AAV in a cup. A positive pressure is created which seals the membrane and allows the AAV to float. If the vent sinks, it is likely the membrane is faulty.
You can also check out our article on Washing Machine Drain Requirements.
Frequently Asked Questions
Do Studor vents smell?
Studor vents do not smell. Rather, they are installed to prevent smells and sewer fumes from taking over the room. If a Studor vent AAV smells, it's most likely faulty and should be replaced. 
Can a Studor vent fail?
Studor vents can fail. However, they are designed very efficiently and of high quality. But with time, and depending on the room temperature and conditions they can break down and not work as they are supposed to 
Do Studor vents need to be replaced?
Yes, Studor vents need to be replaced when they fail or get damaged dues to an internal fault or external impact. Without replacing a damaged Studor vent, you will have sewer odors building up in your room. 
How long do Studor vents last?
Studor vents have been tested to last 500,000 cycles. This equates to 30 years of service without failure. Each valve is tested to fully prove that it can function efficiently.
Conclusion
Now, you have all the requisite knowledge about using a Studor vent for your washer. 
Studor vents provide an easy and efficient way to vent your washing machine, and we have delved into detail about how they work and how you can make use of them.
Always ensure to seek assistance from a qualified plumber if you have little knowledge and experience. 
References: