Can I Wash My Air Forces In The Washing Machine? (All You Need To Know)
The Nike Air force 1 is undoubtedly one of the greatest sneakers of all time since it debuted in 1982. 
And you know, it's one of the favorite sneakers for many people including yourself. 
As dear as Air forces are to their owners, one of the top priorities is to always keep your air forces looking clean and sharp. 
There are several ways to clean your Nike Air force 1 and you might at a point consider using a washing machine to wash your Air force. 
If you are one of the Air force lovers who has ever asked the question, "Can I wash my Air forces in the washing machine?", you will find the best answer in this article.
So without beating about the bush, let's hit the nail right on the head!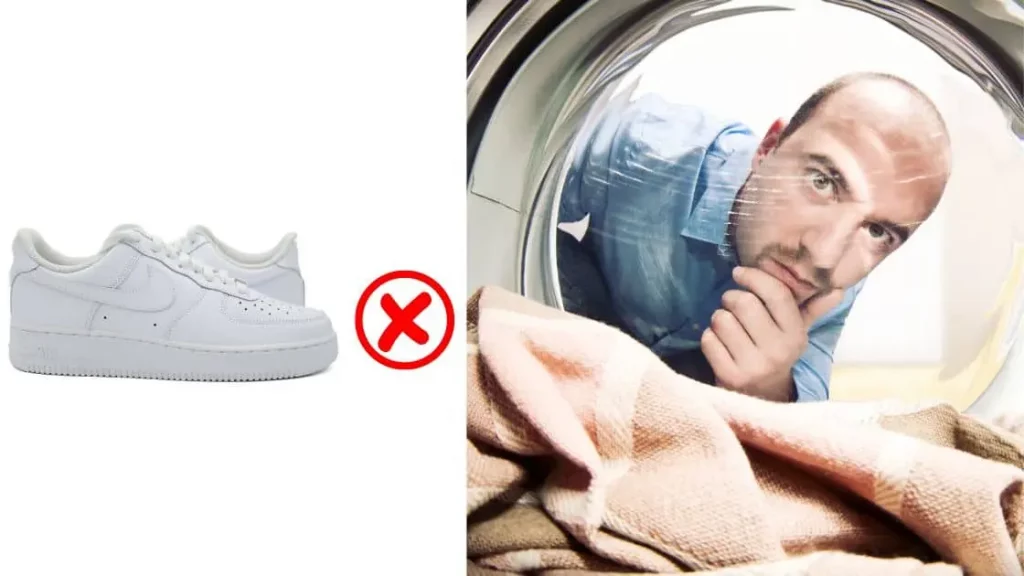 Can you put air force ones in the washer?
If you are talking about merely putting your Air forces in a washer without actually running a wash cycle, then you can absolutely do it. 
But I doubt that's what you are seeking to ask. 
If you want to find out whether you can put your Nike air forces in the washing machine and wash it, then the answer is a no. 
It is not recommended to wash your air force one in a washing machine because air force ones are made of leather and sometimes other mixed materials which can be damaged when put in the washer. You can machine wash your Air force laces but should hand wash your Air force sneakers in order not to damage them.
If you want to know the dos and don'ts of washing your Nike Air forces and the best practices to keep them looking strong and lasting long, then continue reading.
Can you wash Air force ones in a washing machine?
Well, we can technically say that you can wash your Air force 1 in a washing machine.
Because it's as simple as tossing them into the washing machine tub, filling it with water, and hitting the start button. 
But no, that is not the right thing to do.
And we will not advise you to put your air force 1 in a washing machine, let alone wash them. 
Here is why;
Air force one sneakers are largely made of leather which is held together at some parts by glue. So, putting them in a washing machine, fully submerged in water, and agitating them around will significantly reduce the life span of your sneakers if done often.
The best way to clean Air force 1s is by cleaning them and not by washing them. 
Subsequently in this article, we will show you some of the best methods to clean and maintain your Nike air force 1s. 
Easy and efficient!
Read also: Credit Card In Washing Machine Or Dryer? (All You Need To Know)
Can Air Forces get wet?
The simple answer is yes, Air forces can get wet. 
They can actually get soaked in water and all but that is not very good for your Nike Air force. 
Nike Airforce ones are made of high-quality leather that can't be damaged immediately by water but you don't want to continuously expose them to water.
The more your Airforce 1 sneakers are kept or exposed to water, you are indirectly reducing the strength and lifetime of your shoes.
If your Air forces should get wet, it should only be slightly when you are cleaning it or when you unintentionally are forced to walk through water. 
In such instances, you should air dry them outside at the mercy of mother nature to remove all the water and moisture collected.
Are Air forces waterproof?
You love your Air force 1 and you would equally love to go everywhere wearing it.
I am sure you would swim in them if given the go-ahead. 
Well, let's find out if Air forces are waterproof.
Generally, Air forces are not waterproof. Not even the all-classic white Nike Airforce 1. However, the Nike Airforce 1 Gore-Tex have been designed to have some water-resistant properties that make them waterproof to an extent. You can wear them in the rain as well as in the snow.
Talking about waterproofing, are washing machines even waterproof?
Why do air forces turn yellow?
Who wants to end up with an off-yellow Nike airforce 1 when they specifically bought a clean white color? No one.
It's almost inevitable for your white air force 1 to discolor at some point, changing to a yellowish color due the exposure to substances such as dirt, sweat, and mud.
So why do White Nike Air forces turn yellow? 
The major reason why Air forces turn yellow is because of oxidation, a process that occurs naturally as the materials in the air force gets into constant contact with oxygen(air). Sweat and dirt also cause white Air forces to discolor and turn yellowish after long-term exposure.
Can you bleach air force ones in washing machine?
No, you shouldn't put your Air force with bleach in a washing machine ever. Air forces are made of leather which can be destroyed by the harsh chemical actions of bleach by stripping off the natural oils and leaving your Air force faded, brittle, and cracking.
Read also: Can You Put A Durag In The Washing Machine? (All You Need To Know)
When can you wash your Air forces in a washing machine?
We have already explained why it is a bad idea to wash your Nike Air forces in the washing machine instead of hand washing them. 
Having said that, there are times when you absolutely don't have the luxury of time to hand wash your Air force and you can only use a washer.
In such situations, you may need to compromise and use a washing machine to wash your air forces. 
Caution: 
Only wash your Air forces in a washing machine when you absolutely have no other choice, to avoid permanent damage to your sneakers. And this should only be done very rarely if you want your shoes to last. Once or Twice a year max!
What temperature to wash air force?
If you have to wash your air forces in a washing machine, you should set the temperature as low as possible and to a maximum of 30 degrees celsius or 86 Fahrenheit, or choose the cool wash option if that is the option available. If your washer has a cold wash option, choose it.
This is because, as we explained earlier in this article, Air forces are made of leather, some other rubber materials, and glue that do not do well under heat or high temperatures. 
What detergent do you use to wash Air Forces?
There is no specific detergent you can use to clean your Air forces. However, You should avoid any substances that contain bleaching agents. You can use ordinary laundry detergent, or dish soap to wash your Air forces and that will be fine.
This is because the bleach will end up damaging the leather body of your Air force by causing it to fade and develop visible cracks.
How to clean air force in the washing machine
Washing your Air forces in a washing machine is not the best idea but if you absolutely have to, these are the steps you can follow to mitigate the possible problems it comes with.
Only do this a maximum of 1 to 2 times per year. 
1. Remove your shoelaces
The first step is to remove your Air force laces and put them into a laundry bag.
Laces are small and delicate items that need to be bagged when washing in a washing machine.
2. Removed visible dirt residues
You should make sure that you remove all mud and dirt that may be stuck on the shoes at least.
You can use a soft bristle brush and brush off all the dirt from the sneakers. 
3. Put int Air force into the laundry bag together with the shoe laces
Before you toss your sneakers into the laundry bag along with the laces, put shoe trees into the sneakers to maintain firmness and prevent them from wrinkling or shrinking.  
4. Put some old white towels or bedsheets into the washer drum
This is to provide some cushioning to prevent the shoes from making rattling noises whiles being rotated in the drum.
5. Set your washer and add detergent
Set your washing machine to "delicate mode" or "low power mode" and put in your detergent like you would for a normal wash.
Low power or delicate mode will let your laundry be done at a slower speed which will reduce the banging of the shoes in the drum as well.
6. Rinse and Air dry
After the wash cycle has been completed, run a rinse cycle with cool water and drain the water, after that run the spin cycle.
We advise that you only Air dry your Air forces and never try using a dryer.
Read also: Can you wash tennis shoes in a washing machine?
Can a washing machine damage my air forces?
Yes, you can damage your Air forces if you frequently wash them in a washing machine.
It is always a better idea to hand wash your Air forces.
If you love your Air force 1, then take it from us not to make it a habit of washing them using a washing machine.
Read also: Can I wash my Uggs in the washing machine?
Can I put air force ones in the dryer?
No, you should never put your Air forces in a dryer. The heat generated by the dryer will damage the leather and rubber parts and leave your Air forces shrunk, wrinkled, and tattered. 
We know it can be very tempting to just toss your sneakers into a dryer just like you do for other stuff.
But don't do that with your air forces.
How to dry air forces (For best results)
The best temperature to dry a washed or wet Air force is at room temperature(20–22 °C or 68–72 °F). 
If you need to dry your Air forces because they are wet or soaked in water, you can do so by hanging them outside or by a fast spinning standing or ceiling fan.
High sunny days aren't also suitable for drying since the heat may damage the Air force leather. 
You can dry them outside under a form of shading during intense sun days. 
Follow these 3 (three) tips:
1. Dry using a towel 
The easiest way to start a drying process for your wet air forces is to wipe them dry using a towel to remove as much soaked water as possible.
This is the first step that will remove a great chunk of the water. 
2. Dry in natural air or fan 
After wiping dry your wet air forces, you can put them in a shade outside or by a spinning fan that will aid the remaining water to dry out by evaporation.
3. Leave the sneakers to dry
When you have dried them with a towel and put your shoes somewhere to dry naturally, leave them and give them time to dry.
Avoid wearing it whiles it has not fully dried since it will cause it to develop bad odors. 
Depending on the weather and seasonal conditions, the drying times may vary. Usually, your Airforces should dry between 24 hours to 36 hours or even a couple more days depending on the seasonal conditions.
You can check out our Article about whether clothes dryers are worth it.
How to dry Air forces fast
The fasted way to dry your Air forces is by putting them under a super fast spinning ceiling or standing fan. This method accelerates the drying than if you were to leave it to dry on its own.
So if you have some party to attend and you need to put on your Air forces, you can do this after cleaning it. 
So can you wash your Air force 1 in a washer? (The conclusion)
With all the explanation we have given, we believe that you are convinced without a doubt that it's not a good idea to wash your Air forces in a washing machine. 
If you should wash your Air forces, then do so by hand cleaning.
As that will preserve their integrity and luster.
References