Can You Put Uggs In The Washing Machine? (All You Need To Know)
Your Uggs can get really dirty sometimes. 
Probably you spilled something on it and you aren't willing to pay any hefty amount to get it dry cleaned. 
Can you just toss them into your washer to get them cleaned? 
The Uggs official website discourages cleaning your Uggs in a washing machine 
It is not advisable to put leather shoes such as Uggs in the washing machine as the leather and other delicate parts can be damaged by the activities of the washer. 
With that said, some people have however had success washing their Uggs in the washing machine. 
In this article, we will discuss everything you need to know about washing your Uggs.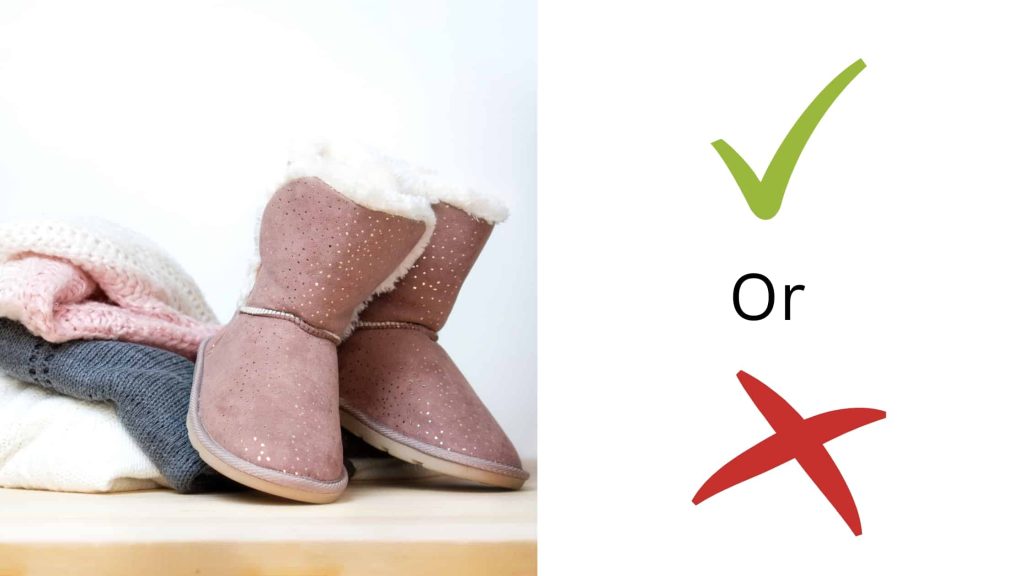 Can you wash your Uggs in a washing machine?
Generally, it is not advisable to wash your uggs in a washing machine as they may get damaged. 
Sueded leather Uggs tend to lose their texture when soaked in water or when put under adverse conditions. 
The leather tends to get stiffer than usual after they have dried although this stiffness could be resolved using a special conditioner. 
Uggs with wool may also not be good for the washer as the wool may rupture beyond use. 
Interestingly, some people have gone ahead to wash their Uggs in a washing machine and there's been some success and bad news. 
If your Uggs are old and you can afford to get rid of them, then you could decide to try washing them inside a washing machine.
Related article: Can You Put NMDs In The Washer? (All You Need To Know)
How to wash Uggs in a washing machine
To try washing your Uggs in a washing machine, follow the steps below. 
Be warned that you may be successful or not. So only try this if you are willing to lose your Uggs if things don't turn out well. 
However, this is the best way to wash your Uggs in a washing machine without running them. 
1. Clear of any removable debris  
Use a brush to clean off any debris on your Uggs. 
2. Place them in a Landry mesh bag 
We recommend that you place your uggs inside a mesh bag to prevent them from banging or getting any fleece escaping. 
Also, throw in some old clothes into the washer for a smooth spin cycle. 
3. Put the mesh bag inside your washer tub 
4. Add a small amount of clear detergent
Add a small amount of clear liquid detergent to avoid messing with the leather. 
Use liquid detergent to allow for even distribution and prevent detergent from getting stuck in the shoes. 
5. Run a delicate wash cycle 
It's very important which options you choose. 
Select cold water and the delicate wash option. 
6. Air Dry your uggs 
After the cycle is complete, remove your Uggs from the laundry bag and let them air dry completely. 
Depending on the weather conditions, it may take overnight or longer to completely dry. 
If you observe bad odors in your Uggs, you can sprinkle baking soda inside and leave it overnight to get rid of the odor.
How to get rid of water stains on Uggs
It could be that you got yourself caught in the rain whiles you were rocking your Uggs. 
Now they are stained and you want to get rid of all the ugly stains. 
Use the steps below to remove any water stains on your Uggs boots or slippers. 
Rub plain white chalk on the water stains and the uggs overnight. The chalk will soak up most of the water. 
The following day, use a suede brush or toothbrush to lightly scrape off the remaining chalk. 
Repeat the process a little firmer over the water-stained areas to remove any final signs of chalk
How to clean your Uggs (Uggs recommended)
Want to clean your Uggs and have them looking new and peng? 
There's no better way than using the clean kits by Uggs. 
All you need is the Uggs cleaning kits and you are sorted. 
The Uggs cleaning kits are made up of 3 products.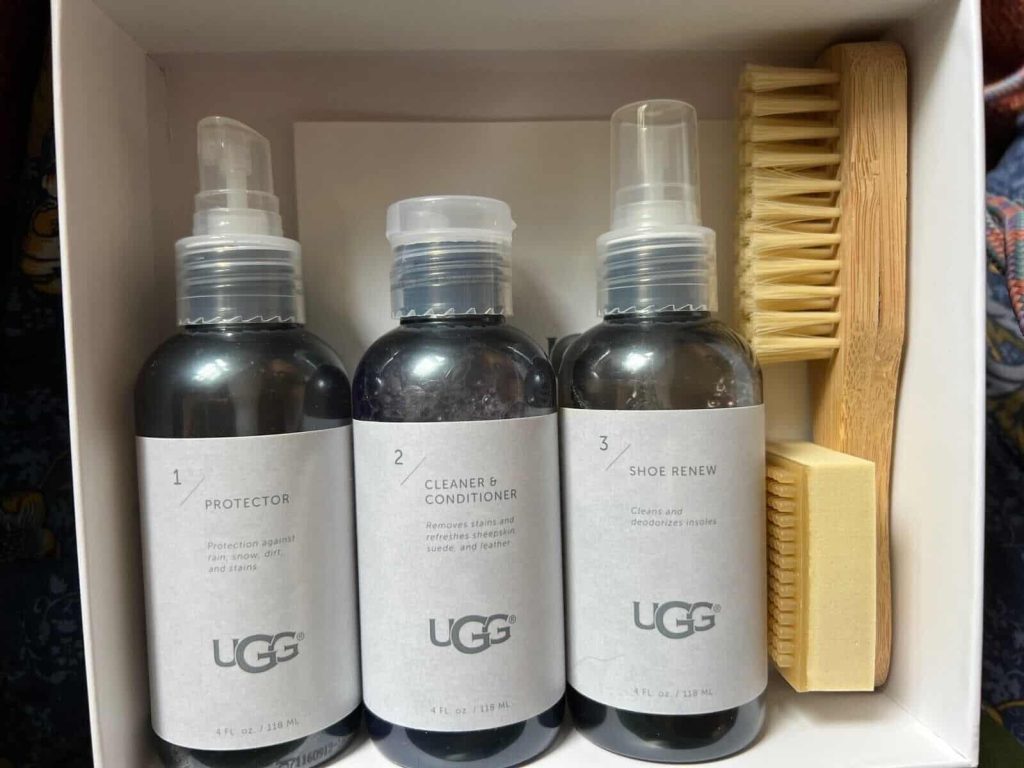 1. Ugg protector
This product makes your Uggs look their best at all times by creating an invisible layer that makes it very easy to wipe away marks on your shoe surface. 
How to use Ugg protector:
1. Shake the bottle vigorously and apply to clean dry sheepskin or suede. Spray evenly about 6 inches away until your shoe surface or wet but not soaked. 
2. Allow your boots to air dry for 24 hours in a cool, ventilated area. Do not Dey in direct heat and sunlight.
3. After drying completely, use a suede brush and lightly brush in one direction to restore your UGG boots, slippers, and slides to their new look.
2. Ugg cleaner and conditioner
UGG Cleaner & Conditioner is the perfect solution to removing stains, marks, and gradual build-up of oil, dirt, and water damage.
How to use Ugg cleaner and conditioner:
1. Gently Brush off any dirt that may be on the boots
2. Use a clean damp sponge to moisten the surface and apply a small amount of the product o the damp sponge and gently scrub. 
3. Stuff inside your boots, and paper towels to maintain their shape.
4. Air dry your Uggs for 24 hours in a cool, ventilated area without exposure to direct heat and sunlight.
5. After drying, use a suede brush and lightly brush in one direction.
3. Ugg shoe renew
This is the final product when using the UGG cleaning kit.  The UGG Shoe Renew deodorizes all types of insoles, with a gentle formula that is suitable irrespective of your skin type.
How to use Ugg shoe renew 
1. Spray the insole and wipe away any excess residue. Allow the insole to dry before wearing.
2. For sheepskins, you should spray after each use of your shoe to avoid odor build-up 
The bottom line
The best way to clean your Uggs is by using the cleaning kits by Uggs.
It is not always safe to wash your Uggs in the washing machine so it's best to avoid using your washer to clean them.
Check out other interesting articles from our blog: