Can You Put NMDs In The Washer? (All You Need To Know)
Most people also wonder if putting their shoes in the washer could cause damage to their washer.
Whether you can put shoes in the washer or not is not a one size fits all solution. It depends on the type of shoes.
So wondering if you can wash your Adidas NMDs in the washer without damaging your shoes or your washer then you are on the right article.
You can put NMDs in the washer provided you do it the right way. Physically remove any mud or dirty that may be be stuck on it and remove the laces and put them together with your NMDs in a laundry bag or pillow case before tossing into the washer. It is recommended to wash your NMDs in the washer only once in a while.
In this article, we will show you how best to clean your NMDs, whether by hand or using a washing machine.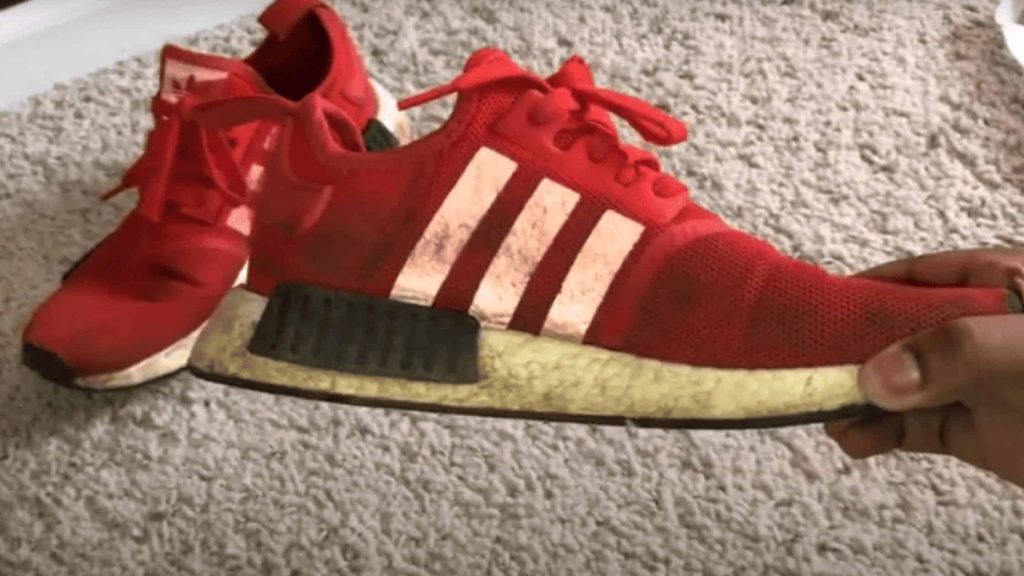 Can you put Adidas NMD in the washing machine?
Many concerns come to mind when it comes to washing NMDs in a washer.
Considerations such as "Is it safe to put NMD in washer machine", "throwing my black NMD in washer" and others.
Although you can put your NMDs in the washer, it is generally not recommended because harsh washing machine settings and detergents can cause them to shrink and misshapen.
Never use hot water cycle to wash your NMDs as the heat will gradually damage your NMDs with time.
If you should use a washer to clean your NMDs, you should use cold water and avoid using bleach especially for colored NMDs.
How to wash NMDs in a washer
Washing your NMDs in a washing machine can be a convenient way to clean them without any hassle, but it should be done properly to prevent any damage.
Here's a step-by-step guide on how to wash NMDs in a washer:
Supplies needed:
NMD sneakers
Laundry bag or pillowcase
Mild detergent
Soft brush
Paper towels or shoe trees
Gather all the necessary materials before starting. Ensure that your NMDs are free from any loose dirt or debris.
Take out the laces from your NMDs. This ensures that all parts of the sneakers get cleaned properly.
If you have any noticeable stains on your NMDs, you can spot-treat them using a small amount of mild detergent and a soft brush.
Put your NMDs in a laundry bag or pillowcase. This helps protect them during the washing cycle and prevents them from getting tangled with other items in the machine.
Set your washing machine to the following settings:

Cold water temperature: Using cold water helps prevent color fading, material damage, and shrinking.
Shorter cycle duration: Select a shorter cycle if available, reducing the time your NMDs spend in the machine.

Add a small amount of mild detergent to the washer. Be cautious not to use excessive detergent, as it can leave residue on your sneakers.
Put the laundry bag or pillowcase with your NMDs into the washing machine.
Start the wash cycle.
After the wash, remove your NMDs from the laundry bag
Allow your NMDs to air dry in a well-ventilated area, away from direct sunlight and heat sources. Do not use a dryer, as the heat can damage the shoes.
Note: It's essential to remember that machine washing should not be a frequent practice to ensure the longevity of your NMDs.
When should you consider washing NMDs in a washer
As we mentioned, it is generally not recommended to make it a habit to put your NMDs in the washer.
However, there may be some special cases where it would be helpful to throw them in the washer for better cleaning results.
Here are three common instances where you may consider putting your NMDs in the washer:
1. Lingering Odors
When there's persistent, unpleasant odors in your NMDs that haven't been eliminated by airing them out, you may consider a deeper cleaning. The washer can help remove the odors through it's rigorous agitation.
2. Multiple Stains and Spills
When your NMDs have multiple stains or spills that are beyond the scope of spot cleaning, a washer can provide a comprehensive solution. Be it food stains, grass marks, or other noticeable blemishes, a machine wash can often remove them effectively.
3. Time is not on your side
Putting your NMDs in a washer can be a time saver. Manually washing your NMDs usually requires you to take your time and clean every corner of the shoes. and If you have a busy schedule, using a washing machine may be a practical choice.
What material is Adidas NMD made of?
Adidas NMD sneakers are typically constructed from a combination of materials and recycled content generated from production waste.
The specific materials used can vary depending on the NMD model and edition, but they often include:
Primeknit: Primeknit is a lightweight and breathable knitted fabric that forms the upper part of many NMD models. It offers a sock-like fit and enhances comfort.
Boost Technology: NMDs are well-known for their Boost midsole, which is made from thermoplastic polyurethane (TPU) capsules. This technology provides excellent cushioning and responsiveness.
Synthetic Overlays: Some NMD models incorporate synthetic overlays for added durability and structure.
Rubber Outsole: The outsole of NMDs is typically made from rubber to provide traction and durability.
Textile Linings: The interior of the shoe often features textile linings for comfort and moisture management.
Suede or Leather Accents: Depending on the specific design, NMDs may also include suede or leather accents for added style and support.
Final thoughts
While you can indeed wash NMDs in the washer, it's essential to follow specific guidelines and precautions.
Hand washing NMDs is suitable for regular cleaning whiles machine washing should be used once in a while to give your NMDs a thorough wash.
References:
Related articles: