LG Waterproof Cycle? (When And How To Use It)
Washing clothes is a task that we all have to do, but do we do it right? 
With so many different cycles to choose from, it can be difficult to know which one to use for your specific needs. 
One such cycle that catches the eye is the LG Waterproof Cycle, which is available on select LG front-load and top-load washers.
And you may be wondering, "what is the Waterproof cycle on my LG washer?".
Could it mean your washing machine is waterproof? Well, No.
The Waterproof Cycle is a cycle that is used to remove dirt and grime from waterproof or water-resistant items such as mattress covers, raincoats, ski gear, and plastic mats. This is the only recommended cycle for washing waterproof items.
It's very important you are using the waterproof cycle rightly in order to avoid damaging your garments or your washing machine.
In this article, we will explain to you how to use the Waterproof cycle correctly, when to use it, and the don'ts involved in using it.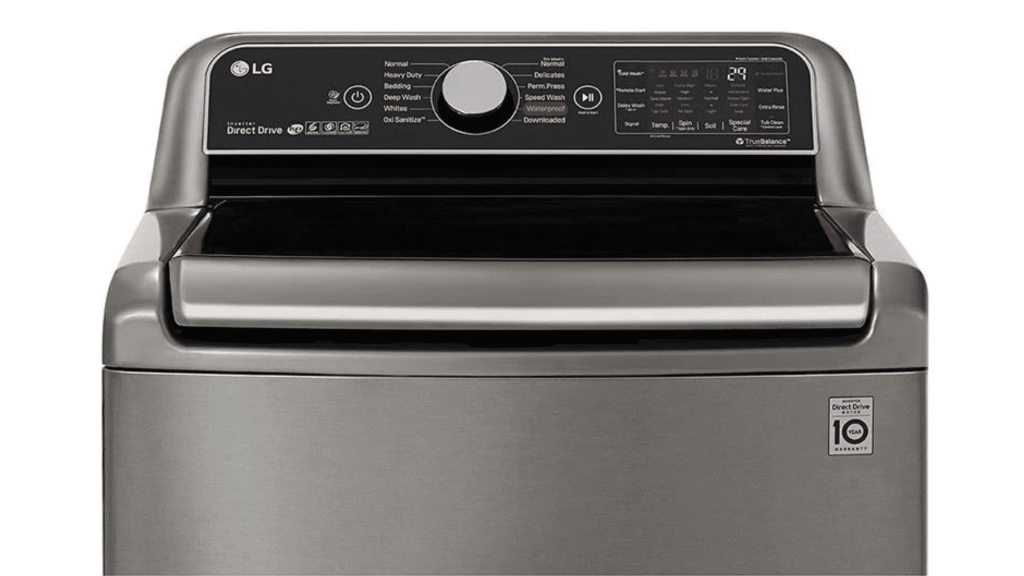 What is LG washer Waterproof cycle and what does it actually do?
You most likely can guess the meaning of the Waterproof cycle but you cannot really tell exactly what the does for waterproof or water-resistant garments. 
As the name suggests, the Waterproof cycle is specially designed to wash waterproof materials effectively. That includes items such as raincoats, outdoor clothing, ski gear, and rubber mats.  
Here is how the LG Waterproof cycle works:
The WaterProof cycle uses slow spin speeds at the beginning to ensure that more water is removed from the garments before running at higher spin speeds. As such, the cycle runs slightly longer than other cycles.
For efficiency, LG recommends that you only wash waterproof items using the Waterproof cycle and that the laid should weigh less than 14 lbs. 
It is worth noting that the spin speeds during the Waterproof cycle cannot be adjusted, and is fully determined by your washer. 
Also, when you use the Waterproof cycle, it automatically incorporates steam into the wash cycle.
When to use the Waterproof cycle
The LG Waterproof Cycle is ideal for washing clothes made of waterproof material. 
It is important to always check the fabric care label on your clothes before running them on the Waterproof cycle.
Below is a list of some items you should use the Waterproof cycle for.
Rain jackets
Rain pants
Waterproof gloves
Water-resistant backpacks
Rain tarps
Waterproof sleeping bags
Waterproof tents
Waterproof camera covers
Waterproof phone cases
Waterproof dry bags
Waterproof ponchos
Water-resistant sportswear
Waterproof gear for outdoor activities
Waterproof gear for water sports.
How to use the Waterproof cycle on LG washer
Starting the Waterproof cycle is similar to running any other cycle, easy and straightforward. 
Put your garments in the tub and fill the dispenser
Press the power button to turn the washer on
Turn the cycle selector knob to Waterproof
Adjust the spin speed and temperature as needed by pressing the spin button and Temp button respectfully until the required speed and temperature is selected 
Press the start button to begin the cycle
You can choose to add the following options, depending on your model, to the Waterproof cycle if needed:
The following wash options cannot be selected when using Waterproof cycle:
Steam
TurboWash
ColdWash
Soak
StainCare
Donts of using the Waterproof cycle
Don't wash delicate or non-waterproof items: The LG Waterproof Cycle is designed for washing waterproof items only, not delicate or non-waterproof items. Washing these items could cause damage or shrinkage.
Don't overload the machine: Overloading the machine can prevent your clothes from getting properly cleaned. The maximum load should be 14 lbs.
Don't mix different types of materials: Mixing different types of materials can cause friction and wear, so it's best to wash waterproof items separately from non-waterproof items.
Don't wash waterproof items at high temperatures: High temperatures can damage the waterproof properties of your clothes, so it's best to wash them on a cold or warm cycle.
Don't use bleach or harsh chemicals: Using bleach or harsh chemicals can damage the waterproof properties of your clothes, so it's best to avoid using them.
Why can't I wash waterproof items in my LG washer?
Waterproof items may have a coating that can be damaged by some agitations and high water pressure in a washing machine. 
You can use low spin speeds and temperatures to wash waterproof garments in your washer.
Some washers such as select  LG washers have a special cycle called Waterproof that is specially designed to wash waterproof items. 
You may also like: