How To Reset Blomberg Washing Machine (Answered)
Do you want to reset your Blomberg washing machine and get it back up and running in no time? 
You may be encountering error codes that seem to make no sense and the best action to take is to reset your washer. 
Could it also be that your Blomberg washer switched to self-protection mode due to power supply issues? 
Most control panel issues can be solved by resetting your Blomberg washer and we are going to show you how to get it done in no time.
Here is how to reset Blomberg washing machine to factory settings:
To reset your Blomberg washer, press and hold the Start/Pause/Cancel for 3 seconds and this will reset your washer back to factory settings.
In this article, we'll show you the ins and outs of resetting your Blomberg washing machine, whether it's a simple soft reset or a hard reset.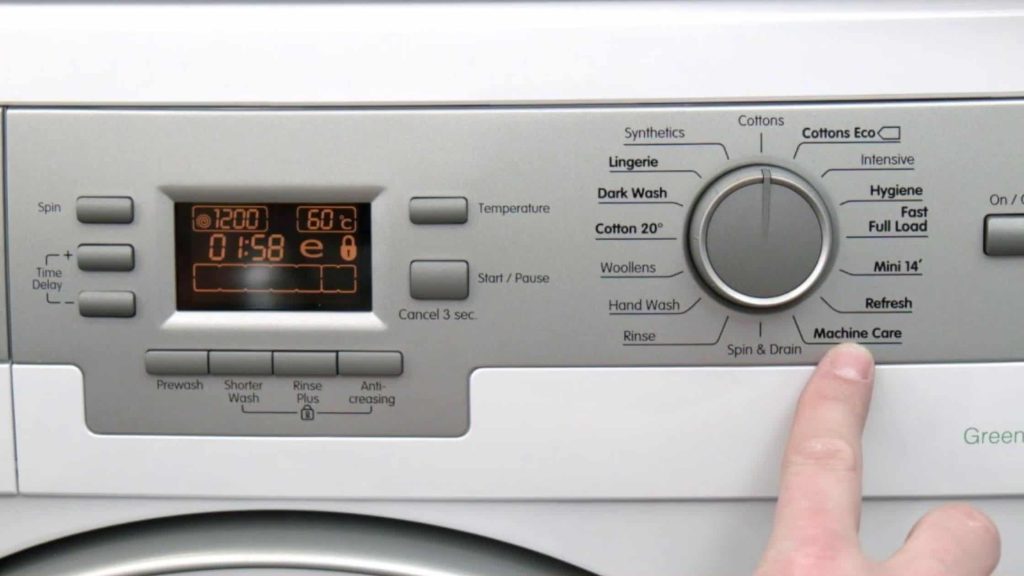 How to reset Blomberg washing machine
Blomberg washing machine does not have a reset button, unfortunately. 
Because of that, most people tend to find it difficult to reset their washers when they encounter issues that require a reset.
Most of the problems you encounter on your Blomberg washer can be resolved by resetting the washer. 
Follow these 3 steps to reset your Blomberg washer:
Press and hold the Pause button and turn off the washer. While still holding the pause button turn back your washer.
All lights will turn on on the control panel display and your washer will be reset
Having left the pause button, turn off the washer and turn it back on and start the wash cycle.
Soft Reset Blomberg washer
A soft reset is a simple process that involves unplugging the washing machine from the power source for a short period of time and then plugging it back in.
A soft reset is used to clear any minor errors or glitches that may be affecting the machine's performance.
Here's how to Soft Reset your Blomberg washer:
Turn off your washing machine by pressing the power button.
Unplug your machine from the power source.
Wait for at least 10-15 seconds.
Plug the machine back in.
Turn on the machine and check if the issue has been resolved.
Note: The exact steps for resetting your Blomberg washer may vary slightly depending on the model and type you have. It is recommended you consult the user manual for specific instructions for your machine if these don't work.
Why you may need to reset your Blomberg washer
There are certain instances when you need to reset your washing machine to get it working properly again.
It is important to know when you should carry out a reset on your Blomberg washer to save you stress and waste of time. 
Below are some of the instances when you may need to reset your Hoover washer:
Error Codes
One of the most common reasons for resetting a Blomberg washing machine is due to error codes appearing on the display.
Error codes indicate a problem with the machine's operation, and resetting it may help resolve the issue.
Some of the most common error codes are 01, 02, 03, 04, 05, and 06, which indicate issues with the washer's water supply, the washer not draining, the drum, and the door lock, among others.
Machine Performance Issues:
In some cases, resetting a Blomberg washing machine may be necessary to improve its performance.
For instance, if the washer is not washing clothes properly, or if it is making unusual noises, a reset can help resolve these issues.
Additionally, if the machine is taking longer than usual to complete a cycle, a reset may help to fix the issue.
Maintenance or Cleaning Issues:
Regular maintenance and cleaning of a washing machine are important to ensure its proper functioning.
In some cases, resetting the machine may be necessary after cleaning or maintenance to ensure that it operates correctly.
For instance, if the machine has been disconnected for cleaning or maintenance, a reset may be necessary to get it back online and functioning properly.
How to cancel a program on Blomberg washing machine
Blomberg washers are designed to resume operating in the case of powering the washer after a power interruption.
But there may be times when you just want to cancel the program you may have selected.
Follow these steps to cancel a program on your washer:
Press and hold Start/Pause/Cancel button for 3 seconds and the Start symbol starts to flash
The symbol of the step when you canceled the program remains lit.
"End" appears on the display and the program is canceled.
Note: In case you want to open the door after canceling the program, but it isn't possible since the water level in the drum is higher than the door, then turn the selector knob to Pump+Spin and discharge the water inside the washer.
You may also like: