Washing Machine Pedestals (11 Things You Should Know)
Washing machine pedestals are one accessory that still has a lot of people undecided. 
Although washer pedestals have proven to be of good benefit, not everyone even knows about them. 
A washing machine pedestal is a stand that is placed under front load washers to raise the height of the washer and make it easier to load and unload clothes and fabrics.
Here is the purpose of a washing machine pedestal:
Washing machine pedestals are used to increase the height of front load washers by 10 inches to 16 inches to make it easier to load and unload items without too much bending. Some other pedestals double as storage compartments for laundry supplies. 
In this article, we will answer the most common questions you may be asking about washing machine pedestals.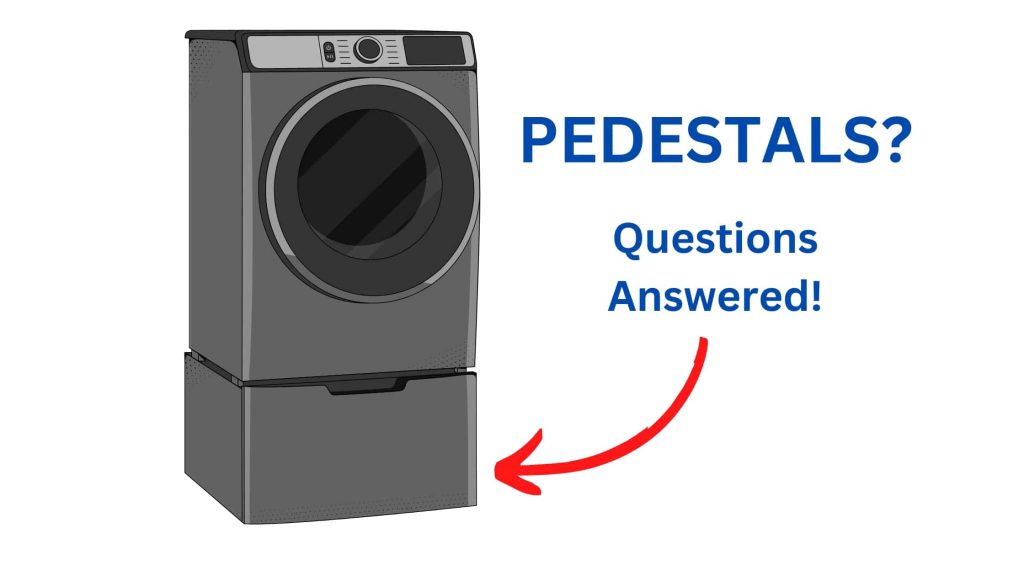 1. Do washing machine pedestals work?
You may have seen some buzz about washing machine pedestals and you wonder if they actually work. 
Washing machine pedestals work and serve their purpose well. They serve to reduce bending and stopping when using your front-load washing machine. 
The only time you may find a pedestal not working is when the pedestal was poorly designed or manufactured. 
In that case, you may have a pedestal that may break down shortly offer usage, because it couldn't handle the weight of your washer. 
These days washing machine pedestals are available in a variety of designs. 
Brands such as Whirlpool, Samsung, LG, Maytag, and others have pedestals that work really well with their washers.
Read also: Pros and Cons of washing machine pedestals
2. How tall are washing machine pedestals?
One of the primary purposes of a washing machine pedestal is to increase the height of your washer. 
So you may be wondering how high you could actually raise your washer. 
You can choose whatever height of the pedestal you wish. However, for stability's sake, your pedestal should be 10 inches to 16 inches in height, and this is the height of most branded pedestals. 
This height is enough to maintain stability and also provides enough storage for your laundry supplies if you need them. 
3. Are washing machine pedestals universal?
Washing machine pedestals are not universal. While there are pedestals that may work for more than one washer, they're generally not interchangeable due to the varying dimensions and features of washing machine brands. 
You need to ensure that you always check the compatibility of a pedestal with your washing machine before purchasing one. 
Else the screw holes that hold the pedestal to the washer may not line up and fit. 
What might look like good taste may not actually work for your washer. 
You can take measurements for a custom build or simply contact your nearest washing machine brand shop. 
Are Maytag and Whirlpool pedestals interchangeable?
Maytag and Whirlpool pedestals are not interchangeable. You may be tempted to think that you can interchange them, but there are subtle differences in their design that make them incompatible with each other. 
You should always ensure that you are buying the right brand and type of pedestal for either a Maytag washer or a Whirlpool. 
Even though you have an old washer and pedestal, it's possible you may have to get a new pedestal for your new washer if it's of a different brand or model. 
Will Kenmore pedestal fit Whirlpool?
A Kenmore pedestal will not fit a Whirlpool washer. Although the two brands are closely related, they are designed with different connections such that you cannot interchange them. 
Will Whirlpool pedestal fit LG?
Whirlpool pedestal will not fit an LG washing machine. Whirlpool pedestals are designed to fit their washers and they do not fit with other washers such as LG. 
You will need to get a pedestal designed purposely for an LG washer. 
Are LG and Samsung pedestals interchangeable?
LG and Samsung washers are not interchangeable although they may look similar. That's because the feet are located at slightly different locations and hence they can't be used interchangeably. 
4. How much weight can a washer pedestal hold?
Washer pedestals can hold just enough weight as it was designed for. Pedestals are designed with different weight limits that are specified by the manufacturer. 
Pedestals are designed with a factor of safety that ensures that it's almost unlikely that the weight limit will be exceeded by your washer when it's fully loaded. 
You can always check your user manual or contact your retailer to provide you with this information. 
5. Do all washers fit on pedestals?
Not all washers fit on pedestals. Pedestals are designed to increase the height of front-load washers and dryers. Top load washers do not use pedestals since it will become difficult to unload items. 
Also, some old-type washers are just not compatible with any pedestals unless custom-made. 
If you have a washer that has issues with its suspension rods and as a result shakes frequently, you may want to avoid a pedestal.
Pedestals can cause a washer to topple and fall due to imbalance when there's excessive vibration.  
6. Can you stack washer pedestals?
Are considering stacking your washer and dryer on a pedestal? 
You cannot stack a washer and dryer on a pedestal because the pedestal is not designed to carry the extra weight, and neither will the setup be stable enough against toppling over. 
The best you can do is to get two separate pedestals for your washer and dryer.
7. Things you can store in a washing machine pedestal
As we mentioned earlier, some washing machine's pedestals have a compartment where you can store things. 
However, this compartment may not be big enough to store anything at all. 
Here is a list of items you can store in a washing machine pedestal:
Laundry detergent 
Dryer sheet 
Bleach 
Fabric softener 
Clothes pins 
Dryer balls 
Other cleaning products 
There are no particular products that are meant to be stored in a pedestal with storage space.
You should get creative and make the best use of the space available. 
8. Can I move a washer on its pedestal?
A washing machine pedestal is tightly connected to a washer and hence you can move a washer on its pedestal just as you would move the washer alone. 
So if you're thinking about moving your washer on its pedestal for any maintenance work, you can absolutely do that. 
Read Also: Using a drain pan with a pedestal
9. Do washing machine pedestals shake more?
Washing machines with pedestals tend to shake more because the pedestal increases the height of the washer which consequently reduces its stability and causes them to wobble more during vibrations. 
Think about it.
The taller you are, the more likely you are to fall when pushed than when you're shorter. 
10. Are washing machine pedestals expensive?
Generally speaking, washing machine pedestals are one of the most expensive accessories of a washing machine. 
Pedestals are expensive because they provide a lot of value to owners. 
From saving you from backaches to making laundry less of a hustle. 
Here are some reasons why washing machine pedestals are expensive:
Pedestals are designed to support heavy weight: An average front-load washer weighs at least 250 lbs. Pedestals are supposed to carry the weight of the washer, including when it is loaded with clothes and water. As a result, they are designed very durable in order not to fail and collapse when used. 
Materials used for their manufacture are expensive: Due to the purpose of pedestals, they are usually made with durable materials such as stainless steel which are able to withstand not only weights but damages due to water such as corrosion. 
Provide Aesthetic appeal: Washer pedestals don't only serve their purpose, but modern pedestals add a touch of class and Beauty to your kitchen. There's a variety of colors that you can choose to blend in your kitchen or laundry room. 
Pedestals provide extra storage: You don't only get to raise the height of your washer but you get an additional safe and clutter-free space to store your stuff. 
These are just to mention a few. 
Washing machine pedestals can cost a minimum of $100 for a basic one and as high as $500 for more sophisticated ones which may provide storage and extra smart features. 
11. Are washing machine pedestals worth it?
The price of washing machine pedestals may cause you to pause for a second and wonder if they are worth the price and hype. 
Well, it highly depends on your needs. 
If you have problems with your back and find it difficult to bend to load and unload your washer, you may consider getting a pedestal for your washer or dryer. 
Again, if your kitchen or laundry room is tight and you need extra space to store your Landry supplies, a pedestal may come in handy. 
However, you may not need a washing machine pedestal if you can easily load and unload items into your front load washer without any problems. 
Also, if you have enough storage space, you may not need a pedestal with storage. 
So it depends. 
If you actually need the benefits that a washing machine pedestal comes with, then it may be worthwhile to get one, especially if you have the financial capacity to. 
12. What is a pedestal washer?
Pedestal washers are pedestals that have a small washing compartment built in. These wash compartments let you wash a small load when you just have a few items, or wash some things separately from your main load. 
You can sometimes use a pedestal washer alone by itself provided it has its own water and drain lines.
But usually, it would be connected to your washer just like all pedestals. 
Sources