How To Clean LG Washing Machine Filter Top Loader (Easy Guide)
LG top load washing machines have filters that catch lint and other small objects such as coins and buttons from your clothes. 
There are three types of filters in LG washing machines. 
The drain pump filter, lint filter, and water inlet filters. 
Not all LG top load washers have a removable lint or drain pump filter. High-Efficiency smart washers have a self-cleaning system that deals with lint and debris.
If you experience problems such as your washer having long cycle times or not cleaning or draining properly, chances are your filters need to be cleaned. 
In this article, we will show you how to clean your LG top load washer filter effectively. 
We will cover; 
What supplies you need 
Easy steps to clean the filter 
And more…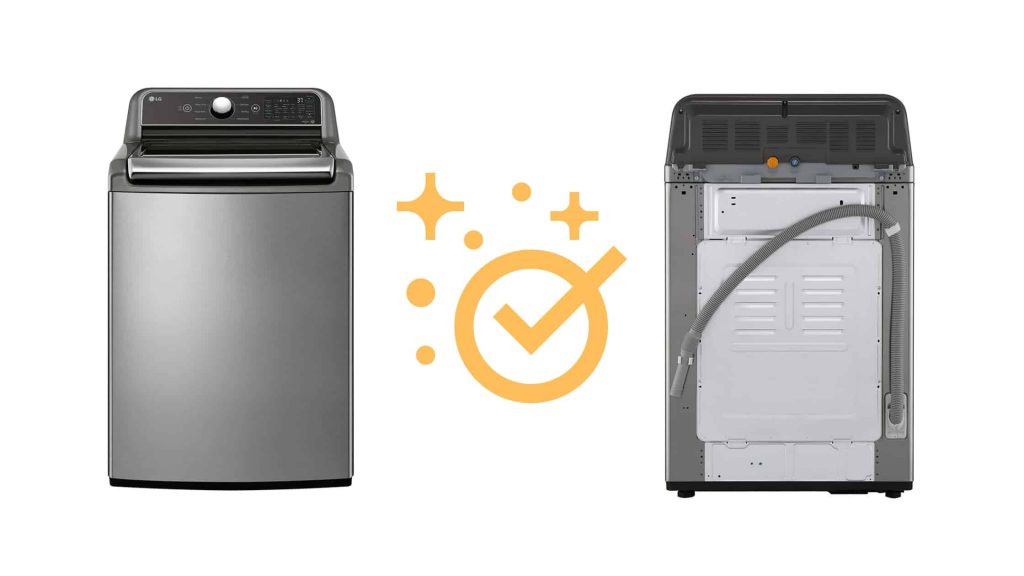 Supplies needed to clean LG top load washing machine filter
There are some basic items you need to clean your filters. 
Toothbrush 
Bowl 
White vinegar 
Warm water 
How to clean the drain pump filter on LG top loader
Follow these steps to clean the drain pump filter on your LG washer: 
1. Prepare a cleaning mixture
Pour half cup of white vinegar or baking soda into a bowl of warm water and gently stir for it to totally dissolve. 
You can use a washing machine cleaner (power or liquid) in place of white vinegar as both can perform the same function. 
2. Locate the filter
The drain pump filter on LG top load washing machine is located at the lower back side of the washing Machine. 
Turn it counterclockwise to remove it. 
Some top load washers do not have a removable filter. 
Other top load washers also have the magic filter that is located inside the tub, attached to the side of the washer. 
Refer to your user manual for the exact location of the filter on your LG model. 
3. Cleaning the filter
After removing the filter, you can now clean it. 
Remove all debris on the filter using the toothbrush. 
After that, soak the filter in the vinegar solution for 15-20 minutes to clear any additional debris. 
Wash the filter and rinse thoughtfully with clean water. 
Let the filter air dry. 
4. Cleaning housing and fixing filter back.
Check the housing where the filter was and clear it of any dirt or debris. 
Once done fixed the dried filter back in position and run your washer empty to see if there are any leaks. 
If there are leaks, then check and adjust the filter correctly.
Read also: Corroded washing machine valves
How to clean the water inlet filter on LG top load washing machine
The water inlet filter is what catches any minerals and debris that may be contained in your water supply. 
If you live in a location with hard water, the inlet filter can get clogged, requiring cleaning. 
You may even receive an error message when the inlet filter gets clogged. 
Here are the steps to clean the water inlet filters:
1. Turn off the water supply valves.
Turn off both cold and hot water supplies by shutting the valves. 
Turn your washer off and disconnect from the plug. 
2. Disconnect the water inlet hoses
Unscrew the hot and cold water inlet hoses from the back of your washer. 
There may be water still in the hoses so carefully discharge the water into a bowl to avoid spillage. 
3. Remove the inlet filter
Gently pull the inlet filters from the inlet valves using a needle nose plier or your fingers if you can. 
4. Clean the inlet filters.
Soak the filters in white vinegar solution for about 15 minutes. 
Wash them clean with warm water to ensure that there are clear of any deposits. 
Rinse thoughtfully with clean water and attach them back to the inlet valves and connect the hoses back. 
Be careful not to dance the filters. 
Check out our article on how to clean an LG Completly.
FREQUENTLY ASKED QUESTIONS
Does LG top loader have a filter?
All top load LG washers have a filter in one form or another. The location of the filter depends on the model while some High-Efficiency washers have self-cleaning filters that are not removable. 
Do top loaders have lint filters?
Not all top load washers have lint filters. For agitator type washers, they may have a lint filter inside the center of the agitator. Other washers have a lint filter attached to the side of the tub. Some washers only have a drain pump filter. 
How do I know if my top load washer has a self-cleaning filter?
Self-cleaning filters are available in modern high-efficiency washers. So if your washer is a modern one, chances are that it has a self-cleaning filter. You can tell by a self-cleaning button on the control panel. 
The easiest way however is to refer to your user manual. 
Read Also: Will Paint Ruin A Washing Machine? (What You Need To Know)
What happens if you don't clean your washing machine filter?
If you don't clean your washing machine filter, it will get clogged and develop mold and mildew which can get into your clothes and prevent them from getting cleaned properly. A dirty filter will also reduce the lifespan of your washer.