Will Paint Ruin A Washing Machine? (What You Need To Know)
Are you worried about the paint that has soiled your clothes causing damage to your washing machine? 
Washing machines make laundry so easy especially if we have clothes that get so dirty. 
But not all clothes or items should enter your washer. 
Here's what can happen when paint enters a washing machine:
Paints such as acrylic or oil paint will not necessarily ruin your washing machine provided you use plenty amount of detergent and run an empty hot wash cycle after the wash since fresh oil paints may stick to parts of your washer that may affect other clothes later. 
You will need to run several empty wash cycles with hot water till you remove all remaining paint. 
In this article, we will give you guidance on how to prevent paint from ruining your washing machine and clothes.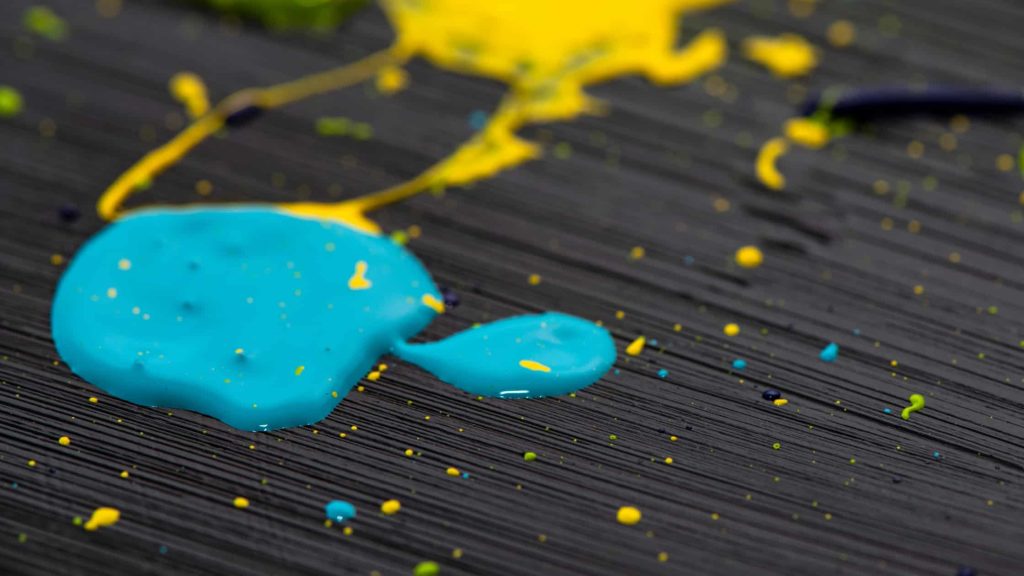 Can a washing machine wash off oil paint?
Washing machine detergent cannot completely remove oil paint on clothes. 
To remove oil paint from clothes you'll need to wash the seas with turpentine or thinner that's used to dissolve oil paint. 
Before you wash your oil paint-soiled clothes, you should wash the paint off with thinner in a bowl, rinse with water, and allow them to dry before putting them in the washing machine.
How to remove oil paint from clothes
Whiles it's highly not recommended to wash paint-soiled clothes in a washing machine, you still need to get paint off your clothes. 
It's always better to remove paint from clothes before tossing them into the washer. 
This is because the washing machine will not be able to completely remove paint stains in most cases depending on the paint type. 
There are two types of paints. 
Water-based paints and oil-based paints.  
Let's look at how to remove both paint types from clothes. 
Water-based paints on clothes
Water-based paints include paints such as acrylic and latex. They are easier to remove from clothes and require less effort. 
Use a scraper to scrape off all the dried paint on your clothes as much as possible. 
Pour water on the areas and use a towel to wash off the remaining paint stains. 
Mixture water with detergent and blot the stained areas to remove the remaining paint further. 
After that, you can proceed to wash your garment in the washer as you would usually do. You can add a stain remover and run a hot wash cycle. 
Oil-based paint on clothes
Unlike water-based paints, oil paints are more difficult to remove from clothes and require solvents other than water and detergent to remove them. 
Scrape off any removable oil paint stains from the clothes. 
Use thinner or turpentine to blot the oil paint-stained area to remove as much of the paint as possible. Repeat till the stain is out. 
Rinse with running water. 
Soak the garment in water mixed with a strong detergent and let it soak overnight. 
After that, rinse with fresh water and proceed to use your washing machine as you would do usually.
How to get paint out of a washing machine
It may be that you have your garment soaked in paint and you decided to throw them into your washing machine for a stress-free wash. 
Now you are trying to get the paint out of the washer and it doesn't seem to be getting out. 
Here's how to get paint out of your washing machine:
Use a scraper to scrape off all paints that have stocked to the washing to the washing machine 
You can manually use a paint remover to spot-clean all the paints inside the washer before running the hot cycle. 
Then, Run an empty wash cycle using the hottest temperature on your washer. Add bleach to help in removing the paint. 
Although turpentine is used to remove paint, it's not advisable to use it inside the washer since contact with the door seals can deteriorate them. 
Repeat the process till you have successfully removed all paints from your washer. 
It may be expensive considering the excessive water and detergent you'd be using. But it'd be worth it if you asked us. 
6 Tips to prevent paint from ruining your laundry
Excessive paint in a washing machine can definitely ruin your washer, considering that the paint may clog the motor and other mechanical parts and cause them to malfunction. 
Here are five tips that will help you wash the paint off your clothes in a washing machine safely. 
1. Pre-clean the garment before putting it in the washer
Before tossing your paint-soiled garment in the washer, try and scrape off as much of the paint stains as possible. 
This significantly reduces the amount of paint that will be in the washing machine. 
2. Add an extra amount of detergent than usual
Oil paints contained in clothes inside a washer will hinder the ability of the detergent to lather well. 
You may notice that the suds almost disappears after a while of washing. 
This is due to the oils in the paint. 
To solve this, add more detergent into the tub so enough suds can be produced to wash the paint. 
Also, choose a strong detergent. 
3. Wash with hot water
It's better you choose a hot water supply to wash the paint off your garments. 
Hot water helps in the dissolution of paints and aids their drainage out of the washer. 
4. Fill the tub with water and detergent before throwing in clothes
Ensure to fill your washing machine with water and string detergent before your paint clothes come in. 
This reduces the likelihood of the washing machine getting contaminated by the paint. 
5. Run an empty hot water wash after the cycle
After washing paint-soiled clothes in the washing machine, there are definitely going to be some traces of paint inside the tub. 
If left, the stains may end up messing up other clothes later. 
You should run an empty wash using the highest water temperature available. 
If you use an LG you can run a tub clean cycle. 
6. Run a test wash before your next laundry
In order to avoid ruining your next laundry with paint, run a test cycle with one or two clothes to see if they come out clean without any paint stains. 
If you do, then you're good to go. Otherwise, run another hot wash till you have no paint residue left in the washer. 
References:
Check out other interesting articles on our blog: