How to Reset Hoover Washing Machine (Answered)
When your Hoover washing machine isn't working right, it may be necessary to reset it.
For instance, you had a sudden interruption in your power supply and your washer jammed, or you got an error code when you were running a cycle.
In such instances, the best action to take on your washer will be to reset it.
What it means to reset a washing machine is that you are taking it back to its working default setting before an error occurred.
Resetting your hoover washing machine can be done by following a few simple steps.
In this article, we will walk you through the process of how to reset a Hoover washing machine.
You will be able to run a self-diagnostic programme on your Hoover washer and you will also get some tips on when it is necessary to reset your machine.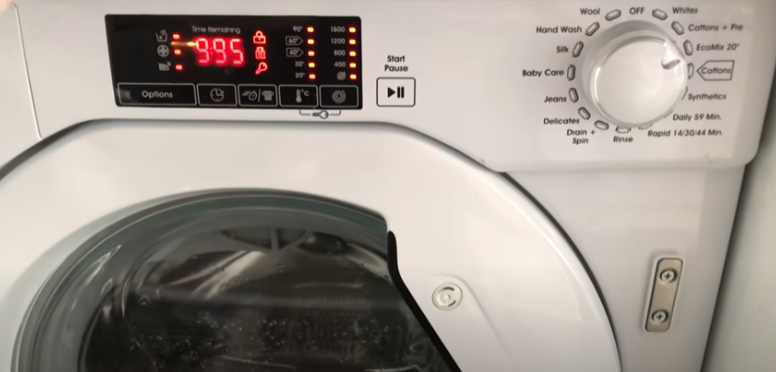 Controls on a Hoover washing machine
It's important to know what the controls on your hoover washing mean. You can always refer to your hoover user manual for your particular model.
Some of the buttons are common among all the Hoover washer models.
Below are the common controls on hoover washing machines.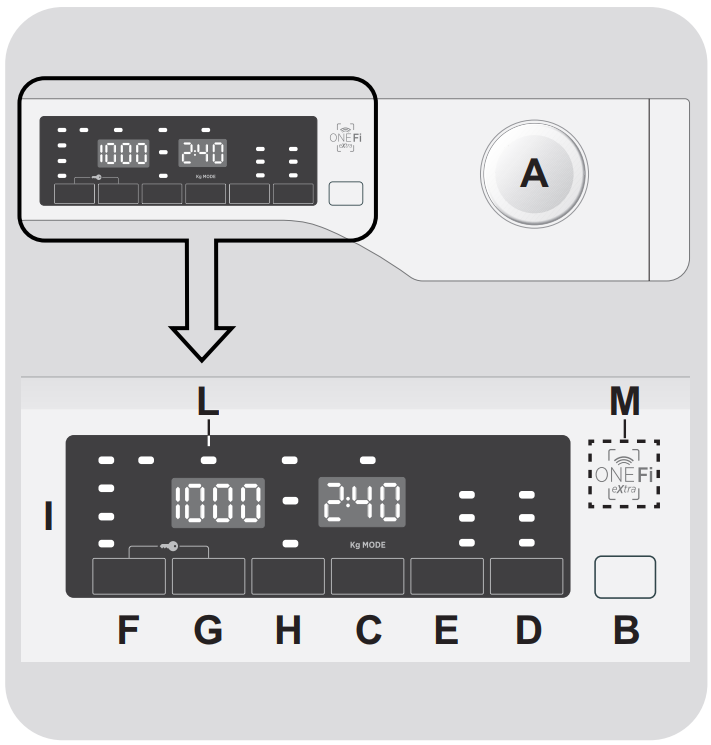 A- Programme selector with Off position
B- START/PAUSE button
C- DELAY START button
D- OPTIONS button
E- RAPID / STAIN LEVEL button
F- TEMPERATURE SELECTION button
G- SPIN SPEED button
H- ACTIVE STEAM button (only available on certain models)
H- EASY IRON button (only available on certain models)
D+B- Start ONE TOUCH
F+G KEY LOCK
I- Digital display
L- DOOR LOCKED indicator light
M- ONE Fi EXTRA area
Is there a rest button on my hoover washing machine?
Some modern washing machine brands and models have a reset button that saves you from any hustle of manually resetting your washing machine.
But the question is, do Hoover washing machines have a reset button?
The answer is No. Hoover washing machines do not have a reset button. At least not yet.
To reset your hoover washing machine, keep reading below to know the easy steps involved.
Read also: Hoover Washing Machine Control Panel Not Working? (How To Fix)
How to reset a hoover washing machine(Step by Step)
Put the dial on the off position and turn the programs selector knob clockwise in two turns.

Press and hold the options button which is the first button from left on the display.
The LED light will all light up showing the last 3 digits of the EEPROM(Electrically Erasable Programmable Read-only Memory) code in memory.

Wait 5 seconds from the time the LED lights up and press the start/pause button
Your washer will go through a self-diagnosis. Usually for about 3 minutes

Once the diagnosis is complete, the LED will flash up '888' indicating that you are set to go.
An error code will be flashed instead when your hoover washing machine detects any issue.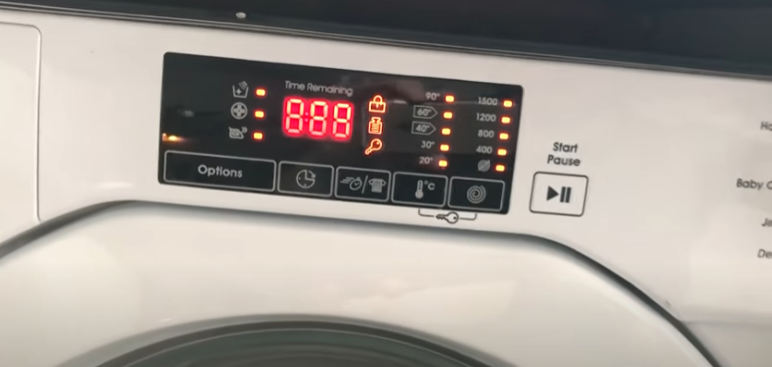 5. Turn off your washer by turning the know to 'off' to reset it.
How to pause a cycle on Hoover washing machine
While your wash cycle has started you can still add or remove items from your washer by pausing the cycle.
In order to pause your hoover washer whiles the cycle is running, follow the following steps:
Set the program selector to the OFF position by turning the knob
Wait for 2 minutes for the inbuilt safety device to unlock the door.
Read Also: Hoover Washing Machine not Spinning (All you Need to Know)
How to cancel a program on Hoover washing machine
Sometimes you need to cancel a programed you selected to wash your clothes but you realised it wasn't the right time or you mistakenly chose the programme.
To cancel a program on your hoover washing machine simply do this:
Press and hold the Start/Pause for about 2 seconds.
The LED display will flash indicating that your washer has paused.
To start the cycle again, press the Start/Pause button again to continue the cycle from where you paused it.
If you are looking to reset your Hoover Dynamic next washing machine, follow these steps as described.
The location of some of the buttons may differ but the principle is the same.
Read also: Hoover Washing Machine not Draining? (All you need to know)
How to change the language of your Hoover washing machine
If you use a newer Hoover washing model, you can change the language to any of those inbuilt in your washer's programming. You can change the language to any of the languages. Italian, English, French, Spanish, German, Polish, Turkish Russian, etc.
Follow these steps to change the language on your hoover washing machine:
Turn the program selector to cotton
Press and hold the 'Start Delay' and 'Options' button
Then language set will display. Tap the 'Temperature' or 'Speed spin' cycle to choose between the languages.
Press the Start/Pause to confirm the selection
Conclusion
Resetting your Hoover washing machine is a simple process that can be done in just a few minutes.
However, if you find that your machine needs to be reset frequently, it may be indicative of a more serious problem.
If that is the case, it is best to contact a qualified appliance repair technician for assistance.