Hoover Washing Machine Control Panel Not Working? (How To Fix)
When the control panel on your Hoover washing machine stops working, it can be a major inconvenience.
You fill the drum with clothes to kick start your laundry and you're pressing the buttons on your Hoover washer and nothing seems to be working.
The obvious question you are probably asking is, "Why is my Hoover washing machine not starting?".
In fact, this is a common problem Hoover washing machine owners face at a point in time. 
Here is why your Hoover washing machine control panel is not working:
Your Hoover washer control panel may not be working because there has been a cut in the power supply or you may have the child lock option turned on accidentally. It could also be that your control board has developed an internal fault.  
In this article, we will show you how to easily troubleshoot your Hoover washer control panel problem.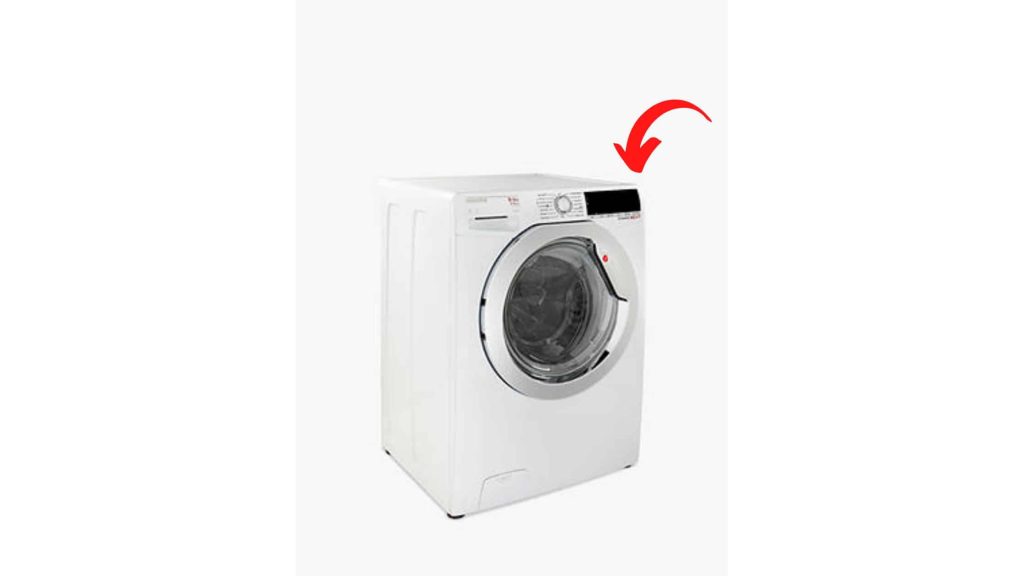 Hoover washing machine control panel not working? (Try these fixes)
1. Check power supply availability
If your Hoover washing machine control panel is not working, it could be because it is not connected to the power supply either forgetfully or it was accidentally pulled off. 
Check to make sure that your washer is plugged in and that the power outlet is working by checking with a voltage meter. 
You should also check the circuit breaker to make sure that it hasn't been tripped.
If everything looks good, try resetting the washing machine by unplugging it for 60 seconds and then plugging it back in.
If this doesn't solve the issue, then try the next fix below.
2. Check the Circuit breaker
After checking that your washer is connected to power, and your Hoover washer still won't start, the next thing you can try is to check the circuit breaker. 
Follow these steps. 
Leave your washer plugged into the power outlet
Go to the electrical panel in your home and locate the switch that controls your washer. You'll usually find the labels pasted inside the panel door. 
Turn the switch off for your washer for 30 seconds and turn it back to the on position. 
Lastly, press the power button on your Hoover washer to see if the controls become active. 
3. Check if the child lock is active
The child lock feature is a safety feature that keeps all the buttons on the Hoover control panel locked except the power button. 
This is to prevent kids from tempering with the wash settings whiles you're doing the laundry. 
If your power button is the only button on the control panel that works, it's possible your child lock may have been activated by accident preventing your Hoover washer from starting. 
If that's the case, you need to turn off the child lock.
Turning off the child lock may differ slightly depending on your type and model of Hoover washing machine. 
Some Hoover washers will show a padlock symbol on the display meaning it's in child lock.
To turn off the child lock on a Hoover washing machine, hold down the start button for about 5 seconds to unlock the child-lock.
4. Inspect the control board
If none of the three fixes explained above works for your Hoover washer, you will need to go further and inspect inside the control panel to ensure that no wires are damaged or stressed (signs of melting, fraying, etc.). 
1. Disconnect the washer from the outlet 
2. Remove the two screws behind your washer which hold the top cover in place and remove the cover. 
3. Locate the electrical connection point at the backside of the control panel and make sure the connection is not loose and no connecting wires are frayed. 
4. Make a close inspection of all the wires behind the control panel to ensure that there aren't signs of wear and tear. In some cases, you may have to replace the control board of your washer if it's gone bad. You can check out our article that explains how to tell if your control board has gone faulty.
Is there a reset button on Hoover washing machine?
This is a question that Hoover washing machine owners have been asking for years. 
Is there a reset button on Hoover washing machines? 
There is no reset button on Hoover washing machines.
However, there is a way to reset your Hoover washing machine when you need it.
How to reset a Hoover washing machine
Put the dial on the off position and turn the programs selector knob clockwise in two turns.
Press and hold the options button which is the first button from the left on the display. The LED light will all light up showing the last 3 digits of the EEPROM(Electrically Erasable Programmable Read-only Memory) code in memory.
Wait 5 seconds from the time the LED lights up and press the start/pause button. Your washer will go through a self-diagnosis. Usually for about 3 minutes
Once the diagnosis is complete, the LED will flash up '888' indicating that you are set to go. An error code will be flashed instead when your hoover washing machine detects any issue.
5. Turn off your washer by turning the know to 'off' to reset it.
You check out a more detailed article about resetting your Hoover washer.
Conclusion
We hope these fixes will help you get your Hoover washing machine control panel working again in no time. 
You can see that with a little bit of troubleshooting, you would be able to get your Hoover washing machine control panel working again in no time.
If you have further questions, feel free to leave them in the comments section below.