Maytag Washer Only Works On Delicate Cycle? (How To Fix)
The right settings options on your Maytag washer are each for specific conditions and you should use them appropriately. 
It's not enough to simply toss your clothes in the washer and hit the start button. 
Sometimes there are issues that just aren't your fault.
Have you ever tried changing a wash option on your Maytag washer but it stays stuck in a different mode?
You are supposed to choose the wash option based on the condition and nature of your clothing or fabric.
But if your Maytag washer gets stuck and only works on the delicate cycle, then there is a problem since the delicate cycle is not appropriate for washing heavy and heavily soiled fabrics. 
You need to use, for instance, the heavy-duty cycle for more tougher and dirty clothes.
Here is what to do if your Maytag washer only works on delicate cycle:
Reset your Maytag washer 
Push washer in diagnostic mode
Inspect the ribbon cable in the control panel
Refer to the user manual
In this article, we are going to show you four possible fixes you can try if your Maytag washing machine only works on the delicate cycle.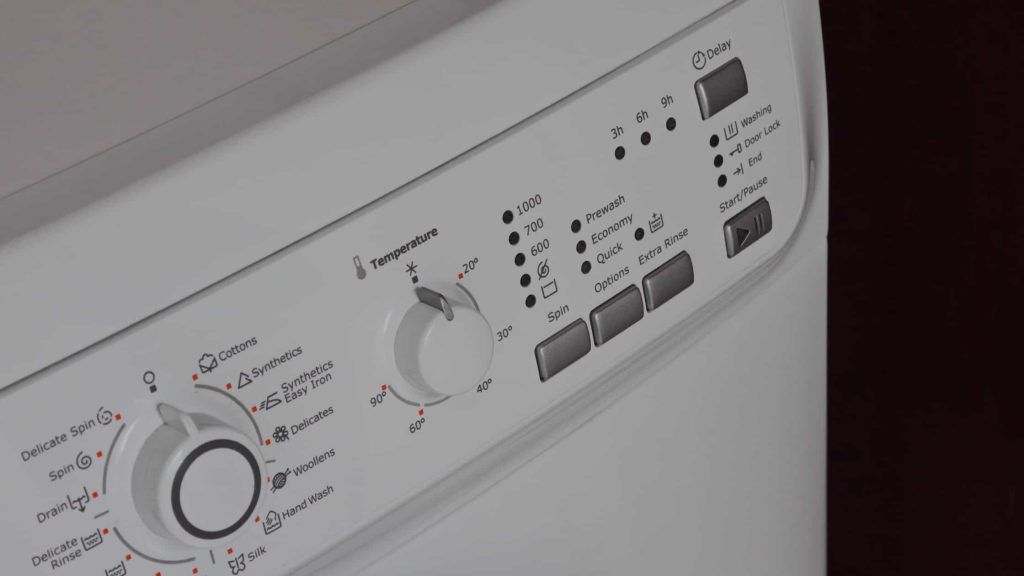 Why does Maytag washing machine get stuck on delicate wash only?
There are several possible things that happen when your Maytag washer is running.
Actions such as severe vibrations of your Maytag washer can cause some components in your washer to get loose over time. 
For instance, some electrical connections can develop lose contact due to excessive vibrations and cause different types of problems such as your washer only working on a particular cycle. 
Moving your washer from one place to the other especially using a vehicle on a rough road can cause it to not work perfectly after it's reinstalled. 
That is the reason why transit bolts are usually provided on new washers.
Maytag washing machine only works on delicate cycle? (Try these fixes)
The reasons why your Maytag washer is stuck on a delicate cycle are usually due to common reasons.
If your Maytag washer works on only delicate wash, follow these steps in other to get your Maytag washer working properly so you can continue your laundry. 
1. Reset your Maytag washing machine
Many problems you face with your Maytag washer can be solved by simply resetting it.
Any time you face a control panel issue with your Maytag washer the first thing you may want to do is reset your washer and see if that fixes the problem. 
Your Maytag washer may be working on only the delicate wash cycle simply because of some interference or jam in the control system. 
And you can usually fix that by resetting your washer. 
Maytag washers do not have a reset button but there are simple ways to reset a Maytag washer. 
How to reset Maytag washing machine
Option 1
You can unplug your Maytag washer from the power for 3-5 minutes, which will cause it to reset. 
After, start the washer to see if it works well. 
If it still doesn't reset, unplug the washer again and this time, wait up to 10 minutes. 
This is the very basic way to try to reset your Maytag washing machine. If the problem still persists, then try using option 2 to reset your Maytag washing machine.
Option 2
Press power/cancel button. 
Next, choose a new cycle to run. 
Press start/pause to reset your Maytag washer.
Run a test wash cycle afterward to confirm that the washer has reset.
You can also check out our article on resetting Hoover washing machine.
Option 3
Unplug your washer for one minute and reconnect the power
Lift and close the lid six times in a 12-second interval. Do this within 30 seconds of reconnecting the power back. 
Run a test load afterward to confirm that your Maytag washer has reset.
Read also: Roper washer stuck on sensing
2. Put the washer in diagnostic mode
If your Maytag washer is not working properly, the best way to find out the problem is to run a diagnostic test on it. 
It is easy to put your Maytag washer in diagnostic mode and you can do that in a couple of clicks and turns. 
Here is how to put Maytag washing machine in diagnostic mode:
First enter "StartOperating Set-up." Then press and hold the DELICATES AND KNITS keypad for 1 second while in any of the set-up codes one through six, anytime a diagnostic code is present, or while dASdisplays if operating with the Maytag Data Acquisition set-up. Once your enter the diagnostic mode the entire display will flash, a cycle in the process is canceled, and diagnostic codes are cleared. 
3. Inspect the ribbon cable in the control panel.
As we mentioned earlier, excessive vibrations and movement can cause setting electronic components to malfunction. 
When that happens you need to open the control panel and check that there aren't any detached or loose connections.
To do that, follow the steps below:
Unplug Maytag washer 
Detach the two control panel end caps located at the two ends of your washer by pulling them from the top.
Unscrew the two screws and remove the top cover (control panel)
Locate a grey ribbon cable that connects to other components
Detach it and fix it back firmly
Fix all components back and turn on your washer.
Tip: While your washer is still unplugged, you can poke the connections with your finger to make sure all connections are tight. 
This fix will normally solve the problem of your Maytag washer only working in the delicate wash and you will be able to choose other wash options.
4. Refer to the user manual that you are correctly operating your washer
Sometimes it could just be that you aren't changing the wash cycle or options the right way. 
The easy way to ensure that you are doing it the right way is to refer to your user manual for your specific model for directions. 
Conclusion
We believe that you now know that you can easily fix the problem of your Maytag washer only working in delicate mode by resetting your washer or running a diagnostic test. 
If the issue persists, inspect the control panel to ensure that there aren't any loose connections or visible faults. 
Finally, you can refer to your user manual to confirm that you are changing the wash settings correctly.
Check out our other helpful articles: