Bra Wire Stuck in Tumble dryer? (All you Need to Know)
It may seem very simple to deal with wired bras during laundry but the truth is, it may be very tricky and if you are not careful, will give a lot of problems.
If you have had a bra wire stuck in your dryer you would know how worrying it can be.
Thinking about the fact that it may damage your clothes or even your dryer itself.
As anyone who has ever had the misfortune of dealing with a bra wire stuck in a tumble dryer will know, it's an incredibly frustrating and potentially dangerous situation.
This article will provide you with all the information you need to know about bra wire stuck in tumble dryers, including how to prevent it from happening and what to do if it does.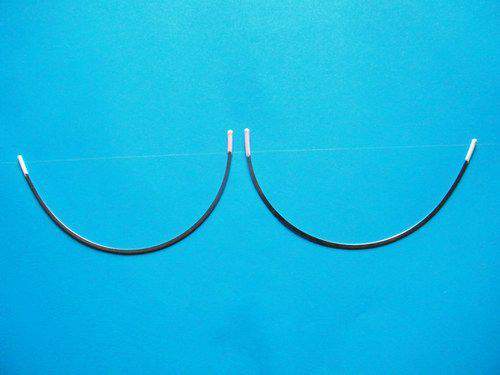 How does a bra wire get stuck in a dryer?
Bras are some of the delicate types of items people wash using a washing machine.
When not done properly, you will end up over-stretching and loosening the parts of the bra as the clothes are rotated vigorously in the washer.
At times the bra threads could loosen to the extent that the steel wire inside it begins to pull out.
It could completely pull out into your washer during the wash or spin cycle and find its way into the numerous holes in the drum.
It's also possible that the wire may still be attached to the bra when you transfer your clothes into the dryer.
As the tumble dryer rotates the wet clothes, the bra wire may pull out and enter into one of the heating duct holes in the tumble dryer drum.
How do I know if a bra wire is stuck in my dryer?
You may not always notice that your bra wire got stuck inside your tumble dryer.
But there are some signs that can tell you that.
Some obvious, some not too obvious.
If you notice that your clothes are taking longer to dry than usual, or if they come out of the dryer with strange marks on them, it's possible that a bra wire is stuck in the dryer.
Because the wire may enter the holes but still have a protrusion inside the drum that may end up damaging some clothes in the dryer.
Another tell-tale sign is if you hear a rattling or scraping noise coming from the dryer.
If you suspect that there may be a bra wire stuck in your dryer, it's important to act quickly and safely to remove it.
What can happen if a bra wire is stuck in a dryer?
If a bra wire is left in a dryer, it can cause all sorts of problems.
You may even ask yourself the question, "can a bra damage my dryer?"
Not only can it damage your clothes, but it can also cause serious damage to the dryer itself.
The wire can become wrapped around the drum or heating element, which can result in expensive repairs.
In some cases, the wire could even cause a fire.
How to prevent a bra wire from getting stuck in a dryer
So, what can you do to prevent your bra wire from getting stuck in your dryer?
Well, the most obvious solution is to make sure that you never put a bra in the tumble dryer in the first place.
However, we understand that this isn't always possible, especially if you're using a shared laundry room or if you're traveling and don't have access to a washing machine.
Here are some tips to observe when putting your wired bras in a dryer:
If your bra shows any visible signs of fray, do not run it through your dryer. It's better to hand wash them and air dry them. It is easy for the wire to pull off from frayed bras in dryers.

Put your wired bras in a garment bag before you put them in the washer. Laundry bags prevent delicate items from wear and tear during the wash cycle.

Before you wash your bras, take a few minutes to check that the wire is properly fastened and secure.

Replace your old wired bras
How to remove a stuck bra wire from a tumble dryer
Maybe you didn't see this article early enough to prevent your bra wire from getting stuck in the dryer and it happened.
Don't worry, you can quite easily remove it by following the instructions we have given below:
1. Turn off the power supply
2. Locate the bra wire
When a bra wire gets stuck in your tumble dryer, you first need to find where it got stuck.
You can do this by carefully inspecting inside the drum using a torch light to see where the wire be be hiding. turn the drum manually to see if you'd hear sounds of the wire.
Check the back panel of the dryer and see if you can see the bra wire through the vent holes.
You will be able to locate the bra wire by doing this.
3. Remove the wire using a plier
If you locate the wire, check if you can use a plier to grab tightly and pull it out gently from the vent hole.
You may realize that the bra wire doesn't protrude enough to be able to pull it out using a plier. In that case, you may need to access the main swindle which can be accessed by removing the back panel of your dryer.
4. Remove wire by accessing the back panel
Pull the dryer away from the wall to have enough space to carry out the task
Use a screwdriver to disconnect the vent duct located at the back of the dryer to make way
Take off the screws that hold the access panel unto the back of the dryer
Loosen the terminal screws that hold the power cord and pull the cord out of the dryer panel
Using a screwdriver or nut driver, remove the back of the dryer from the dryer cabinet. If it becomes necessary, you can push a flat screwdriver between the panels to aid its removal.
You will have access to the main spindle and look around to find the bra wire. You may need a bit of tugging for the bra wire to come out
Conclusion
There you have it.
Having a bra wire getting stuck in your dryer should not be anything to worry about if you take all the precautions we have outlined in this article.
You will be able to prevent your bra wire from getting stuck in your dryer and even when for some other reason it does, you will be able to remove it hassle-free.
If you're still not sure how to fix a bra wire stuck in a tumble dryer, you could always contact a professional.
There are many companies that offer dryer repair services, and they should be able to help you get it checked and fixed in no time.