Can You Put Vans In The Dryer? (All You Need To Know)
These days we tend to want to use a washer and dryer for all our laundry including our shoes without bothering about air or line drying.
You probably know that not all types of fabrics should be put in a dryer. Materials such as rubber are adversely affected when heat exposure and should not be machine dried.
You may be wondering if you can put your vans in the dryer or not.
It is not recommended by Vans to put your shoes in a washing machine because you risk damaging them, but can you put your vans in the dryer?
You should not put your vans in a dryer. The heat from the dryer will end up damaging your shoes by melting away the canvas and causing line cracks. The best way to dry your Vans shoes is to air dry them.
In this article, we will delve into the question that has been on the minds of many Vans enthusiasts: Can you put Vans in the dryer?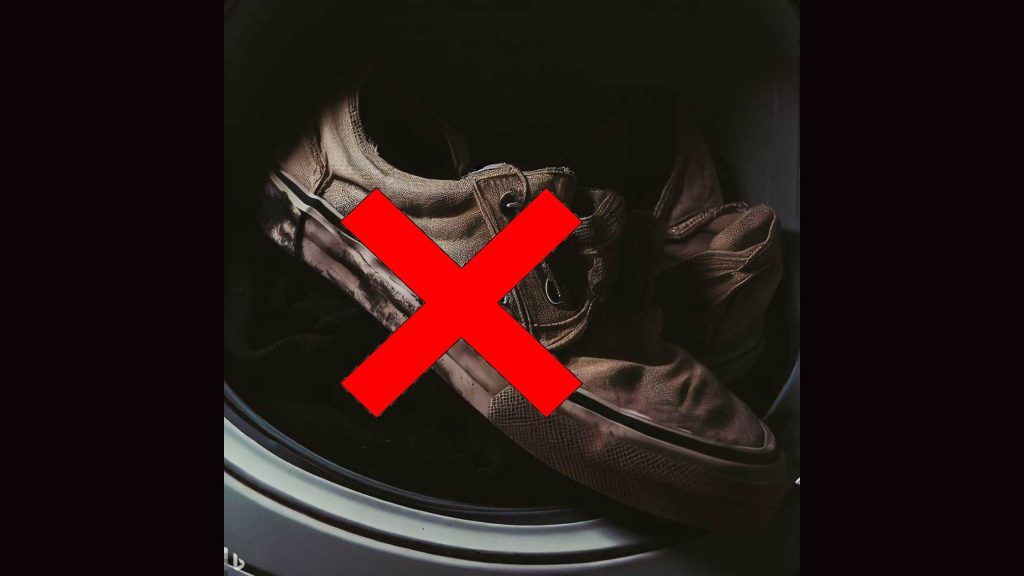 Drying Vans shoes (Details)
While it may be tempting to toss your Vans into the dryer for quick drying, it is strongly not recommended.
The main reason why putting Vans in the dryer is not advisable is the materials used in their manufacturing. 
Vans shoes often consist of canvas, suede, or leather, susceptible to heat. 
The high temperatures and tumbling motion of the dryer can cause these materials to warp, shrink, fade, or even crack, significantly diminishing the overall quality and appearance of your beloved Vans.
Apart from the risk of structural damage, there are other potential risks and damages that can occur to Vans shoes in the dryer. 
Excessive heat can cause the rubber soles to become brittle or lose their flexibility, compromising their traction and comfort. 
There are other drying methods that will ensure your Vans shoes are not only dry but also in pristine condition. 
In the next section, we will explore these alternatives, offering you safe and effective ways to keep your Vans looking their best without subjecting them to the possibility of getting damaged in the dryer.
Best ways to dry Vans shoes
How you wash your vans is as important as how you dry them. Knowing how to properly wash and dry your Vans shoes is something that can help you keep your shoes for long without damaging them.
Below are methods you can use to safely dry your vans:
1. Air Drying
When it comes to drying your Vans shoes, air drying is a safe and effective method that preserves every aspect of your shoes. 
Remove any excess moisture by gently patting them with a clean towel. 
Find a well-ventilated area away from direct sunlight and place your shoes on a flat surface. Ensure they are not in contact with any heat sources. 
Let them air dry naturally, allowing the air circulation to evaporate the moisture. 
I often use this method to dry my Vans shoes, and it has never failed me. It's important to resist the temptation of accelerating the process with direct heat, as it can cause irreversible damage. 
2. Stuffing with Newspaper 
Another effective alternative to the dryer is using newspaper to absorb excess moisture. 
After patting your Vans with a towel, crumple up newspaper sheets and stuff them snugly inside the shoes. The porous nature of the newspaper will absorb the moisture, helping to speed up the drying process. 
Replace the damp newspaper with fresh sheets as needed until the shoes are dry. This method not only aids in drying but also helps maintain the shape of your Vans.
3. Using a Shoe Rack or Drying Mat
Opting for a shoe rack or drying mat is another convenient way to dry your Vans. They provide proper airflow around the shoes, aiding in quick and efficient drying. 
Place your Vans on the rack or mat, allowing them to air dry naturally. 
This method not only promotes optimal drying conditions but also prevents any misshaping and also keeps your Vans organized.
4. Using a Fan
A simple yet effective alternative is using a fan to expedite the drying process. 
After removing excess moisture with a towel, position a fan near your Vans shoes. 
Ensure that the fan is set to a medium or high speed to create a steady airflow around the shoes. 
This method helps evaporate the moisture more quickly, reducing the drying time. You can always resort to using a fan to dry Vans quickly.
Proper Care and Maintenance of Vans Shoes
Cleaning Vans Shoes
To keep your Vans looking their best, it's essential to know how to clean them properly. 
How to clean Vans
Start by removing loose dirt and debris with a soft brush or cloth. Mix a small amount of mild soap or detergent with water to create a gentle cleaning solution. Use a sponge or soft brush to scrub the canvas gently. Rinse with clean water and pat dry with a towel. Avoid soaking the shoes or using harsh chemicals that can damage the fabric.
Tips to storing Vans shoes safely
Proper storage is essential to maintain the shape and quality of your Vans shoes:
Clean Before Storage: Before storing your Vans, make sure they are clean and dry to prevent the growth of mold or mildew. Follow the cleaning guidelines mentioned earlier to remove any dirt or stains.
Use Shoe Trees: Inserting shoe trees into your Vans helps maintain their shape while in storage. Shoe trees help prevent the shoes from developing creases and retain their original form.
Store in a Cool, Dry Place: Find a cool, dry area to store your Vans. Avoid areas with high humidity or direct sunlight, as these can cause discoloration, material degradation, or warping.
FAQ- Putting Vans in a dryer
Can I put my Vans in the dryer on a low heat setting?
No, it is generally not recommended to put Vans shoes in the dryer, even on a low-heat setting. The heat and tumbling action can cause damage to the materials and glue used in the construction of the shoes.
Is it safe to use a hairdryer to speed up the drying process?
It is best to avoid using a hairdryer to dry Vans shoes. The direct heat from a hairdryer can warp, shrink, or even melt certain materials, leading to irreversible damage. Opt for air drying or alternative methods mentioned earlier.
Can I dry my Vans shoes in direct sunlight?
While it may seem tempting, drying Vans shoes directly in sunlight is not recommended. The intense heat from the sun can cause the materials to fade, crack, or become brittle. It's best to find a well-ventilated area away from direct sunlight for air drying.
Related Articles: