Tumble Dry Low Meaning (Important Things To Know)
Do you ever wonder what your dryer's Tumble Dry Low setting means?  
The tumble dry low setting is one option on your dryer that you must pay close attention to due to its important usage.
Not knowing when to use the tumble dry low setting could result in you damaging your delicate garments.
Last summer, I mistakenly set my wife's favorite delicate blouse on the wrong heat setting, only to find it shrunk beyond recognition.
Understanding Tumble Dry Low could have saved me from this heart-wrenching mishap.
Here is what tumble dry low means:
Tumble dry low means using gentle tumbling and low heat of around 125°F or 52°C to dry clothes, minimizing shrinkage, preserving fabric quality, and protecting delicate items such as embellished fabrics, lingeries, and workout clothes.
In this article, we will delve into the meaning and importance of Tumble Dry Low, shedding light on its benefits, suitable garments, and effective usage.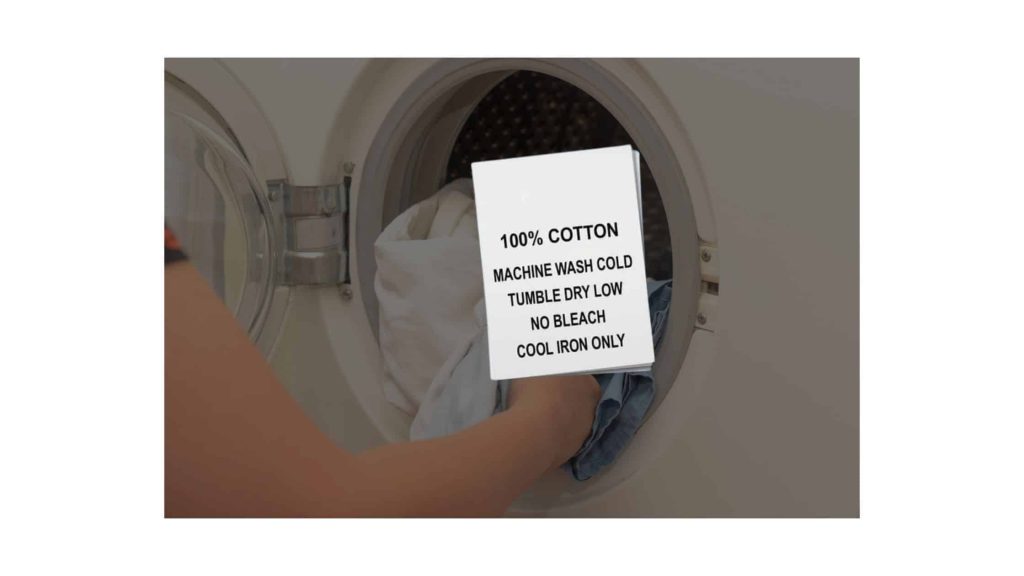 What is tumble dry?
Tumble dry is drying clothes in a machine that uses a rotating drum. This drum gently tosses the clothes while warm air circulates, evaporating moisture and drying the fabric.
Tumble drying offers convenience and efficiency compared to air-drying, especially when weather conditions are unfavorable due to rain, making it a popular choice for many households that can afford them.
Related article: Is tumble dryer Insurance worth it? (What you should know)
Tumble dry setting explained
The tumble dry setting, or the dryer setting, refers to the specific drying mode or option on a clothes dryer. It allows you to choose the desired heat and duration for drying your clothes. 
Different dryers may offer settings such as high heat, medium heat, low heat, or specific fabric settings.
The tumble dry setting controls the temperature and duration of the drying process to efficiently remove moisture from the clothes, making them ready to wear.
Different settings for drying clothes
Modern tumble dryers offer various settings to cater to different fabric types, drying preferences, and energy efficiency considerations when drying clothes.
Understanding these settings can help you choose the most appropriate option for your laundry needs. 
Here are the commonly available settings on dryers:
High heat settings: This setting is designed to dry clothes quickly using the highest temperature available on the dryer. It is suitable for items that can withstand higher temperatures without damage, such as towels, bedding, and sturdy fabrics like denim or cotton. However, it's important to note that prolonged use of high-heat settings may lead to increased wear and tear or shrinkage, particularly for delicate garments or certain synthetic materials.
Medium heat settings: The medium heat setting balances drying efficiency and fabric care. It provides moderate heat to expedite drying without subjecting clothes to excessive temperatures. This setting suits many fabrics, including most clothing items and linens. It is a versatile option that helps reduce the risk of damage or shrinkage while ensuring efficient drying.
Low heat settings: The low heat setting, often called Tumble Dry Low, utilizes the lowest temperature available on the dryer. This setting is designed to be gentle on more delicate fabrics or prone to damage when exposed to higher temperatures. It is ideal for items such as lingerie, silk garments, woolens, or clothes with intricate embellishments. Tumble Dry Low minimizes the risk of shrinkage, color fading, or fabric distortion, preserving the quality and longevity of these more delicate items.
In my own experience, understanding and utilizing the different drying settings can greatly impact the condition of my clothes.
For example, when I accidentally placed a delicate lace dress in the dryer in a high-heat setting, I was devastated to find that the delicate lace had shrunk and lost shape.
Since then, I've become more conscious of the drying settings available on my dryer and always opt for the Tumble Dry Low option when handling delicate fabrics.
Expert Tip:
If you need help with the appropriate drying setting for a particular item, always refer to the care label instructions provided by the manufacturer. They offer valuable guidance on each garment's most suitable drying method, including whether Tumble Dry Low is recommended. Following these instructions will help maintain the integrity of your clothes and extend their lifespan.
Benefits of tumble dry low
Tumble Dry Low can be a lifesaver. It's gentle on delicate garments and helps preserve their quality and integrity.
The benefits of this tumble dry setting cannot be overemphasized.
Here are some of the significant advantages of utilizing Tumble Dry Low:
1. Preserving fabric quality
Minimizing shrinkage: One of the most significant advantages of Tumble Dry Low is that it minimizes shrinkage, particularly for fabrics prone to shrinking when exposed to high temperatures. This setting applies a gentle heat that dries clothes slowly, allowing fabrics to retain their original shape and size.
Reducing wear and tear: Tumble Dry Low is gentle on clothes, reducing wear and tear from high heat settings. It helps protect the integrity of fabrics by minimizing the risk of damage, including color fading, distortion, or pilling.
2. Energy efficiency
Lower energy consumption: Tumble Dry Low is an energy-efficient option compared to other heat settings. It uses less energy to dry clothes, resulting in lower energy consumption, which can help reduce electricity bills.
Environmentally-friendly option: Since Tumble Dry Low consumes less energy, it is an environmentally-friendly option that helps reduce the carbon footprint associated with laundry. It also reduces greenhouse gas emissions, creating a cleaner and healthier planet.
3. Preventing damage to delicate items
Protecting sensitive fabrics: Tumble Dry Low is the perfect option for delicate fabrics such as silk, wool, and other fragile materials that require extra care. These fabrics are more susceptible to damage when exposed to high temperatures, so Tumble Dry Low ensures they are adequately protected during drying.
Maintaining garment integrity: Tumble Dry Low also helps preserve the quality and integrity of delicate items, ensuring they remain in excellent condition for longer. It reduces the risk of fabric shrinkage, color fading, and other damage compromising the garment's overall quality.
When to Use Tumble Dry Low
Tumble Dry Low is a valuable drying setting that should be utilized in specific situations to ensure the best care for your garments. Understanding when to use Tumble Dry Low is essential for maintaining the quality and longevity of your clothes. 
Here are some important considerations:
Clothing care labels and their instructions
The care labels on your garments provide valuable guidance on how to best care for them, including specific drying instructions. Take the time to read and understand these labels before drying your clothes. If the care label indicates Tumble Dry Low or provides temperature specifications, it clearly indicates that this setting is recommended for the garment.
Types of garments suitable for Tumble Dry Low
Delicate fabrics: Tumble Dry Low is particularly well-suited for delicate fabrics that require gentle handlings, such as silk, cashmere, lace, or chiffon. When exposed to higher heat settings, these fabrics can be prone to damage, distortion, or shrinkage, making Tumble Dry Low the ideal option to preserve their quality.
Clothing with embellishments: Garments adorned with embellishments like beads, sequins, or delicate embroidery require special care during drying. Tumble Dry Low ensures that the heat is gentle enough to protect these embellishments, preventing them from loosening or becoming damaged.
Certain synthetic materials: Some synthetic fabrics, like spandex or elastane, can be sensitive to high heat, which may cause them to lose their elasticity or shape. Tumble Dry Low provides a safe drying method for these materials, allowing them to dry effectively without compromising their structural integrity.
Exceptions and precautions
Specific garments that should not be tumble dried: While Tumble Dry Low is suitable for many garments, there are exceptions. Always avoid tumble-drying items explicitly stating "Do Not Tumble Dry" on the care label. This may include certain delicate knits, certain leather or suede items, or fabrics that are not designed to withstand the tumbling motion of the dryer.
Mixed fabric items requiring special care: Some garments may be made of a combination of different fabrics or have intricate construction that requires special care. If you have a garment with mixed fabrics or complex construction, it's crucial to follow the specific care instructions provided by the manufacturer. Sometimes, these garments may require alternative drying methods or professional cleaning.
Read also: Does Cotton Shrink In The Dryer? (All You Need To Know)
Tips for Using Tumble Dry Low Effectively
To maximize the benefits of Tumble Dry Low and ensure optimal drying results, you must follow certain guidelines and employ additional drying aids where necessary.
Here are some expert tips for using Tumble Dry Low effectively:
1. Sorting clothes appropriately
Properly sorting your clothes before drying is essential for efficient and effective drying. Separate the fabrics based on their drying needs, such as heavy fabrics like towels and jeans, from delicate items like silk or lace. This prevents damage to delicate garments and ensures that each fabric type receives the appropriate care during drying.
2. Properly loading the dryer
Loading the dryer correctly can improve drying efficiency and prevent wrinkles or tangling. Avoid overcrowding the dryer as it hampers airflow, resulting in uneven drying. Leave enough room for clothes to tumble freely and allow air to circulate. Turn delicate items inside out to protect their surface and prevent snagging.
3. Adjusting drying time and temperature
While Tumble Dry Low already uses low heat, adjusting the drying time can benefit certain garments. Reduce the drying time for lighter fabrics or smaller loads to prevent over-drying, while heavier fabrics may require slightly longer drying times. Monitor the progress of the drying cycle and remove clothes promptly once they are dry to prevent unnecessary exposure to heat.
4. Utilizing additional drying aids
Dryer balls or tennis balls: Adding dryer balls or clean tennis balls to the dryer can help improve drying efficiency. These balls create agitation and separate the clothes, reducing drying time and minimizing wrinkles. They also help fluff the fabrics, resulting in softer and more evenly dried clothes.
Dryer sheets or fabric softeners: Using dryer sheets or fabric softeners in Tumble Dry Low cycles can help reduce static electricity, soften fabrics, and add a pleasant scent to the clothes. However, be mindful of using these products with certain delicate fabrics, as they may leave residue or affect the fabric's properties. Check the care label instructions for any specific recommendations.
Related Article: Can You Put Squishmallows In The Washer? (Answered)
Alternatives to Tumble Dry Low
While Tumble Dry Low is a convenient and effective drying method for many garments, some alternatives can be equally beneficial. 
You may consider the following alternatives:
1. Air-drying clothes
Benefits of air-drying: Air-drying clothes is a natural and energy-efficient method with several advantages. It eliminates the use of heat and reduces energy consumption, helping to lower utility bills and minimize environmental impact. Air-drying also minimizes wear and tear on fabrics, as they are not subjected to a dryer's tumbling motion and heat.
Suitable clothing items for air-drying: Air-drying is suitable for a wide range of clothing items, including delicate fabrics, knits, and items with specific care requirements. It is particularly beneficial for garments prone to shrinking or losing their shape under high heat. Delicate undergarments, silk blouses, and wool sweaters are examples of items that can benefit from air drying.
2. Hang-drying garments
Advantages of hang-drying: Hang-drying provides an effective alternative to Tumble Dry Low, offering additional benefits for certain clothes. Hanging garments allows them to retain their shape and structure, minimizing the need for ironing or pressing. It also reduces the risk of wrinkles and creases, leaving clothes looking fresh and well-maintained.
Best practices for hang-drying clothes: To ensure successful hang-drying, follow these best practices:
Use appropriate hangers: Choose hangers that match the garment's weight and shape to prevent stretching or distortion. Padded hangers or those with clips can help maintain the integrity of delicate items.
Properly space garments: Allow sufficient space between clothes to promote airflow and prevent them from touching, which can lead to prolonged drying and potential wrinkling.
Utilize suitable drying locations: Hang clothes in well-ventilated areas away from direct sunlight to prevent color fading or damage. Indoor drying racks or outdoor clotheslines are excellent options.
Expert Tip:
For items that tend to stretch when wet, such as knitted sweaters, consider laying them flat on a clean towel or mesh drying rack to air-dry. This method helps maintain the garment's shape while allowing it to dry thoroughly.
Tumble dry low FAQs
Is Tumble Dry Low the same as air drying?
No, Tumble Dry Low involves using the dryer with low heat, whereas air drying refers to drying clothes naturally without using any mechanical heat source. Tumble Dry Low provides a controlled drying environment, while air drying allows clothes to dry at room temperature.
Can I use Tumble Dry Low for all types of fabrics?
Tumble Dry Low is suitable for many fabrics, especially delicate ones. However, always check the care label instructions on each garment to ensure that Tumble Dry Low is recommended. Some fabrics may require alternative drying methods or air drying.
Will Tumble Dry Low take longer to dry my clothes?
Tumble Dry Low may take slightly longer to dry clothes than higher heat settings. The lower heat setting ensures gentle drying, which can extend the drying time.
Can I use dryer sheets or fabric softeners with Tumble Dry Low?
You can use dryer sheets or fabric softeners with Tumble Dry Low to reduce static cling and add a pleasant scent to your clothes. However, be cautious with delicate fabrics, as some dryer sheets or fabric softeners may leave residue or affect the fabric's properties. Check the care label instructions for any specific recommendations.
How do I prevent wrinkles when using Tumble Dry Low?
To prevent wrinkles, avoid overloading the dryer and leave enough space for clothes to tumble freely. Remove clothes promptly once they are dry and fold or hang them immediately.
Is Tumble Dry Low energy-efficient?
Tumble Dry Low is generally more energy-efficient than higher heat settings. It consumes less energy during drying, resulting in lower electricity usage and reduced energy costs.
What if my dryer doesn't have tumble dry low?
If your dryer doesn't have a specific Tumble Dry Low setting, you can still achieve a similar effect by selecting a low heat setting and reducing the drying time.
Is tumble dry the same as delicate?
No, "tumble dry" and "delicate" are not the same settings on a dryer. "Tumble dry" is a general term that refers to using a dryer to dry clothes, while "delicate" is a specific setting on some dryers.
The delicate setting uses lower heat and gentler tumbling to protect delicate fabrics. Tumble dry settings can vary in heat levels and drying intensity, whereas the delicate setting is specifically designed for fragile fabrics that require extra care during drying.