Can You Put Squishmallows In The Washer? (Answered)
Your Squishmallows can get pretty dirty deserving some cleaning.
Considering their nature, anyone would think twice about throwing them in the washer.
No doubt your Squishmallows should be kept clean always, but can you put them in a washer without damaging them?
You can put Squishmallows in the washer without any problems. However, you should use a gentle cycle and cold water. Avoid using hot water or high heat settings as this can damage the material. From our tests, It's a matter of preference to choose between machine or hand washing your dirty Squishmallows.
In this article, we'll provide you with all the essential information you need to know about cleaning and maintaining your Squishmallows. From washing methods to tips for preserving their fluffy appeal, we've got you covered.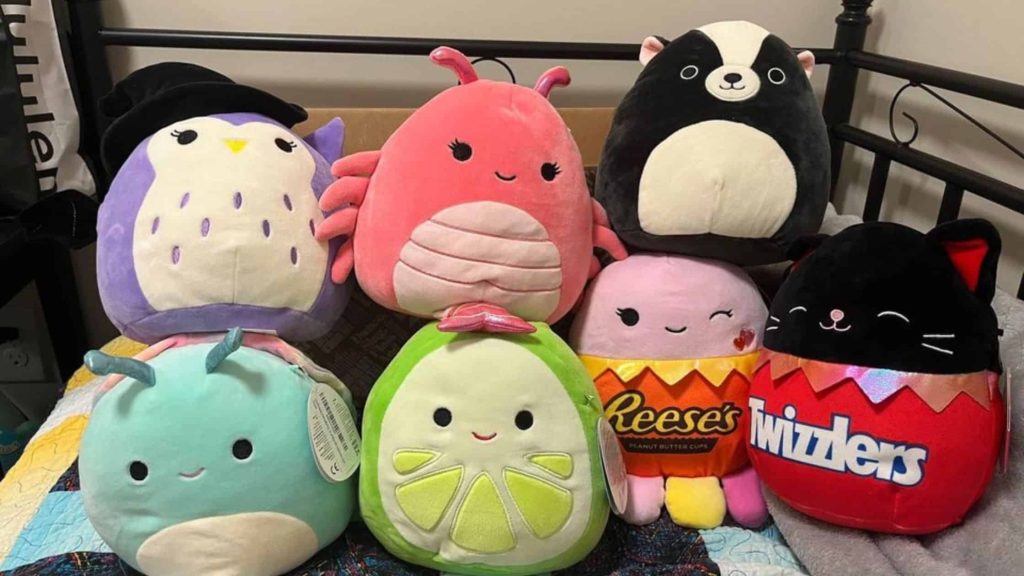 Can Squishmallows be Washed?
Squishmallows can indeed be washed either by hand or by a washing machine, ensuring they stay fresh and clean always. Choosing to use a washer may be due to preference, and the kind of stain or dirt on your Squishmallow.
Factors to consider before washing squishmallows
Before you wash your Squishmallows, it's crucial to consider a few factors:
Material and Construction of Squishmallows: Squishmallows are typically crafted from a blend of polyester fibers. This material choice is intentional, as it makes them washing machine-friendly. However, there can be variations in materials, so always check the product tag or packaging for care instructions specific to your Squishmallows.
Manufacturer's Care Instructions: The manufacturer's care instructions are your best friend when it comes to Squishmallow care. These guidelines are tailored to the specific material and construction of your plush. They are typically found on a tag attached to your Squishmallows or on the packaging. Always follow these instructions for the best results and to avoid damaging your cherished companions.
Stains: If the Squishmallow has stains, it's important to pre-treat the stains before washing. You can use a gentle stain remover or a mixture of baking soda and water to remove the stains.
Frequency of washing: It's important to only wash Squishmallows when necessary as frequent washing can damage the material. Spot cleaning with a damp cloth or sponge is often sufficient for removing dirt and stains.
Why you should clean your Squishmallows
Cleaning your Squishmallows is not just about appearances; it well extends to hygiene and ensuring their longevity.
These beloved plushies often become cherished members of the family, and like any family member, they deserve proper care.
Regular cleaning helps maintain their softness, prevents unpleasant odors, and keeps them in tip-top huggable condition.
Signs that your Squishmallows need washing
To know when it's time to put your Squishmallows into a washer, consider the following:
Stains or Discoloration: Accidents happen, and over time, Squishmallows can accumulate stains or discoloration from spills, dirt, or even just natural wear and tear.
Unpleasant Odors: The plush nature of Squishmallows can sometimes trap odors, making them less inviting. A thorough cleaning can help eliminate these unwanted scents.
Accumulated Dust or Dirt: Like any soft surface, Squishmallows can collect dust and dirt over time, especially if they're well-loved and frequently hugged.
Loss of Fluffiness: If your Squishmallows seem a bit deflated or less plush than when you first got them, it's a sign that they could benefit from a cleaning and fluffing session.
Allergies or sensitivities: If you or someone in your household has allergies or sensitivities, it's important to machine wash your Squishmallow regularly to remove any allergens or irritants that may be present.
How to wash Squishmallows
Cleaning your Squishmallows doesn't have to be a daunting task. You can either choose to wash them by hand, dry clean them, or occasionally with a washer.
How to hand wash Squishmallows:
Hand washing provides a gentle touch for your Squishmallows.
Here's how to do it:
Fill a basin or sink with lukewarm water.
Add a small amount of mild detergent and mix until it forms suds.
Submerge your Squishmallows and gently agitate the water with your hands.
Gently scrub any stained or soiled areas.
Rinse thoroughly with clean water until all detergent is removed.
Squeeze out excess water gently. Do not wring or twist, as this can damage the fibers.
Let your Squishmallows air dry completely, ensuring they are evenly fluffed and free of moisture before using or storing them.
How to wash Squishmallows using a washer
If you want a convenient and stress-free method of cleaning your Squishmallows, putting them in your washer could get the job done.
Here's how to do it:
Place your Squishmallows in a pillowcase or a laundry bag. This extra layer helps protect them during the wash.
Use a gentle cycle with cold water to minimize the stress on your Squishmallows.
Add a small amount of mild detergent to the wash. Avoid using too much detergent, as excessive suds can be challenging to rinse out.
Once the cycle is complete, remove your Squishmallows from the pillowcase or laundry bag.
Squeeze out excess water gently. Again, do not wring or twist.
Let your Squishmallows air dry thoroughly.
Dry Cleaning Squishmallows
If you have particularly delicate or valuable Squishmallows and you're uncertain about washing them at home, professional dry cleaning may be an option. Consult a reputable dry cleaner who specializes in caring for plush toys and delicate fabrics.
Tips for putting Squishmallows in a washer
Although it may be okay to put Squishmallows in the washer, you need to ensure you don't ignore some helpful tips.
Using the wrong measures for washing your Squishmallows may end up causing them to be damaged prematurely.
Appropriate Detergent and Temperature: Choose a mild detergent, preferably one designed for delicate fabrics. Cold water is usually the best choice for washing Squishmallows.
Gentle Cycle Settings: If you opt for machine washing, select the gentle cycle with a slow spin. This reduces the stress on your Squishmallows and helps maintain their shape and softness.
Use of Laundry Bags: Placing your Squishmallows in a pillowcase or a laundry bag is a simple yet effective way to protect them during machine washing. It prevents them from getting tangled or snagged in the agitator or other laundry items.
Pro Tip:
Some Squishmallows come with removable accessories like hats, scarves, or bows. Before washing, it's essential to detach these accessories to prevent damage or tangling during the cleaning process. Most accessories can be gently pulled off or unfastened.
How to care for Squishmallows without washing
While washing is essential for keeping your Squishmallows fresh, there are various ways to maintain their cleanliness and charm between washes.
In this section, we'll explore how to care for your Squishmallows without the need for a full wash.
Regular Maintenance Routines
Spot Cleaning: Spot cleaning is your first line of defense against stains and spills.

Blot the stained area with a clean, dry cloth or paper towel to absorb as much of the liquid as possible.
Mix a small amount of mild detergent with water to create a diluted cleaning solution.
Dip a clean, white cloth or sponge into the solution and gently blot the stained area. Avoid rubbing, as this can spread the stain.
Continue blotting until the stain is gone or no longer visible.
Use a separate damp cloth to wipe away any remaining detergent residue.
Allow the spot to air dry completely before using or storing your Squishmallows.

Surface Brushing: Regular brushing helps remove dust and dirt from the surface of your Squishmallows, keeping them fresh and clean. Use a soft-bristle brush or a lint roller to gently brush away any particles. Be sure to brush in the direction of the fabric's nap to avoid damaging it.
Storing Squishmallows
Proper storage is key to preserving the pristine condition of your Squishmallows.
Ideal Storage Conditions:

Store your Squishmallows in a cool, dry place, away from direct sunlight and moisture. Excessive heat and humidity can damage the fabric and cause colors to fade.

Avoiding Exposure to Moisture and Sunlight:

Moisture can lead to mold and odors, so ensure your Squishmallows are stored in a dry environment. You can use moisture-absorbing products like silica gel packets in the storage area to help prevent dampness.
How to dry Squishmallows
Properly drying your Squishmallows is a crucial step in their care routine.
There are two common methods of drying Squishmallows. Air drying and machine drying.
We will cover both drying methods below:
Air Drying Squishmallows:
Air drying is a gentle and effective method for drying Squishmallows, especially if they have delicate features or are made from materials that could be damaged by heat.
After washing your Squishmallows, gently squeeze out excess water. Do not wring or twist, as this can damage the fibers.
Lay your Squishmallows flat on a clean, dry towel or a drying rack. Ensure they are in their original shape and not folded or compressed.
Position them in a well-ventilated area away from direct sunlight or heat sources.
Rotate or flip your Squishmallows periodically to ensure even drying.
Allow them to air dry completely. Depending on the size and thickness of the plush, this may take several hours to a day or more.
Using a Dryer to dry Squishmallows:
Machine drying can be a quicker option, but it's essential to exercise caution, especially if your Squishmallows are not explicitly labeled as safe for machine drying.
If you choose to machine dry, use the lowest heat setting available, typically a delicate or low heat cycle, and tumble dry low.
Place your Squishmallows in a pillowcase or laundry bag to protect them during the drying process.
Add clean, dry towels or a few tennis balls to the dryer to help distribute the Squishmallows' weight evenly and maintain their fluffiness.
Periodically check on the Squishmallows during the drying cycle to ensure they are not overheating or becoming misshapen.
Related Articles: