Clothes Stick Together In The Dryer? (All You Need To Know)
Are you wondering why your clothes stick together when they come out of the dryer?
It may be frustrating to have your clothes tangled and stubbornly stuck together, but is it anything to worry about, or can you prevent them from sticking?
Many of us have experienced this, but understanding why clothes stick together in the dryer is the first step toward finding a solution.
Here is why your clothes stick together in the dryer:
Clothes stick together in the dryer due to static electricity. When different fabrics rub against each other and the dryer drum during the tumbling process, electrons are transferred, accumulating positive and negative static charges. These static charges cause the clothes to cling together when separated.
In this article, we'll discuss how static electricity causes your clothes to stick together in the dryer and explore ways and tips to avoid it.
How static electricity causes clothes to stick together
If you have done any elementary school physics then you have come across the term Static electricity.
Call it magic, but it is a phenomenon that occurs when there is an imbalance of electric charges on the surface of objects.
It is caused by the transfer of electrons between materials through friction or contact.
When certain materials rub against each other, such as clothes in a dryer, electrons are transferred, creating an electric charge.
When clothes tumble and rub against each other in the dryer, the friction between the fabrics causes electrons to be transferred from one garment to another. 
This results in the accumulation of static charge on the surface of the clothes.
As a result, the garments with opposite charges attract each other, causing them to cling together.
Factors that affect static electricity in the dryer
The amount of static electricity that is generated in any given solution is based on a number of factors that are worth noting. 
1. The material composition of the fabric
Different fabrics have varying abilities to generate static electricity. Materials such as nylon and wool tend to be positively charged whiles materials such as vinyl and polyethylene tend to be negatively charged.
Combining garments with different fabric compositions in the same load increases the likelihood of clothes sticking together.
Below is a portion of the triboelectric series chart that shows the static build-up capabilities of various materials.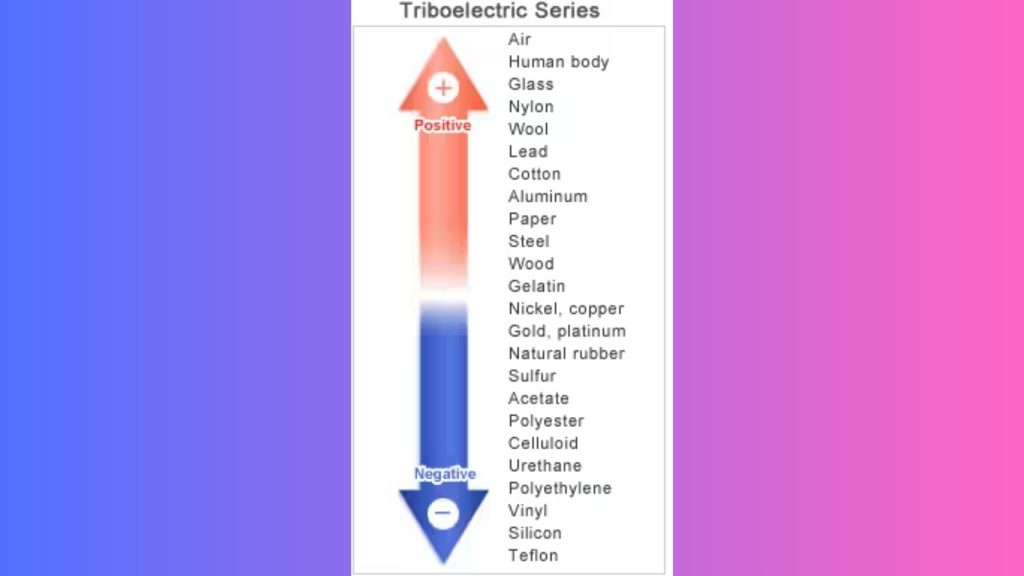 2. Dryer temperature and humidity
Dry air and high temperatures in a dryer can exacerbate static electricity.
Low humidity allows static charges to accumulate more easily on clothing, and higher temperatures can cause materials to become drier, further enhancing static buildup.
Adjusting your dryer temperature and humidity levels minimizes the buildup of static electricity.
Lowering the temperature or using a lower heat setting can reduce static charge. 
So basically, the state of the garments also tends to affect static build-up and clothes sticking in the dryer.
3. Dryer settings and duration
The specific settings and time of the drying cycle can impact static electricity.
Longer drying times allow more friction and rubbing between garments, increasing the likelihood of static charge buildup.
Using high-speed spinning or prolonged tumbling can also contribute to clothes sticking together as a result of static electricity build-up.
You may have noticed that shorter drying cycles and choosing gentle or low-speed settings tend to cause less sticking of clothes after drying, which is due to the decrease in friction between clothes.
How to minimize static electricity in a clothes dryer
No one likes to have their clothes sticking together in the dryer because it is usually a frustrating and time-consuming experience. 
However, there are effective techniques and preventive measures I will share with you to implement to minimize static electricity and keep your clothes separate and static-free.
1. Sort clothes by fabric type
Separating your clothes based on fabric types can reduce the likelihood of static cling.
Mixing synthetic fabrics with natural fibers increases the chances of static charge transfer. 
Always sort your laundry loads to group similar fabrics together.
When different fabrics with varying weights, types, blends, and structures are mixed in the dryer, they will dry at different rates and temperatures. 
Fabrics like cotton retain more moisture and require more time and heat to evaporate the higher volume of moisture compared to synthetic fabrics.
As a result, when cotton and synthetic fabrics are dried together, the synthetic fabrics will dry faster, leaving the cotton fabrics still damp. 
If the dryer continues to run after the synthetic fabrics are dry, the static charge becomes stronger. 
2. Use aluminum foil
Why put aluminum foil in the dryer, you may ask?
Aluminum foil rounded into a ball can help dissipate static charges during the drying process.
Simply crumple a sheet of aluminum foil into a ball about the size of a tennis ball and toss it into the dryer with your clothes. 
The aluminum ball can serve the purpose of reducing the sticking of your clothes in the dryer as long as the ball hasn't been reduced to the size of a small lime, where you need to replace it.
Aluminum foil works by preventing static buildup through its conductive properties.
Dryer balls can be added to create space between clothes, reducing friction and static charge transfer.
3. Use dryer sheets or fabric softeners
Dryer sheets and fabric softeners are commonly used to reduce static electricity in the dryer because they contain ingredients that help neutralize static charges and create a thin coating on the fabric, reducing friction between garments.
When using dryer sheets, simply toss one or two sheets into the dryer with your clothes before starting the drying cycle.
Ensure that the sheets are distributed evenly among the garments. 
Keep in mind that dryer sheets have limited effectiveness, and you may need to replace them after several loads.
4. Use lower dryer temperatures:
Higher dryer temperatures can exacerbate static electricity.
If static electricity is something of great concern to you, opt for lower heat settings or a gentle drying cycle to minimize friction and static charge buildup.
Lower temperatures help retain moisture in the fabric, reducing the dryness that contributes to static cling.
Use appropriate heat settings for different fabric types.
Lower temperatures not only reduces static electricity but also helps prolong the lifespan of your clothes by preventing excessive heat damage.
5. Dry similar fabrics together:
Drying clothes of similar fabric types together can help minimize static electricity in the dryer.
This is because garments with similar fabric characteristics are less likely to create significant friction and generate static charges when tumbling together.
When loading the dryer, separate your laundry into smaller loads based on fabric types.
For example, group lightweight synthetic garments together, heavier cotton items in a separate load, and delicate fabrics in another load.
By drying similar fabrics together, you reduce the likelihood of different materials rubbing against each other and creating static cling.
6. Natural remedies:
If you prefer a more natural approach, certain substances like vinegar can help reduce static cling.
Spraying some vinegar on a piece of cloth and tossing it into the dryer can help reduce static electricity. It does this by 
Vinegar works by balancing keeping the dryer environment damp, reducing static charge buildup.
Such a natural remedy is a cost-effective and environmentally friendly alternative to commercial fabric softeners.
Frequently Asked Questions
Which types of fabrics are more prone to static cling?
Synthetic fabrics such as polyester and nylon are more prone to static electricity and tend to generate more static charge compared to natural fibers like cotton or wool.
Can static electricity damage my clothes?
While static electricity itself does not typically damage clothes, excessive rubbing and friction caused by static cling can lead to pilling or wear on certain fabrics over time. Minimizing static cling can help preserve the quality and appearance of your clothes.
Are there any benefits to air drying or line drying clothes instead of using a dryer?
Air drying or line drying clothes not only helps minimize static cling but also reduces energy consumption, extends the lifespan of clothes, and can impart a fresh scent to the garments.
How can I prevent static cling when drying terry and bed linens together?
To prevent static cling when drying terry and bed linens, ensure that the bed linens contain a lower synthetic content, separate them into different loads if possible, and avoid over-drying the terry while the bed linens are already dry.
Is it necessary to use fabric softeners or dryer sheets to prevent static cling?
While fabric softeners and dryer sheets are commonly used to reduce static cling, there are alternative methods such as using aluminum foil, dryer balls, or natural remedies like vinegar or baking soda that can also help minimize static electricity.
References:
Related Articles: