Does Windex Bleach Clothes? (Important Things To Know)
Windex is well known for cleaning glass, but very often than not, it comes into contact with our fabrics.
And like other liquids that may bleach fabrics, you are wondering if Windex has ingredients that may bleach clothes.
You have also probably seen TikTok videos talking about 100 other uses of Windex and wonder if they are safe at all.
Here is how Windex can bleach clothes:
Windex contains ammonia, which if left on certain fabrics for prolonged periods can potentially bleach out the fabric's color. While Windex itself does not contain bleach, the ammonia content can lead to unwanted discoloration or damage if not used carefully on certain fabrics. However, Windex Ammonia-Free doesn't bleach clothes.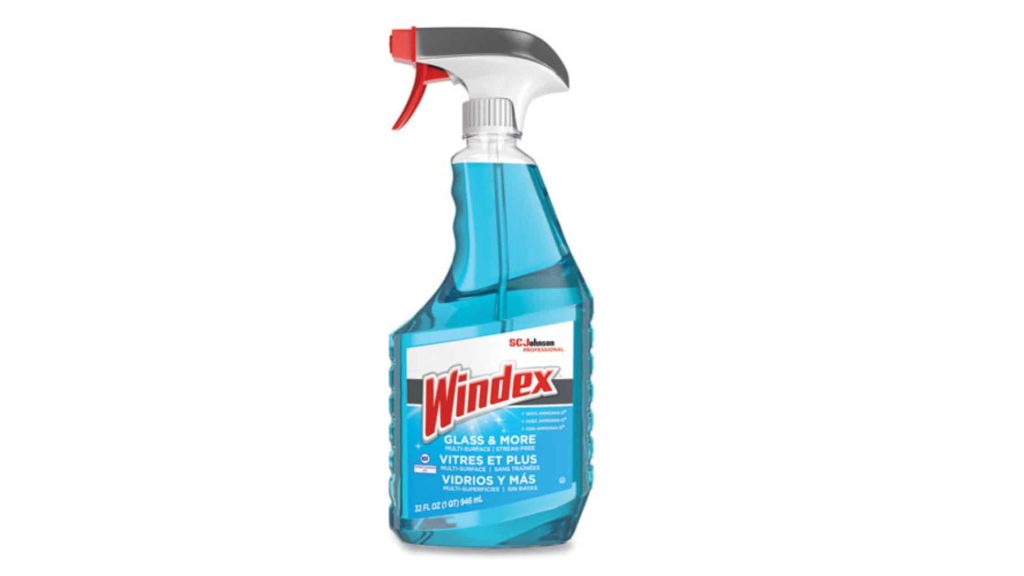 Can Windex Bleach Clothes?
A common misconception about Windex is that it contains bleach, but this is not entirely accurate.
Windex, as a glass cleaner, does not contain bleach as one of its primary ingredients.
The main ingredients in Windex are 2-Hexoxyethanol, Isopropanolamine, Ammonium Hydroxide, Lauryl Dimethyl Amine Oxide, and Sodium Dodecylbenzene Sulfonate.
But while Windex does not have bleach, it's crucial to be aware of another ingredient that can impact fabrics, Ammonium hydroxide, commonly known as Ammonia which is used as a pH adjuster.
When ammonia comes into contact with certain fabrics, especially those that are sensitive or color-treated, it can lead to undesirable outcomes such as fading or bleeding.
How much ammonia is in Windex?
The exact amount of ammonia in Windex varies depending on the specific formula, but according to a finding on Wiki, the original Windex formula contains less than 5% ammonia.
The formula for Windex includes 0.05% of 28% ammonia, which means that the amount of ammonia in Windex is small.
It's worth noting that ammonia can be harmful if ingested or inhaled in large quantities, so it's important to use Windex and other cleaning products containing ammonia in a well-ventilated area and to follow the manufacturer's instructions for safe use.
Will Windex discolor fabric?
Windex can potentially discolor fabric as it is primarily composed of cleaning agents such as ammonia and isopropyl alcohol, both of which have the potential to cause discoloration.
You should be extra careful not to let Windex spill on any of your delicate fabrics.
Does Windex stain white clothes?
Windex may stain your clothes depending on the type you use.
While there are clear Windex products, some contain dye that may likely stain your fabric.
Dyes are added to Windex to help users know where they applied them, and also for the aesthetics of colorful liquids.
You should always opt for a colorless Windex if you know it may have contact with your white clothes.
How do you remove Windex from fabric?
We have established that Windex is likely to stain or discolor certain fabrics after long exposure periods.
So how do you get Windex off your clothes to avoid any potential damage?
Follow these steps to clean your Windex-soiled clothes:
Act Quickly: If you spill Windex on fabric, act promptly to minimize potential damage. The longer Windex remains on the fabric, especially delicate or color-sensitive ones, the higher the risk of adverse effects.
Blot the Stain: Use a clean cloth or paper towel to blot the affected area gently. Avoid rubbing, as it may spread the Windex and worsen the stain.
Rinse with Water: Immediately rinse the stained area with cold water. Hold the fabric under a running faucet or use a clean damp cloth to flush out the Windex from the fibers.
Use Mild Detergent: After rinsing with water, apply a small amount of mild liquid detergent to the stain and gently rub it in.
Rinse Again: Rinse the fabric again with cold water to remove the detergent and any remaining traces of Windex.
Air Dry: Allow the fabric to air dry naturally.
Is Windex safe on clothes?
Windex is not recommended for use on clothes. Windex is primarily used as a glass and surface cleaner, and the chemicals contained in it may tend to be too harsh for some fabrics.
The only time you may use colorless Windex on clothes is to remove stains on white fabrics.
Although this is not the primary use of Windex, many people find it to be a good hack for removing stains on white fabrics.
References:
Related Articles: