LG Water Plus (All You Need To Know)
Have you experienced the struggle that comes with washing those oversized comforters, bulky blankets, or hefty curtains and realizing they didn't get completely wet?
Very often you find that you have to increase the water level on the LG washer.
Well, that is why the LG water plus option is available.
What is LG Water Plus?
LG Water Plus option is a feature on select LG washer washers that adds additional water to the wash cycle, particularly to enhance wash performance when dealing with large and bulky laundry items. This option allows large garments to be thoroughly washed and rinsed.
By intelligently adding water into the wash cycle, LG Water Plus ensures a wholesome and effective cleaning process, while also maintaining the integrity of the fabrics being washed.
In the article, we will delve deeper into the nitty gritty of the LG Water Plus feature, how to use it, when to use it, and smart hacks to use it effectively.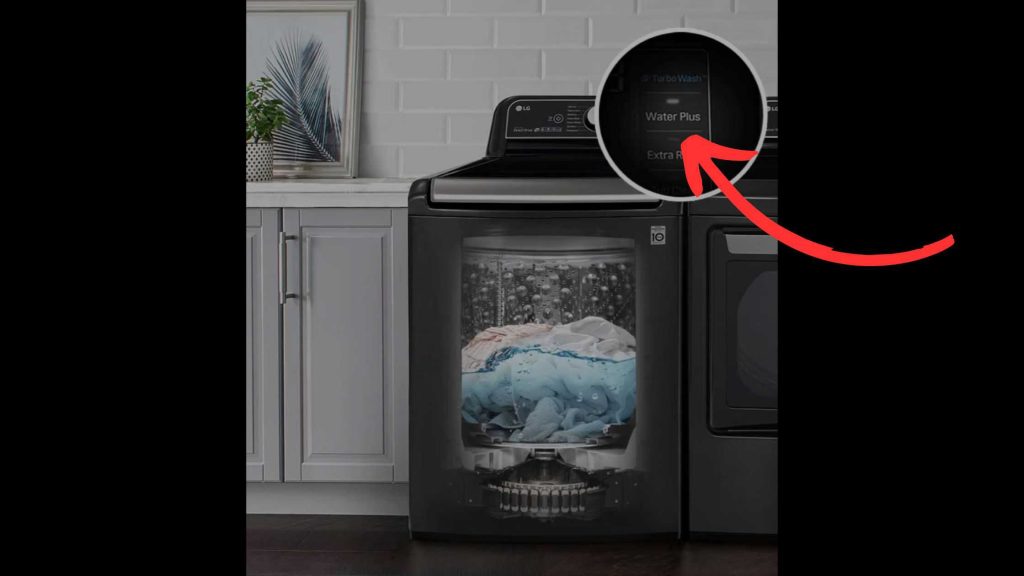 LG Water Plus feature (Explained in Detail)
So What is LG Water Plus and How Does it Work?
Many LG users complain that their washers don't use enough water to clean their clothes.
That's why we wrote a detailed article about increasing the water level on your LG washer.
The LG washer plus option is a feature that allows you to add more water to wash cycles. It addresses a common concern: effectively cleaning large, bulky items, and those cumbersome loads.
LG Water Plus operates as an intelligent solution that recognizes the demands of specific laundry items.
Here is how LG water plus works:
When activated, the washer adjusts the water levels according to the load's size and fabric type. By doing so, it guarantees that even the largest pieces are adequately soaked and agitated, facilitating the removal of dirt, stains, and odors.
The Need for Additional Water in Wash Cycles
Traditional wash cycles, while effective for regular loads, may struggle to evenly distribute water and detergent throughout large items.
This limitation can lead to inadequate cleaning and rinsing, leaving behind residues and compromising the overall cleanliness of the load.
LG Water Plus setting adds water to ensure that detergent is evenly dispersed, stains are effectively lifted, and detergents are thoroughly rinsed away.
How to add LG Water Plus to a cycle
LG water plus is an option that can be added to enhance standard wash cycles, but cannot be used on all cycles.
Here is how you can add the LG Water Plus option to a wash cycle:
Start your wash cycle as usual.
While the cycle is running, pause it by pressing the START/PAUSE button.
Press the WATER PLUS button to add Water Plus.
Press START/PAUSE to resume the cycle
Water Plus is activated once the cycle starts.
Important Notes:
When the LG Water Plus setting is activated, it becomes a default option that always comes with the cycle you added it to.
You can only add or remove the Water Plus option when the cycle is running.
Water Plus will have no effect if your LG washer has reached its maximum water level.
How to remove LG Water Plus setting
As we mentioned, the Water Plus option is saved as a default with the cycle and is used anytime you choose that cycle.
But the fact is, you may not always need the Water Plus option and you will want to remove or deselect it.
Here is how to deselect the LG water plus option:
Press the START/PAUSE button to get the cycle running, .
While the cycle is running, press the WATER PLUS button.
Water Plus will be deselected.
LG Water Plus cycles
LG Water Plus is not available on all washing machines.
In addition, the Water Plus option is not available for all LG wash cycles.
Below are the cycles that you can use the Water Plus option with:
Sanitary Cycle
Cotton/Normal
Baby wear
Speed Wash
Water Plus adds about 3 liters extra water to the above cycles (1-4).
Bulky/Large
Permanent Press
Delicates
Hand Wash/Wool
Water Plus adds about 2.8 liters extra water to the above cycles (5-8).
LG Water Plus vs Deep Fill
LG Water Plus adds additional water to wash cycles and LG Deep Fill is also an option used to add extra water to your wash cycle.
Some LG washers have either LG Water Plus or Deef fill, whiles some washers have both. Older models may have neither of the options.
Feel free to use whichever option is available on your LG model.
When to Use LG Water Plus for Optimal Results
Utilizing the LG Water Plus feature strategically can significantly enhance your laundry results.
While this option is designed to handle large, bulky items, it's important to understand when to use it for optimal effectiveness.
Heavy and Bulky Loads: Reserve LG Water Plus for heavy and bulky items such as comforters, blankets, and curtains. These items often require more water to ensure thorough cleaning and rinsing.
Sturdy Fabrics: When dealing with robust fabrics that can withstand extra agitation, such as denim or heavy-duty linens, LG Water Plus can work wonders.
Stains and Odors: For loads with stubborn stains or lingering odors, activating LG Water Plus can aid in breaking down particles and ensuring a fresher outcome.
Dos and Don'ts for Using LG Water Plus
To make the most of the LG Water Plus feature, keep the following dos and don'ts in mind:
Dos:
Use Appropriate Cycles: Select wash cycles that are compatible with LG Water Plus. These cycles are designed to optimize water levels and agitation for better cleaning.
Load Size Matters: Ensure your load is appropriate for the LG Water Plus feature. It's meant for larger loads; using it for smaller loads may lead to excessive water usage.
Distribute Load Evenly: Arrange bulky items evenly in the washer drum to prevent imbalances, which can affect the effectiveness of LG Water Plus.
Pre-treat Stains: While LG Water Plus aids in cleaning, pre-treating tough stains before starting the cycle can further improve results.
Don'ts:
Avoid Light Loads: LG Water Plus may lead to excessive water usage for lighter loads, potentially causing inefficient cleaning and rinsing.
Delicate Fabrics: Reserve this feature for sturdy fabrics. Delicate items may not fare well with the additional agitation.
Overloading the Washer: Even with LG Water Plus, overloading the washer can hinder effective cleaning. Follow load capacity guidelines.
Other related helpful articles: