Samsung Washer Bedding Cycle (When And How To Use It)
The Bedding cycle on Samsung washer may seem self-explanatory but are you wondering exactly what the cycle is for how to use it effectively?
Most new Samsung washers have the Bedding cycle located around the control knob on the control panel.
Interestingly, not many people are aware of its actual purpose.
What is the Samsung Washer Bedding cycle?
The Samsung Washer Bedding Cycle is a wash cycle that provides optimal cleaning for various bedding items, including comforters, blankets, quilts, mattress covers, and pillows.
Using other wash cycles for your bedding may not be appropriate since the spin speeds, rinse cycles, etc. may not be optimal.
In this article, we will show you how and when to use the Bedding cycle to get pleasing results in your laundry.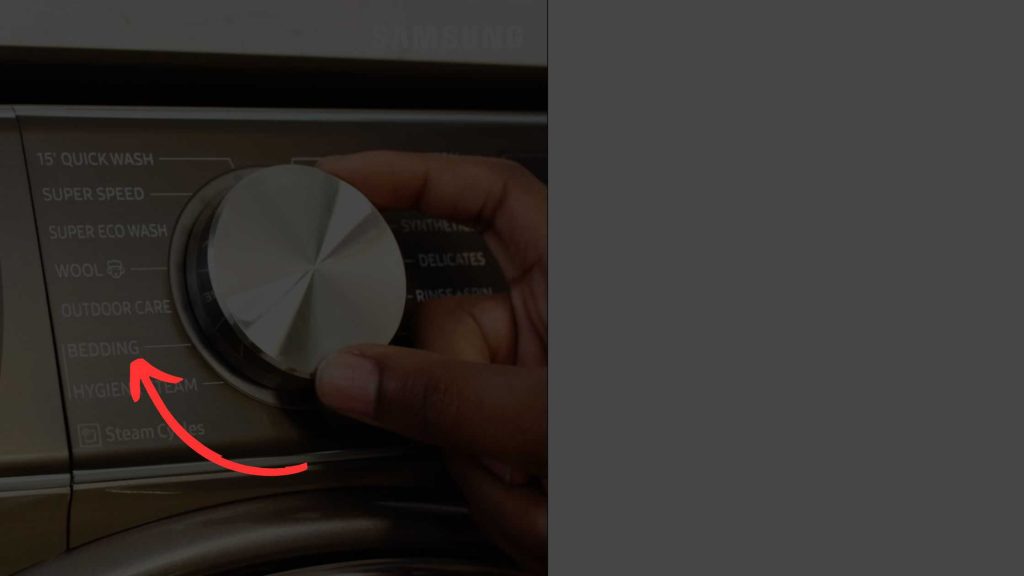 Samsung washer Bedding cycle (Details)
The Bedding Cycle in Samsung washing machines is designed to address the specific requirements of bedding items.
The uniqueness of the Bedding Cycle is in its customization for bedding-specific care which delivers the most suitable cleaning results.
While a Normal wash cycle might work well for everyday garments, bedding items demand a more specialized treatment due to their size, thickness, and material composition.
The Bedding Cycle, on the other hand, is calibrated to accommodate the unique cleaning needs of bedding materials, such as the removal of deeply embedded dirt, sweat, and allergens.
By employing slower spins and longer wash times, the Bedding Cycle ensures that your bedding items are not only clean but also well-maintained.
The Bedding Cycle comes with preset settings that adjust parameters and use a gentle drum rotation, multiple rinses (three or more), an extended soaking duration, and a preset spin speed of 800 rpm.
When to use the bedding cycle
To make the most of your Samsung washer Bedding cycle, it's crucial to know when to use it.
While the frequency might vary based on personal preferences, it's generally recommended to wash your bedding items, such as sheets, pillowcases, and duvet covers, at least once every one to two weeks.
However, items like comforters and quilts might not require washing as frequently; once every two to three months is often sufficient.
Here are the items to use the Bedding cycle for:
Down comforters
Duvets
Blankets
Pillows
Bedspreads
Bed sheets
Bedding covers
For best results, Use liquid detergent, wash only 1 type of bedding at a time, and make sure the load weighs less than 2 kg.
Preparing Bedding for the Cycle
Before you use the Samsung Washer Bedding Cycle, it's essential to prepare your bedding items appropriately to ensure optimal results.
1. Properly Removing and Sorting Bedding
Sort out all your bedding items by type since it is recommended to wash one type of bedding at a time.
2. Checking Care Labels and Manufacturer Instructions
Check the care labels on your bedding items as they provide information about recommended washing temperatures, washing methods, and precautions to consider.
3. Pre-treatment of Stains or Heavily Soiled Areas
Consider pre-treating them before loading them into the washing machine.
4. Properly Loading the Washing Machine: Avoiding Overloading
While it might be tempting to fit in as much bedding as possible, overloading can lead to inadequate cleaning and potential damage to both the machine and your bedding.
How to use Samsung Bedding Cycle
The Samsung Washer Bedding Cycle simplifies the process of caring for your bedding items, ensuring they receive a specialized cleaning.
Follow these simple steps:
Load Bedding items
Add liquid Detergent
Turn on washer
Select the Bedding Cycle on the control panel
Select Cycle Settings
While the Bedding Cycle is pre-programmed for bedding care, you might have the option to customize certain settings to suit your preferences.
Post Bedding cycle care
Once your Samsung Washer Bedding Cycle has been completed, there are important steps to take to ensure that your bedding remains in optimal condition.
1. Remove Bedding Promptly
As soon as the cycle finishes, promptly remove your cleaned bedding items from the washing machine.
2. Check for residual detergent
Before proceeding, take a moment to inspect your bedding items for any signs of residual detergent. If not properly rinsed, the residues can lead to skin irritation and discomfort later. If you notice any traces, consider giving your bedding an extra rinse to ensure they are completely free from these substances.
Benefits of the Samsung Bedding Cycle
The Samsung Washer Bedding Cycle is tailored to bedding care.
Uses gentle drum rotation, increased water levels, and controlled spin speeds, work in harmony to ensure thorough cleaning without compromising the integrity of your bedding.
The cycle's design targets embedded dirt, allergens, and odors while safeguarding the softness and quality of your bedding items.
As the Bedding Cycle progresses, the machine will carry out its specialized cleaning process, taking care to balance agitation and spin to prevent damage to the delicate fabrics.
Related Articles: