Samsung Perm Press (What, When, And How To Use It)
Laundry day can be tedious and time-consuming, but it's necessary to keep our clothes looking fresh and clean. 
With so many different settings and options on your Samsung washing machine, it can be overwhelming to know which one to use for each load.
One such option is the Permanent Press which you would most likely see if you own a modern Samsung washer.
Samsung Perm Press is an option on select washers that wash synthetic fabrics, wash-and-wear, and light to normally soiled fabrics.
The Perm Press cycle is used on the Samsung dryer to dry knits, wrinkle-free cotton, and synthetic fabrics.
In this article, we will talk about Samsung Perm Press and how to use it correctly to get the best results.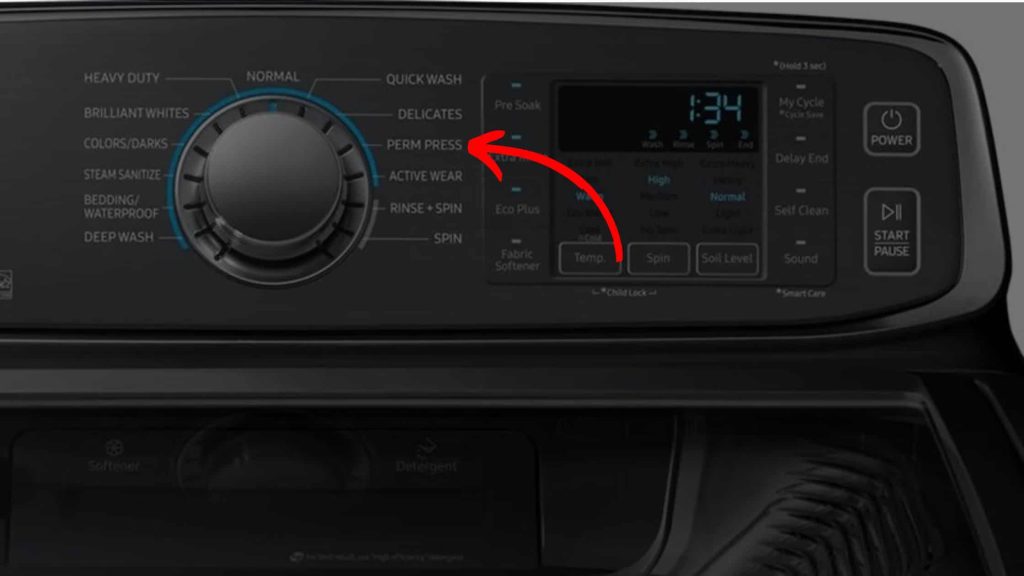 What is Samsung Perm Press Cycle?
You may not know this, but in the late 50s, some fabrics were especially chemically treated to resist wrinkling. 
It was then that washers and dryers incorporated an option to deal with these types of fabrics. 
Perm Press means 'Permanent Press' and is best used for fabrics prone to wrinkling, shrinking, stretching, and fading.
How does Samsung Perm Press work?
Knowing the principle behind the Samsung Perm Press cycle may interest you. 
The Perm Press cycle uses warm water to wash the clothes and switches to cold water during the rinse cycle. 
A Permanent Press cycle typically takes about 30 minutes and uses gentler agitation than other cycles like a Normal or heavy-duty cycle.
When to use the Samsung Perm Press cycle
As we mentioned earlier, the Perm Press cycle helps prevent wrinkling and color fading of delicate fabrics, whether washing or running them through a dryer.
It is important to know when to use the Samsung Perm Press and when to avoid using it as it may not be suitable for all types of fabrics. 
When to Use Samsung Perm Press cycle:
Use Perm Press when washing synthetic garments such as spandex, nylon, polyester, and rayon.
On Clothes that can't be ironed 
On lightly soiled garments 
For colors that are color fading (with no whites included)
When the garment tag says 'tumble dry' or 'wash and wear'.
When not to use Samsung Perm Press cycle:
You shouldn't use it on heavy-duty clothes such as bedding and jeans. 
When your clothes require heat or sanitization 
On heavily soiled garments
How to use Samsung Perm Press
Using the perm Press cycle isn't so much different from using any other wash cycle aside from a few things you need to consider.
Below are the steps to use the Perm Press cycle:
Sort your garment by fabric type, color, and care instructions. 
Put your garments into the washer and load the detergent drawer.
Select the Perm Press cycle on the control panel and start the cycle 
Immediately remove your clothes after the cycle finishes. 
Once the washing cycle is finished, it's time to move on to drying. 
Place your clothes in the dryer and select the permanent press cycle again. 
However, before you do that, it's important to double-check the labels on your clothes. 
If any items are labelled as "non-wrinkle," it's best to remove them from the dryer while they are still slightly damp and hang them up to air dry. 
This will help maintain the non-wrinkle properties of the fabric. 
On the other hand, clothes suitable for the Perm Press cycle can stay in the dryer until the cycle is complete. 
Once the drying cycle is finished, removing your clothes promptly and hanging them up is important to prevent wrinkles from forming.
Benefits of using Perm Press on Samsung washer
With the Perm Press wash cycle, you'll enjoy the following advantages:
Warm wash temperature that keeps your clothes from fading and looking vibrant, like they just came out of the store!
A slower spin cycle that ensures your clothes come out of the wash looking freshly ironed, no need to waste time ironing them again!
Cold-water rinse that's not only cost-efficient but also gentle on your clothes, keeping them looking like new for longer.
Quick washing time that zaps away any pills on your clothes, leaving them looking smooth and polished.
Benefits of using Perm Press on Samsung dryer
Perm Press drying cycles with a cool-down function and do not run hot air during the last phase, which not only saves you money but also helps the environment by being energy efficient.
Drying with gentle, gentle air on your clothes keeps them looking new for longer. No need to worry about shrinkage or damage from hot air anymore!
Reduced chance of clothes shrinking, as warm air is less harsh than hot air.
Is the permanent press cycle for delicates?
The permanent press cycle is not specifically designed for delicate clothes. While it is gentler than the regular cycle and can be used for certain types of clothes, delicate clothes such as silk, lace, and cashmere should be washed on the delicate cycle.
Properly sorting your laundry loads and reading the labels on your clothes is important for maintaining the lifespan of your wardrobe. 
You should always group clothes by type, such as separating whites from colours, and by fabric type, such as separating heavy cotton from lighter synthetics. 
This will help prevent damage to your clothes and ensure they are washed properly.
It's also important to consider the temperature when washing your clothes. 
Different fabrics require different temperatures. 
For example, whites and heavy cotton can handle higher temperatures, while delicate fabrics such as silk or lace should be washed in cold water.
To choose the right laundry cycle and temperature, you should always read the care labels on your clothes and sort them by type and fabric. 
This will help you to ensure that your clothes are washed appropriately and will help to extend the lifespan of your wardrobe.
Check out other helpful articles on our blog: