Kenmore Washer Hums And Does Not Spin? (How To Fix)
You are stuck. 
After loading your Kenmore washer and starting the cycle ready to do your laundry, you realize your washing won't start. 
It fills up with water but the tub neither spins nor does the agitator move. Your washer just sits there looking you in the face and hums or buzzes from beneath the tub.
Thinking that it may be a setting, you try different wash options but still your Kenmore washer only hums but does not spin. 
If your Kenmore washing machine hums but doesn't spin, it may be because there is a material caught in the pump, the motor is faulty, or the lid switch is broken. 
To fix your Kenmore washer that won't spin or agitate but just hum, you must first inspect the water pump to see if it has been clogged as this is the most common cause. but if you need to investigate further, check the drive motor, and motor coupling.
If this article we will explain 3 possible reasons why your Kenmore washer is only humming but not spinning or agitating. 
We will also provide fixies so you can try to get your Kenmore washing machine to proceed with the wash cycle.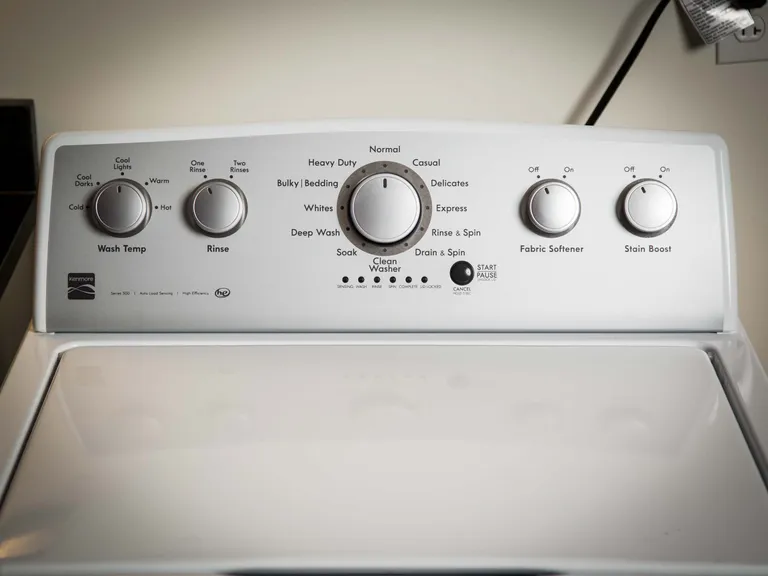 Why is my Kenmore washer only humming and not spinning?
No one wants a humming nonworking washing machine. 
And if that's all your Kenmore washer does, there is probably a problem. 
The reason why your washer is humming and not spinning or agitating could range from a sock getting stuck in the water pump to the damage of some other mechanical components such as the motor. 
While there's no one sure reason why your Kenmore washer isn't spinning but humming, the reasons are usually common amongst homeowners. 
We are going to discuss 3 common reasons why your Kenmore washing machine will only hum and not spin.
And provide tips for you to fix the problem and continue your laundry.
Related article: Sediment In The Bottom Of Washing Machine? (All You Need To Know)
1. There's an item stuck in the pump
If your Kenmore washer won't spin or agitate, there's likely a problem with the drain pump. 
One common problem washing machine water pumps face is foreign objects finding their way and getting stuck in them. 
During your laundry, objects such as coins, pens, hair pins, and even socks can escape and clog the pump. 
When this happens, your motor will not be able to operate in order for your tub to spin and will only hum, whiles trying to work. 
To fix an item stuck in your Kenmore washer you will need to inspect the motor to see if there's any object stuck that's preventing the pump from working.
We found this video helpful so watch it to check and unclog your pump.
Read Also: Is Your Kenmore Washer Unbalanced? (All You need to Know)
3. Problem with the motor
If your washing machine is humming but not spinning, there's a good chance the problem is with the pump. 
Worn-out carbon brushes are a common cause of motor problems in a washing machine. When the carbon brushes are worn out, they are not able to perform their duty of passing power through the armature. And the motor will only hum and not trigger the spinning of the tub.
Sometimes it's the motor itself that is the problem. Diagnosing and repairing a faulty motor can involve a bit of technical expertise. 
If you have none, you can call for the assistance of a technician or if your washer is still covered under warranty, you may make use of it.
To access the motor, you'll need to remove the back panel of the washer.
Once you've done that, you can test the capacitor and motor coupling to see if they're working properly. If they're not, you'll need to replace them.
Follow this well-explained video to check and replace your Kenmore washer motor if you need it.
2. The lid switch may be faulty
The lid switch is a safety feature that keeps the washer from running if the lid is open. 
If the lid switch is broken, the washer will not spin.
But when the lid switch is faulty, although your Kenmore washer will not spin or agitate, you may not hear any humming noises from your washer because the motor doesn't even start. 
Related article: Kenmore Washer Only Works on Delicate Cycle
Conclusion
If your Kenmore washing machine only makes humming noises but does not spin or agitate, you can usually diagnose it by inspecting the drain pump and the motor.
While you could easily unclog a blocked drain pump to start working again, some faults with your washer's motor require some technical expertise. Feel free to use your appliance insurance if it's still valid.